Spring marks an important point in the ChefCamper diary. Whilst we use our Type 25 all year round, we just don't
have much free time over winter due to the hotel being really busy with Christmas bookings. So spring is when we really get back into the swing of cooking in our Camper. With longer days and the occasional burst of sunshine, spring also lends itself to that momentous occasion – the first BBQ of the year!
And so we have a little treat in store for you – a lamb flatbread recipe that will see you all the way through to the end of summer, with endless combinations available. But first, we need to brush up on our dough making capabilities.
These delicious treats can be enjoyed any time, for lunch or dinner, and the smell of the seasoned lamb cooking is just mouthwatering. We chose to make ours on the beach using a Cobb BBQ, but they can be made on a hob and will taste just as wonderful up the side of a mountain or in the middle of a forest. Be warned though, they can be messy so eat them outside your Van, enjoying the glorious outdoors!
First, light the Cobb BBQ. We like using Heat Beads for fuel on ours as they burn for a really long time and
give off a good steady heat.

Season the lamb with SPG and add some fresh herbs (mint and rosemary go well with this) with a drizzle of olive oil.

Cut the red onion into fine slices. We call them half moons.
Once the Cobb is ready, pop the lamb and the onions onto it and cook for around 10 minutes, with the lid on, flipping it over halfway through. We use the frying pan attachment as it really helps cook the onion in the tasty lamb juices. Cooking times can vary on a BBQ, but we like lamb when it still feels a bit spongy.
While the lamb is cooking, make the dough by adding one part Greek yoghurt to two parts plain flour. Add a good pinch of salt (and maybe some garlic and rosemary for flavour), then knead until it becomes a ball. You might need to add more flour to stop it sticking to your fingers. Divide the ball and roll it into thin circles.
Take the lamb and onions off and leave them to rest inside some tin foil. Put your flatbread straight onto the pan and put the lid on. It takes 3-4 minutes to cook the bread, or around 10 minutes for two large breads.
Slice up the lamb and start making your masterpiece. We like ours best with tzatziki and lettuce, folded in half.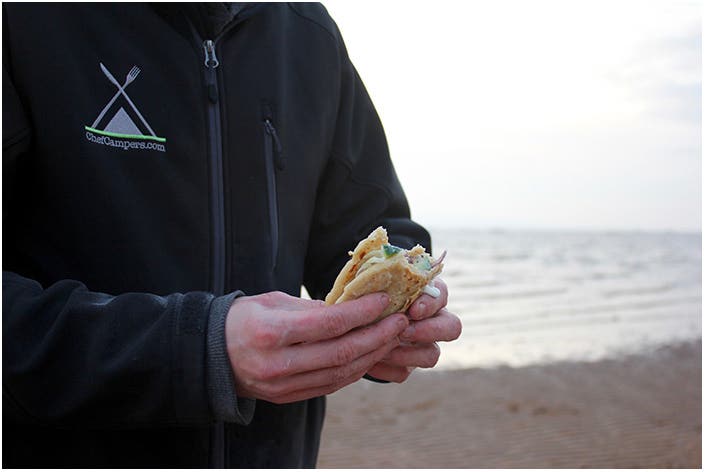 Ingredients:
* Lamb rump steaks

* SPG (salt, pepper and garlic)

* Olive oil
* Fresh mint
* Fresh rosemary
* Red onions
* Salad for garnish
For the flatbread dough:

* One part natural Greek yoghurt, to two parts flour

* Finely sliced garlic (optional)
* Chopped rosemary (optional)

* A good pinch of salt
For the tzatziki:
* Fresh Greek yoghurt

* Fresh mint
* Diced cucumber

* Mint sauce (optional)