Hello, we are the ChefCampers!

We're a couple of professional hotel chefs who love to go on cooking adventures in our Syncro Atlantic Camper van.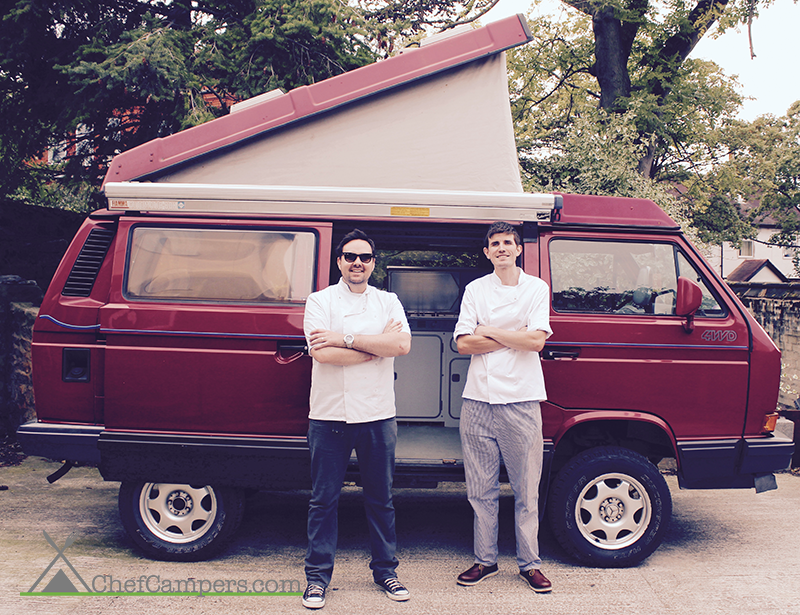 We film our gastronomic adventures and upload recipes to our website and Facebook page. We are really pleased to team up with JK and we will be sharing recipes and ideas for Cooking in a Camper.
Come and follow us as we attempt to start a cooking revolution on wheels!
Our Type 25 Syncro
The Camper is a 1990 VW T25 Syncro Westfalia Atlantic, of which, rumour has it, only 14-18 were ever built, making it one of the rarest T25's ever! The Westfalia Atlantic was the top-spec Type 25 VW did at the time. It has double glazing, heated electric mirrors and thankfully, a night heater, all as standard. It's had plenty of work since I bought it. A brand new zero mile engine, a rebuilt gearbox, a reconditioned 4wd system and a few other things too. I hope to live in it eventually, cooking for my petrol as we travel around.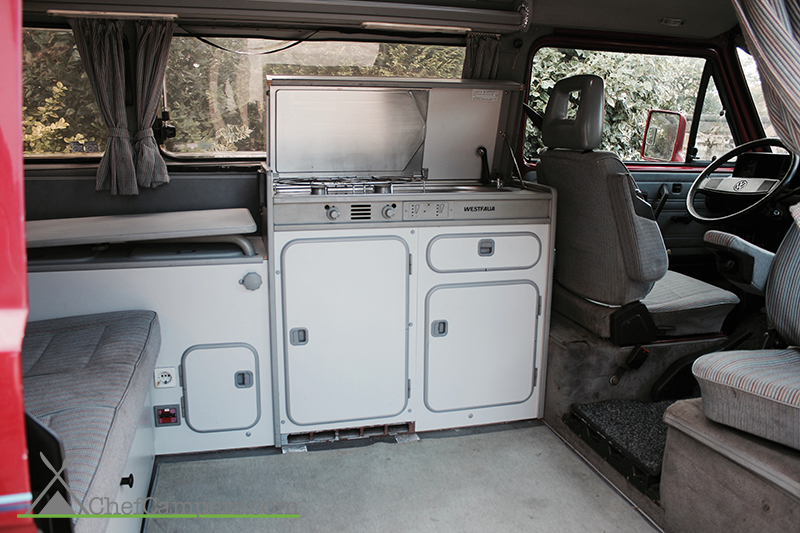 I didn't buy the camper for its rarity, but its practicality. For example, I am able to use the 4wd and diff lock to get me to some pretty interesting cooking spots! I like to think it drives me to the best restaurant views in the world.
Ingredients:
Fish pie mix (one handful for 2 people)
1 pint of double cream
1 garlic clove
Potatoes
A handful of Spinach
3 Shallots
A small bunch of parsley
Carrots
French bread
Cheese
White wine (optional)
Instructions:
As an island we are surrounded by fish and as most of us campers spend time at our wonderful beaches, why not step out of autumns wet and windy weather and snuggle up next to a plate of this really simple fish pie, cooked on a 2 gas ring.
Roughly chop the potatoes, leaving the skin on. Add to a large pan of salted cold water and bring to boil on the first stove.
Add the cream to a large pot. Slice the garlic, chuck it in and bring the cream up to a simmer on the second stove.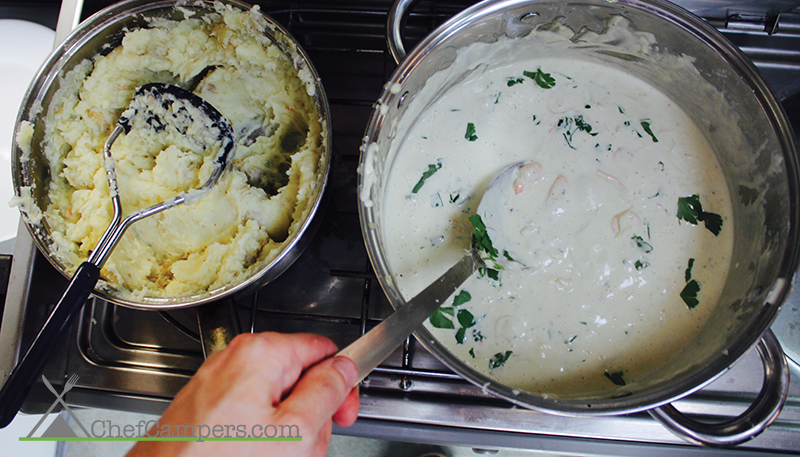 Add carrots to the top of the potatoes and boil them together.
Once the cream is simmering, slice the shallots and add them along with a splash of white wine (optional).
Add the fish to the cream sauce.
Once a knife slides through the potatoes easily, remove the carrots and then drain potatoes. Add some of the cream sauce to the potatoes before mashing it up.
Add chopped parsley to the fish sauce and then begin to plate up.
Fish pie sauce first, fresh uncooked spinach on top, then the mash. Finely grate some cheese over the top of the mash.
Add carrots and fresh bread and then enjoy!