Here's our quick guide to checking over your VW after driving it through the winter, to make sure that it's still in great shape.
With spring just around the corner, and VW shows across the UK getting going again, it's probably time for many of us to take a look at our Volkswagens to see what sort of condition they're in after being driven all winter.
We've put together a quick How-To video for our Just Kampers YouTube page, where our resident mechanic, Mark B, looks over one of our Beetles and shows you which areas may need some attention.
This is one of an ever-growing library of helpful videos we're shooting and sharing, to give you the information and confidence you need to work on your own VWs. Click here to check out the Just Kampers YouTube channel.
If you've got a question for Mark, you can speak with him directly at lunchtime every Wednesday when he live-streams from our on-site workshop here at JK HQ for Workshop Wednesday!
How to check your classic Volkswagen after driving it through winter:
Checking for corrosion under your vehicle
Mark started off checking the condition of the metalwork and panels on the underside of the Beetle (called Jack the Giant Slayer), to make sure that salt, ice, snow, and water hadn't caused any corrosion or other issues underneath the Oval.
This can be a real issue, and it's one of the reasons that many owners of classic VWs tuck their vehicles away for the winter rather than keeping them on the road.
Still, Mark was quietly confident that all would be well under there, as he'd applied rust proofing to the surfaces which would be most at risk before the winter set in. He even filmed the process so you an see how to protect your own VW. Click here to see our rustproofing video.
If you do find rust or corrosion beneath your classic Volkswagen while giving it a check over, don't panic! There's plenty you can do to treat it before you have to worry about expensive garage bills or learning to weld. Products like Rust Eater from Noxudol can remove rust from metalwork, without causing any damage to the metal itself.
Looking for tyre damage
While Jack the Giant Slayer was up in the air, Mark checked over the tyres to make sure that they hadn't become exessively worn or been damaged by something lurking underneath the snow and ice on the roads.
During the winter it can be easy to accidentally damage your tyres without realising, as debris can be hidden by the mud and snow covered the road surface. It's also really important to make sure that you've got a good amount of tread left on the tyres, but Jack's were still in great condition.
Inspecting your brakes
While the Beetle was still up in the air, Mark removed the wheels to check the levels of brake fluid, as well as making sure that there hadn't been any fluid leaks. It made sense to also check the handbrake cable while he were there, as this can become corroded or damaged by road salt and ice during the winter.
With all of this done, Jack was lowered back to the ground and Mark moved on to the rest of the Beetle.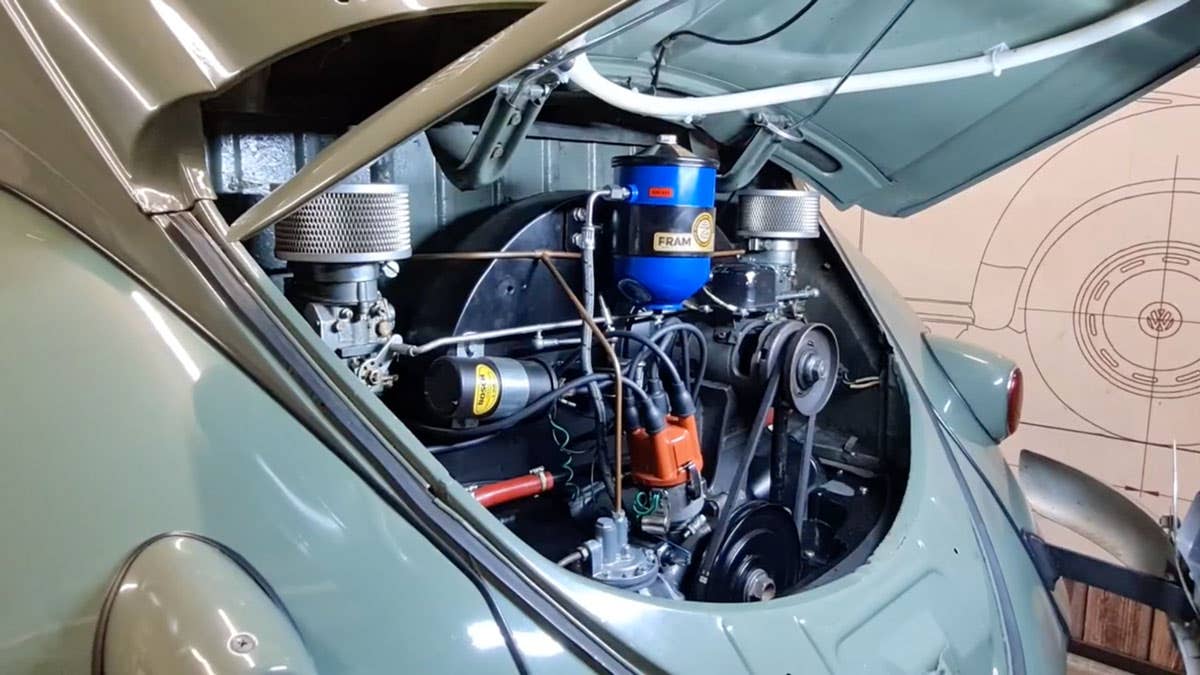 Checking the wipers and windscreen
Next up was a quick check that the wipers were still working properly, and that the wiper blades themselves were still in good shape.
Luckily everything was working fine there, despite the wipers being put through their paces this winter with some unexpected downpours really testing the nearly-seventy-year-old wiper system.
Wiper arms and blades are easy enough to replace, but it's definitely better to find out they're not working before you set off for your first VW show of the year!
Jack the Oval actually threw his offside windscreen wiper arm clear off the vehicle and into a gutter during a massive storm in Rome while he was racing in the Mille Miglia in 2017, so we always keep an eye on them to make sure he doesn't try repeat that little trick again.
It made sense to look at the windscreen at the same time, while Mark was there, so he gave it a good visual inspection to check for any cracks, chips or damage, as well as making sure the seal hadn't started to perish.
Things to look at in the engine bay
Moving around to the engine bay, Mark checked that the distributor cap on the Oval's Okrassa engine wasn't cracked and hadn't let in any moisture, before checking that the points gap was at the right setting.
It turned out that this did need adjusting, which Mark quickly sorted out before moving on to check other areas of the engine.
He gave the auxiliary belt a look, to make sure that it hadn't formed any cracks or sustained any damage, as well as checking the level of the oil and the condition the oil. was in. Because he's regularly maintained, Jack's oil was at a good level as well as being relatively new, but it's not too major a job to change the oil on your classic VW if it's looking dirty.
Testing the lights
Happy that everything was well and good in the engine bay, Mark moved onto the last checks - making sure the lights still worked.
Like the wipers, the lights had been given a really good workout during the winter, as he was often driven to and from JK HQ before the sun rose or well after it set, but all the bulbs were still working, and the semaphores still flicked up and down on command.
With all of that done, Mark was happy that Jack had come through the winter pretty much unscathed, apart from the points gap being slightly out.
We'd recommend checking these areas over on your classic VW if you've driven it through the winter, so you don't have any nasty surprises when you set off to VolksWorld or another Volkswagen show and end up arriving on a tow-truck!