Friday 23 June 2023 was Bring Your Dog to Work Day, and we leapt at the chance to fill the offices here at Just Kampers with some of our four-legged friends!
JK HQ is a pretty informal workplace, with regular visits from our dogs and a few who come in every day, but Bring Your Dog to Work Day is something everyone here looks foward to.
Each year we try to gather everyone's dogs for a nice group photo, and after how popular last year's picture was, we knew we had to step things up for the 2023 photo - here's what we got: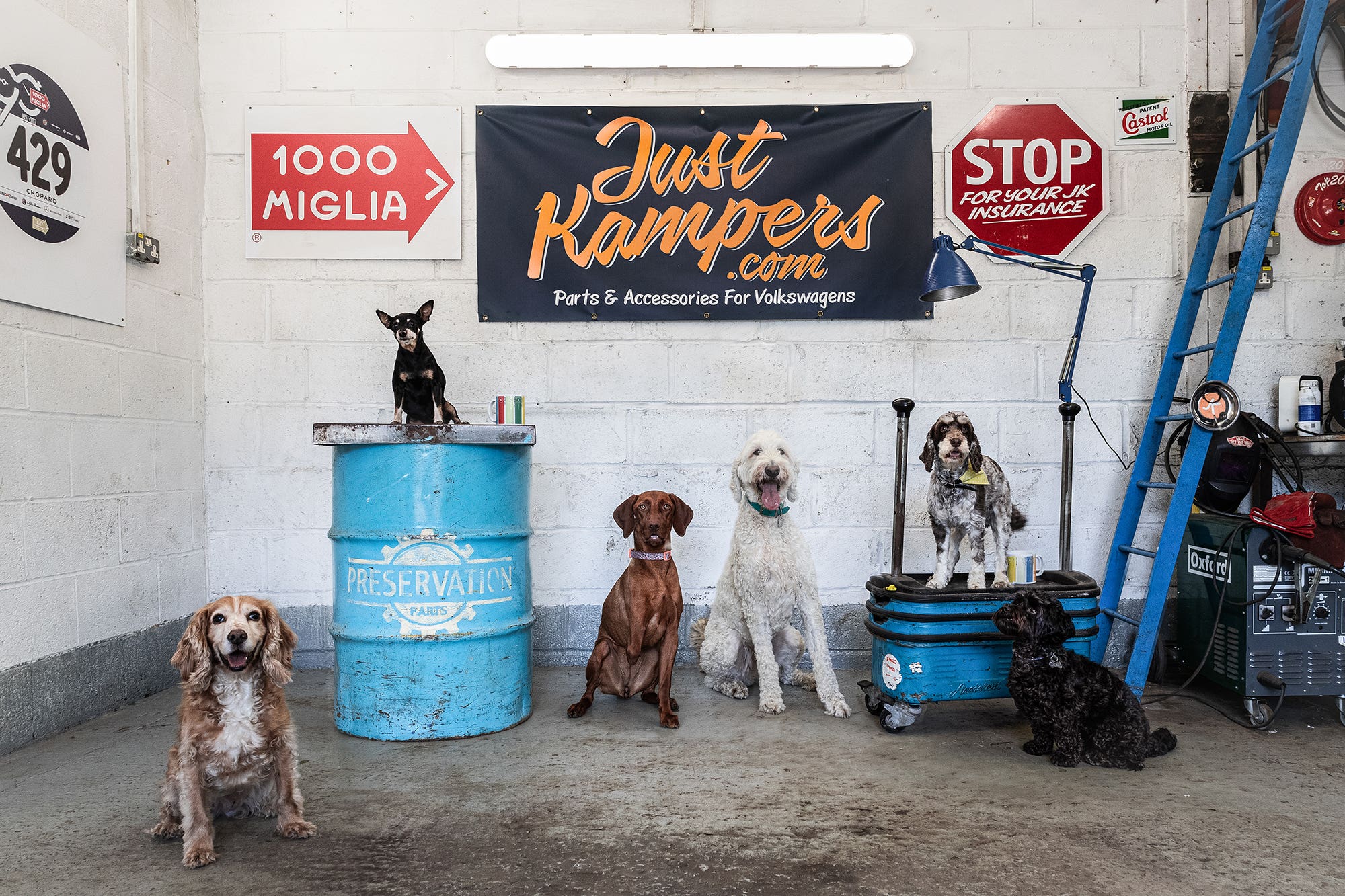 Left to right: Tilly, Bela, Maple, Benji, Holly, and Ebony
Whose Dog is Whose?
Working from left to right, we've got:
Tilly
She may have spent her day sneaking off with people's shoes, but Tilly the Cocker Spaniel was otherwise very well behaved and got on really well with the other dogs. Plus, the sight of a dog wandering about was pretty funny, so we don't mind at all! Tilly belongs to Jake, who's part of our Warehouse team, but she sat upstairs in the offices at JK HQ with Amber, who is Jake's partner and part of our Purchasing team.
Bela
Although she was the star of last year's Bring Your Dog to Work Day photo, Bela the Minature Doberman still shines in the 2023 edition, perched on a Preservation Parts barrel, queen of all she surverys. We weren't sure if Bela was here for a while, as she sat quietly in the corner next to Sandra from our Accounts team, but she was just enjoying spending more time with her human and Bela was sure to give us a tail-wag and a lick when anyone went up to say hi to her.
Maple
A rescue dog with three paws and an innate ability to stare right down the camera, Maple is a Vizsla and a regular visitor at Just Kampers. She can usually be found curled up next to Chet from our Trade Sales team, or sniffing everything she can reach while Chet takes her out for a walk, and although she's a bit wary of other dogs, she did really well and only barked at Benji - which is fair enough, because he's massive!
Benji
As friendly as he is large, Benji is a Giant Labradoodle who was once mistaken for a polar bear by a very startled child. Benji could only make a quick visit to Just Kampers for Bring Your Dog to Work Day, but he insisted on coming in because he didn't want to miss out. He's in the offices here fairly regularly, as he belongs to Mark Reynolds, head of JK, and loves to stretch out in inconvenient places - possibly because he's being smart and knows people might give him a scratch as they step over him, or because he doesn't realise how big he is.
Holly
We don't hand out prizes at Bring Your Dog to Work Day, but if we did, Holly would win Best Eyebrows. She might even beat Eugene Levy, if the two ever competed. Holly is a Cockerpoo who was very good at sharing her food and snacks, and stretched out next to Jason's desk in our Marketing office. She looks very fetching in her yellow bandana, although she does usually wear one of our Just Kampers Dog Bandanas.
Ebony
Looking small, dark and mysterious in our group photo, Ebony is a Mini Cockerpoo who was really excited to be part of Bring Your Dog to Work Day at Just Kampers. She played it cool for most of the day, though, napping on the office floor next to her blanket - maybe the carpet tiles are very comfortable, or she just wanted to be closer to Sarah from our Accounts team, who brought her in to visit for the day.
What is Bring Your Dog to Work Day?
Celebrated around the world since 2014, Bring Your Dog to Work Day is an annual celebration of our four-legged friends and the beneficial effects they can have when welcomed into our offices and workplaces.
It's fast becoming a tradition here at JK HQ, with people getting their pets looking their best for the group photo.
There's usually one or two dogs in the offices here at Just Kampers, but Bring Your Dog to Work Day is an open invitation for people to bring their dogs in to work (as long as they'll play nicely with others and not distract anyone who's speaking on the phone!).
This year was particularly great, as all the dogs got along really well, and none of them had to go home early for misbehaving in the office. The only slight mishap was that a few shoes did get moved around the office, but they were quickly returned to the right people and the culprit (Tilly) was too cute to tell off.
Bring Your Dog to Work Day 2022
We're still really pleased with the group photo we took for Bring Your Dog to Work Day last year, so we'll take any opportunity to share it again!
Left to right: Luna, Benji, Bela, Otter, and Holly
Gifts for Dogs from Just Kampers
If you want your four-legged friend looking smart, or you think they should have a bowl which matches the rest of the family, then check out our range of pet products!