Just Kampers are sponsoring Betty, the Baja Beetle that's taking part in the 2017 Mongol Rally!
Here's an update from Heather and Colin, who are sending us reports from the road:]
Heather Writes:
So then, following on from our last update, here's Bettys progress following on from Monday 26th July.
Thursday 27th July
We head off from Kiev City in Ukraine very early, as we knew we had a long trip ahead of us again, with the Russian border to cross. We were worried about long delays at the Russian Border as we had heard it can take over 4 hours sometimes.
We had a quick breakfast and we were off. The roads towards the Russian Border got slowly worse and worse as if Ukraine didn't want people to bother heading that way! Also Fuel stations were getting scarcer all the time. There were a few times Betty was low, but she never ran out, fortunately.
We passed through the Ukrainian border without problem, about 1/2 hour, and then we got to the Russian border. It took approximately two hours, so wasn't as bad as we thought! We'd prepared for a day-long holdup, but were glad to get back on the road again.
We then stopped for night in Lgov, Kursk Oblast, Russia. We think we were only ones in the hotel but we were looked after and made dinner on arrival, which was great.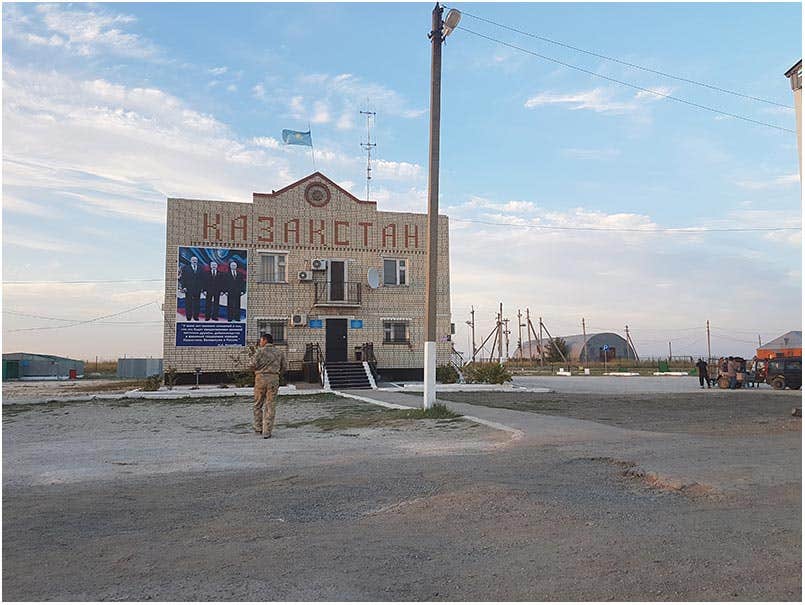 Friday 28th July
It was time for us to head towards Borisoglebsk further east into Russia. The day's drive was fun, but largely uneventful for Betty.
We had another late dinner at around 9.30 after another long hard drive, but was Betty doing well. She'd been going really nicely the whole way, and seemed to be totally over her earlier hiccups!

The worst was yet to come though... We decided that we could make the Kazakhstan border tomorrow after looking on Google Maps, which told us it was a 10-hour drive to Uralsk, the first town after Kazakhstan border... how wrong were we!
Saturday 29th July
We set off at 7am as we knew it would be a long day. We had about 725km of roads to cover, but quickly found the roads horrendous leaving Russia and on entering Kazakhstan too. They were easily the worst roads we have seen yet! Good thing we're in an off-road car. At some points it looked like Betty might be swallowed up in craters...
We knew the border would take a little time, and when we eventually reached it the crossing took us 2 1/2 hours - and we were very very lucky! Due to the border guards on both sides loving Betty, they told us to jump the queue...the queues must have been over 1hr long and we just sailed past them! We were expecting to get jumped by all the locals. They did all get out of their cars, but just to see Betty as they wanted to know about her. Luckily they were very very friendly Russian and Kazakhstani people! They all wanted their pictures taken with Betty like she was a celebrity!
A guard even sat in Betty and asked us to take his picture with his phone. Crazy!
This 10-hour drive turned into over 15-hour drive through the night, with no roads, lots of pot holes, pitch black… It was very dangerous! Never again will we drive through the night like that.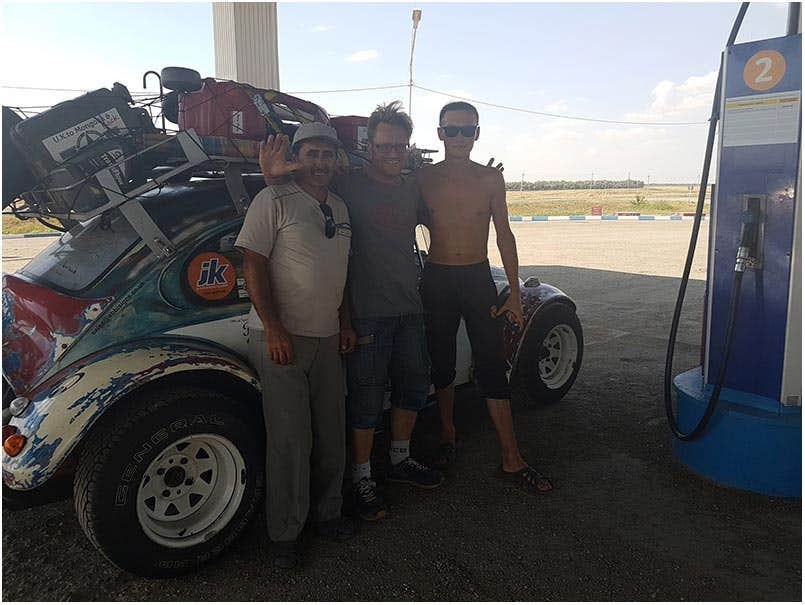 Also, Betty was making some horrible noises from her front end and steering after all the pounding received from these rough roads. Even though we went as slow as we could, the roads were so bad that it was impossible not to cause damage to our poor Beetle.
We got to a hotel at 1am Sunday 30th July. We had thought about camping, but we couldn't find anywhere to stop as it was so dark). We were so glad to get to hotel and we were even cooked a meal by the chef, despite it being 1 in the morning!
We were starving as we had nowhere to stop on the way for miles, so it was enjoyed completely.
Colin surveyed Bettys damage in the morning and found her steering and traction needed sorting, new alternator belt as well, due to heat (38 degrees and more some days). The belts are stretching due to excessive heat and only lasting just over a week, even after resetting. One of Betty's lights had worked itself loose and nearly dropped out - lucky not to lose, and she needed her points reset, too.
We stayed another night in Uralsk as it took Colin (and myself helping) a full day to repair Betty in nearly 40-degree heat...hard going but we got there! Got to look after our little Betty as she looks after us!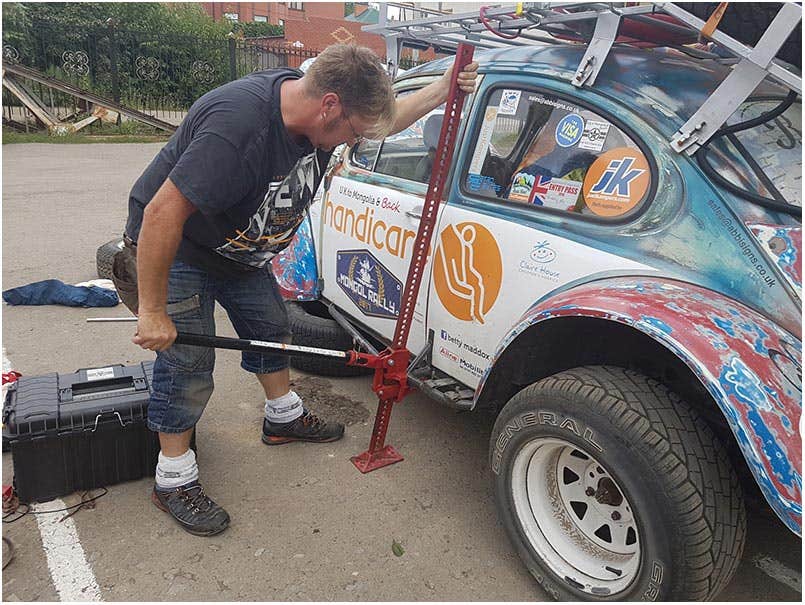 Monday 31st July
Early start again today, continuing to push East into Kazakhstan. Next stop was Aqtobe, where we are now. We were worried about the roads being the same as Saturday but we needn't have worried! The roads have been excellent so far compared to what they were when first entered Kazakhstan. The odd pot hole, sure, but pretty new tarmac so we can live with that. Lovely! Managed 293 miles today and it took us 7 hours, due to good roads. Would have been quicker if we hadn't been stopped by police three times! Once for no lights on during daytime (compulsory here apparently), second as Colin didn't have his top on and was showing his man boobs, and thirdly just to check our documents and have a look at Betty...the police are red hot here!
We find Kazakhstan people though overall are so amazing and accommodating. Very friendly people who love to chat to you in their broken English. Every time we stop to fill up with fuel they come straight over to Betty to say hello and have their pictures taken. They're all really lovely people!
Up early again tomorrow (1st August) and off to Aralsk, Kazakhstan - 9hr drive and 386 miles.
Were going to keep pushing East, over next few days, we need to go back into Russia before we drive into Mongolia, so possible towards end of next week we maybe heading into Mongolia.