Continuing on from our last Betty update, we were heading through Kazakhstan and onto Aralsk in the south of the country. This is the only route through to Mongolia.
Heading to Aralsk - 1st August
We knew this was a long drive for us at 625km in one day. We knew from speaking to the locals that there would be no petrol stations on route at all, which was a concern. We ended up having our first jerry-can refuel today.
It was very hot as we headed into the Aralsk desert, touching 40 °C! The roads were fantastic, though – newly tarmacked only a couple years previous. Whilst at Aralsk we visited what was the old port and hoped to see some old ships which were left when the Aralsk sea went out in the 1970s. Unfortunately, no old ships anymore, as apparently Chinese salvage merchants had removed them over last few years for weighing in for scrap. Aralsk a very sad town with little there, probably due to sea disappearing.
There were lots of camels out and about, even just wandering in the streets!
Stayed overnight in a really nice lady's guesthouse, as there was nowhere else to stay or camp. We had the best meal so far, borsch soup – a meal in a liquid form!
On to Kyzlorda ­ 3rd & 4th August
Now it was time to head onto Kyzlorda, which was down another decent road by Kazakhstani standards. We saw lots of Kazak people on the road, waving and saying hello as they passed and overtook Betty. Whenever we stopped, people would all come over and see us. Next we needed to decide which way to go from Kyzlorda as there were two options.
It seemed quicker to head up towards Zhezkazgeghan, and we thought we would save time, rather than take the main motorway around to the East of Kazakhstan which would add quite a few days on. We decided to take the shorter rout – big mistake!
We got told it was a rough road, but we didn't expect it to be as bad as it was. Basically there was no road for most of the 470km! It was our worst days' drive ever. We thought the road coming into Kazakhstan was bad, but we realized that was quite tame after seeing this one.
It took us fifteen hours, and we were only averaging about 10 miles an hour due to the stones and dust and horrendous potholes, which were more like craters. Some of these potholes Betty just couldn't miss as there were that many, and it ended up damaging her steering. It was a very hot and tiring day. There were no fuel stops on whole 470km route, so we used both jerry cans due to us going so slow and used lots of fuel. A kind driver gave us 10litres of fuel for free though, as the Kazakh people are just so helpful and friendly!
We had to stop on road and repair Betty's steering, as tyres were squealing due to the tracking being out. It was going dark, too, so it could have got dangerous if left unchecked. Luckily two lorry drivers stopped straight away to offer their help, and both parked up at the front and back of Betty to protect her, and shone their lights on her so Colin could temporary repair her steering for now to keep her going. Betty limped to Zhezkazgeghan very late at night and we ended up needing to get her bent steering arm straightened at a local garage. The next day, Betty was back on the road and off to Karaganda, Khazakstan.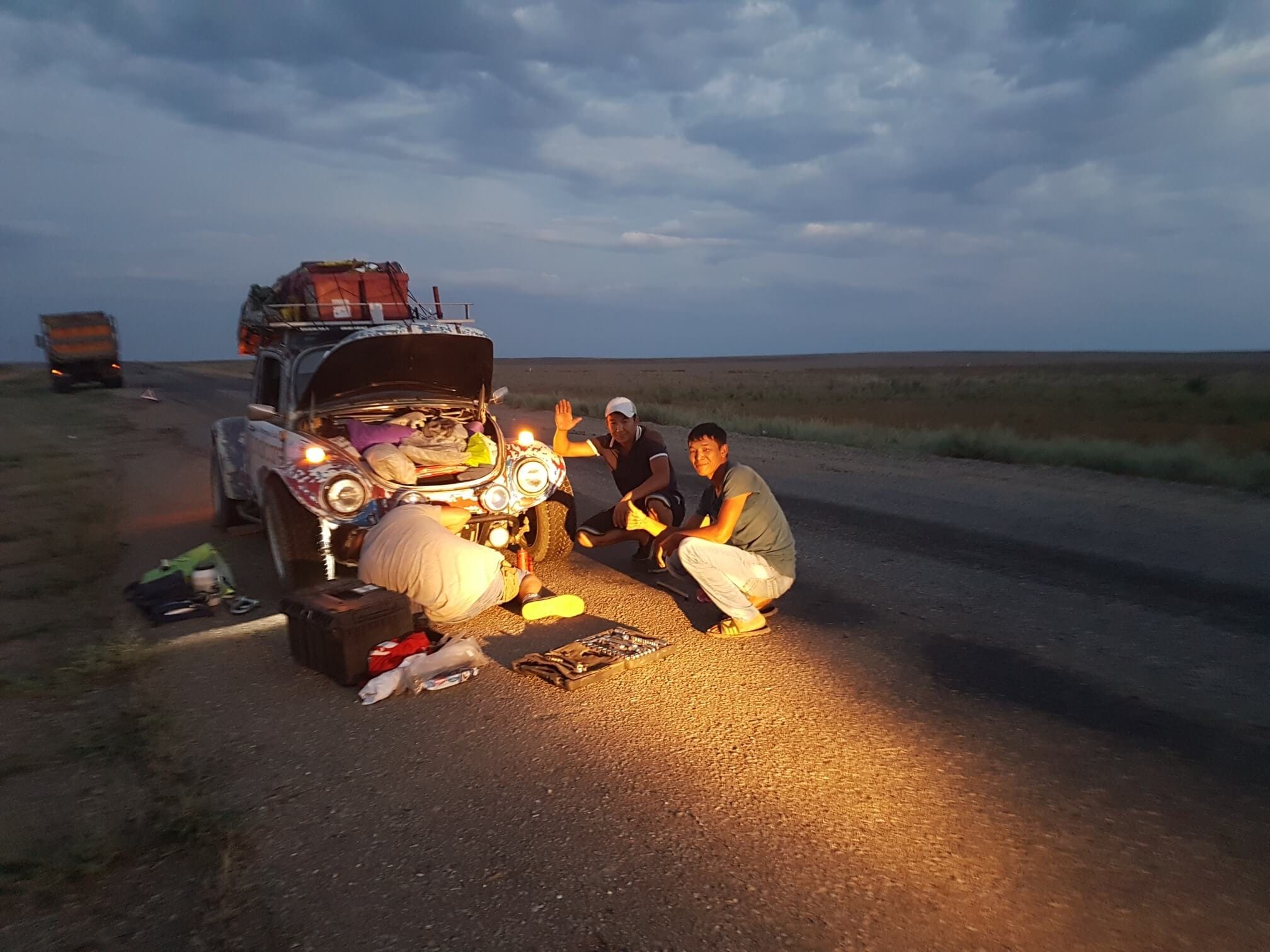 Arriving in Karadanda – 5th August
We arrived in Karaganda at 9pm, so not as late as has been. We had lovely views of the mountains on way, and greener scenery, which was a nice change from desert views of the last few days. The weather was cooler too, only 28°C. Once again the roads were not the greatest, with lots of pot holes that we had to take our time bypassing. Our average speed was 30-40mph, but at least we did have tarmac, so were pretty happy with that!
Betty, Colin and I were very tired by this point. The long drives were catching up with us, and we were looking forward to heading to Mongolia in next few days.
Unfortunately, Colin found a few problems with Betty when he checked her over that night. The Baja Beetle had a cough and seemed to be drinking too much. Colin investigated and found that Betty had loosened all her suspension and steering arms and her tracking was a mile out. Also he found a slight hole in her fuel tank, which must have happened from when a stone had hit it on the last horrendous road we were on. This was a new fuel tank kindly supplied by Just Kampers and fitted just before we left, so it was a real shame to see it damaged by the unforgiving roads. Colin decided to put Quick Steel on to see if this could hold for a short time, and so we headed off to Pavlodar and hoped for the best!
Pavlodar – 7th to 9th August
Pavlodar was another full day's drive away for Betty. The fuel situation seemed okay and didn't seem to be going down too quick so we thought the Quick Steel had been holding. The next morning while sleeping in the hotel we were woke early by the receptionist to be told 'your car runs petrol'. Yep! Betty's fuel tank was leaking again so unfortunately the quick steel hadn't held. The lovely lady who owned the hotel found us a local garage to do Betty's repairs there and then, and they actually said they would weld Betty's fuel tank! What a relief…this wouldn't happen back in Europe. Bettys tank was emptied and washed out with water many many times, and then it was filled with water to weld it up. Tank back on, and Betty back on the road again. Perfect!
With this done we were off to the border and Russia! We waved good bye to Kazakhstan - Sad to say goodbye to the people, but definitely not the roads!
We had our speediest crossing ever at the Russian Border – only 40 minutes, and they were really laid back. We made it to Barnaul, Russia at 1am local time (6pm UK time), very tired. We were later than planned as we had to reset the steering on route again, then clean Betty's points and clear the dust that had filled Bettys new air filter!
Normally the roads are better in Russia, but we ended up having to go down another dusty rubble track for about 30km, and it felt like every nut on bolt on poor Betty was vibrating off. Passers by and locals came to our help again. We stopped at a café to clean and reset engine and it turned out there was a garage next door and they helped blow the air filter clear of dust. The café owner then gave us a lovely hot meal for free. Lovely, helpful people!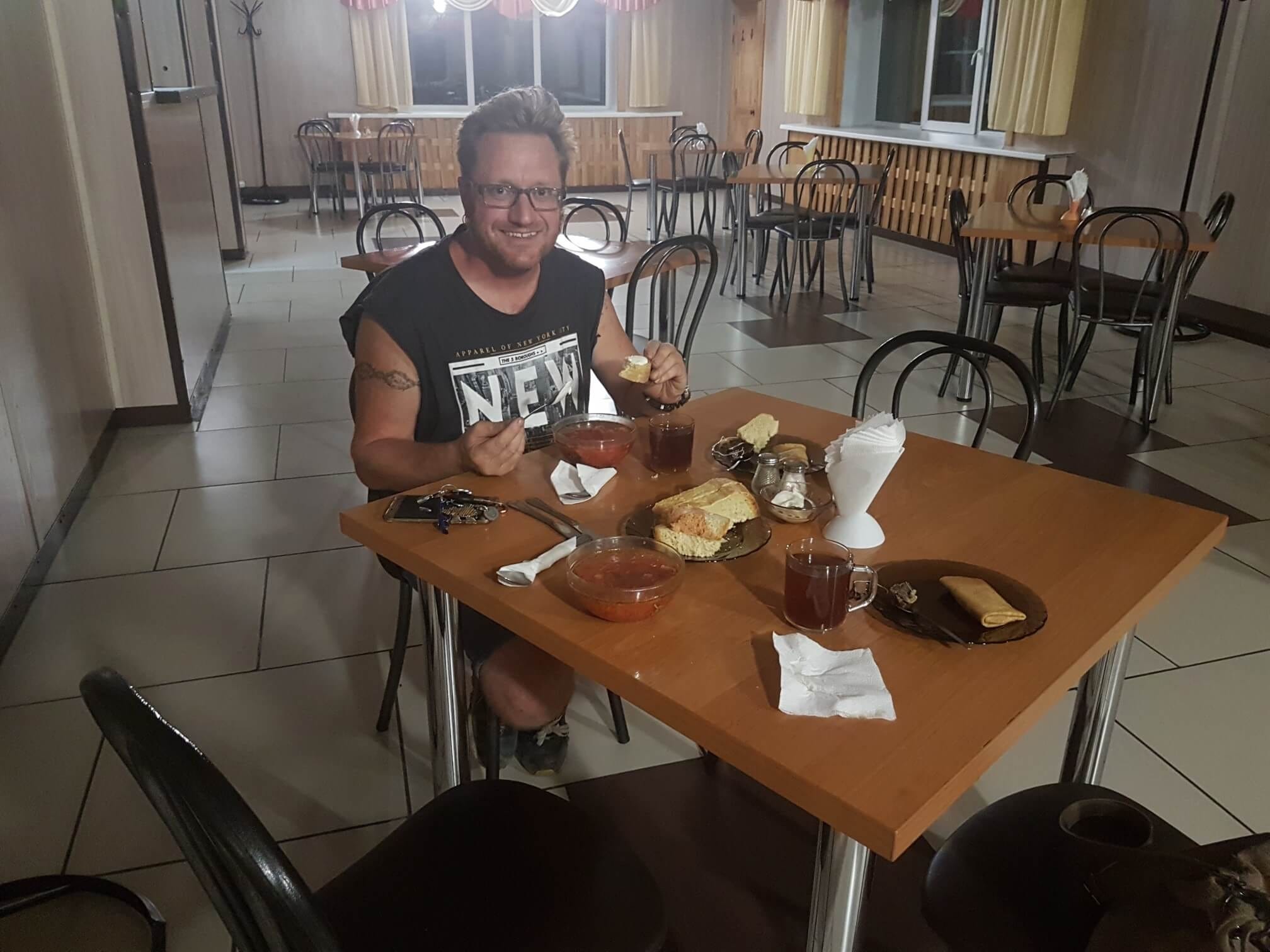 Remerovo, Russia – 10th August
Betty still plodding on, slowly but surely. The maximum Betty runs at the moment now is 40mph. The mileage Betty has covered has definitely taken its toll on her small engine. She now has a couple of oil leaks and one is from the push rod tube - not a quick repair. We decided to stay in Russia a bit longer and head into Mongolia from the North East route, which we think maybe slightly better for Betty after the Kazakstan rough roads.
To the Mongolian Border – 13th & 14th August
We drove solidly for a day and a half, through the night and made it to the Mongolian border at 4.30am. We were the only vehicle to cross at that time which was great, our plan worked to go through early as it only took us 2 hours to cross, which is good as we heard it can take up to 5hrs for border crossing through Mongolia! They tried to get us to pay on the Mongolian border side even though there should be no payment. Customs said we owe 2000 rubles, so Colin kept on telling them that we had no money. They dropped it to 500 rubles then 200 then 100 rubles. Still dint pay and didn't have a clue what it was for! Guess it was first bribe or attempt at. Customs lady wasn't happy but she gave up in the end and we got our stamp, and got into Mongolia. The landscape in Mongolia is so beautiful and unspoilt.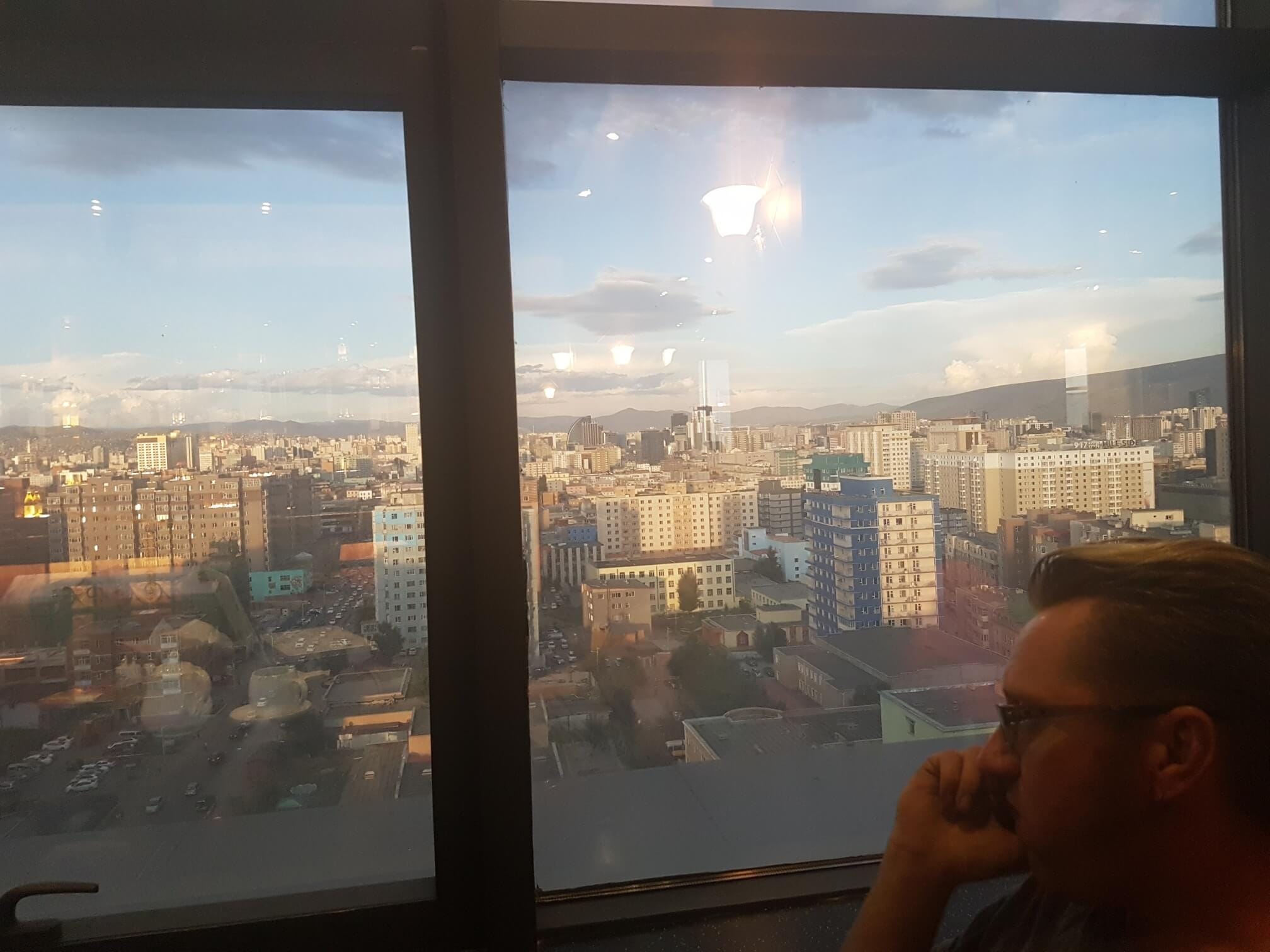 Ulaanbaatar – 15th August
We headed to Mongolia's Capital City, Ulaanbaatar. It's a very big, very busy, very dirty city. It's also very Westernised compared to everywhere else in Mongolia. We headed to the Unicef in Ulaanbaatar, located in the main UN Building. We waved goodbye to Baby Betty and handed her over to Unicef. We couldn't visit the orphanage as all the children were away at camp for the summer holidays, but they said they would send photos of Baby Betty when she finally meets the orphans in September when children back. Now plodding back to the border to head to the Mongol Rally finish line in Ulan Ude Russia (but only ½ way for Betty and Colin).
The Finish Line – 17th August
Betty made it to the Mongol Rally finish line in Ulan Ude Russia, in very nearly 4 weeks from when we set off!
Betty needed work first though. For the very first time ever she wouldn't start, and it turned out her carb was blocked. We just got her going in time to get to the finish line as its only open until 5pm each day! Betty was number 14 to cross the finish line from over 300 cars that took part so for a nearly 50-year-old lady she's done well!
Also, Heather was the first lady to finish! We made some great friends at the finish line and caught up with some friends who we met at the start at Goodwood all those weeks ago.
A Strange Day – 18th August
Heather waved good bye at the Ulan Ude airport and headed back to England whilst Colin's dad, Steve, was arriving at the same time. Colin and Steve will stay another night in Ulan Ude and fully service and check Betty before they start the big trip heading back home.
Steve and Betty – 19th August
Steve's first drive with Betty and Colin and they headed off to Irkutsk, Russia. There were some killer hills on the way, which really took their toll on Betty. She was only just managing to get up some of these hills at 5mph, then serious problems. Colin said it felt like somebody was ramming poor betty from behind. He lost all drive and they were going up a big one-in-ten hill at the time. It was 11pm, dark and no street lights. Luckily, someone stopped to help Betty again! A big truck towed the Beetle all the way to Irkutsk. A 60+ mile tow, over 4 ½ hours averaging 15mph…very tiring. The truck driver even towed Betty all the way to a hotel and helped push Betty into the hotel car park! We couldn't thank him enough.
More Work on Betty – 20th August
Colin and Steve stripped Betty down and thought that Bettys gearbox had gone. After much wandering around and Google Translate, they then located a gearbox specialist who kindly said he would look at the gearbox to see if he could fix it, if they could get the gearbox to him.
So they went back to remove engine etc., which they did, and removed Bettys rear wheels and this is when they noticed that one of the rear brake drums had sheared all its teeth/splines off…no wonder Betty had no drive!
So panic over for gearbox, now they 'just' needed two new rear brake drums. Thankfully Rob Steward at Just Kampers stepped in to help us big time again.
Heather asked if she could order them and needed help with delivery to the Russian hotel we were staying at, but JK sorted it all in no time at all, with the parts being collected and on their way to Russia same day! What a turnaround! Amazing. Couldn't have done this trip without you Just Kampers!
So the parts would take a week to get to the far side of Russia (which I think is pretty good really). This left lots of time for Steve and Colin to catch up on sleep, to really go to town on Betty's engine and give her lots of TLC, and time to have a look around Irkutsk.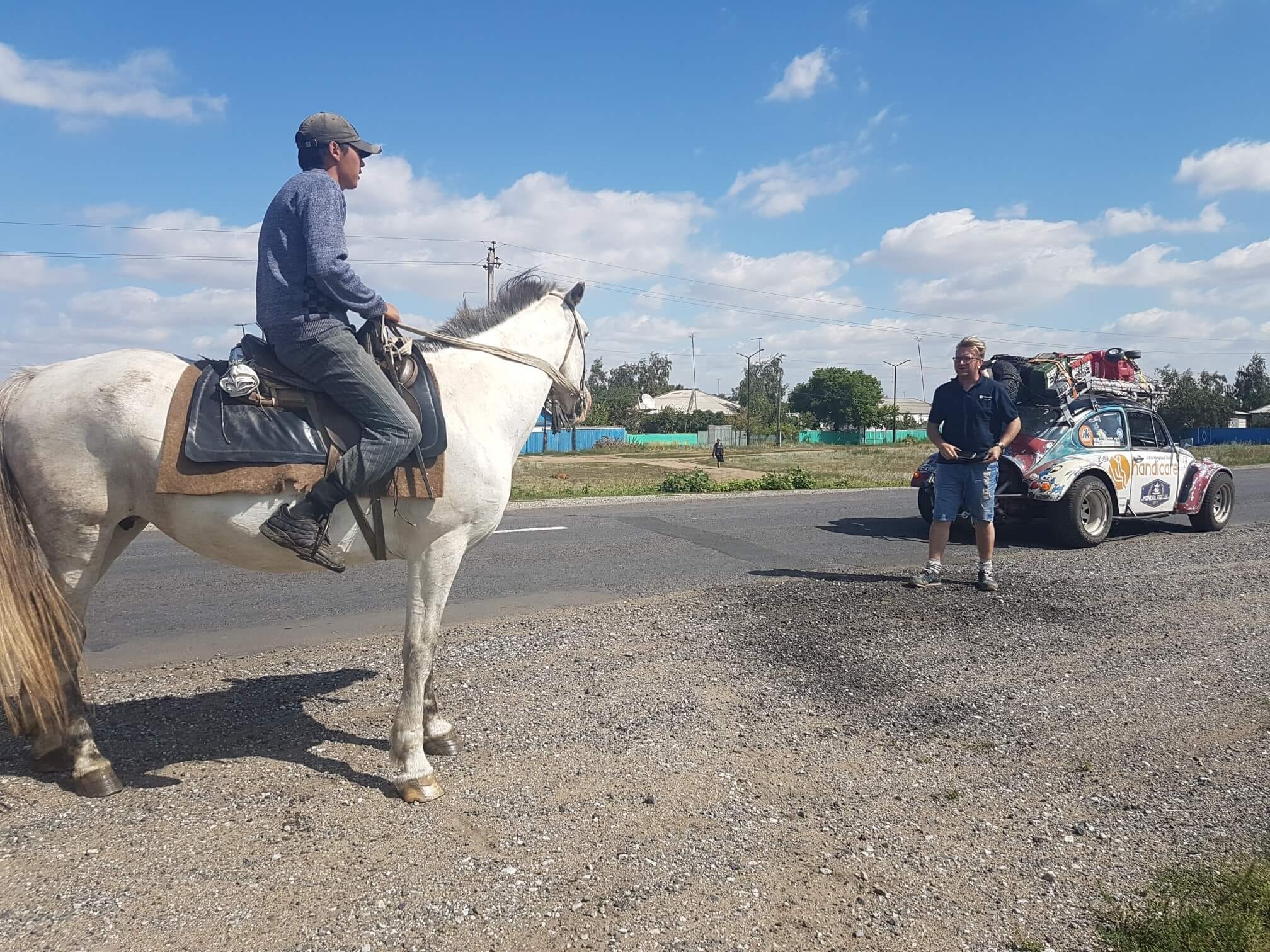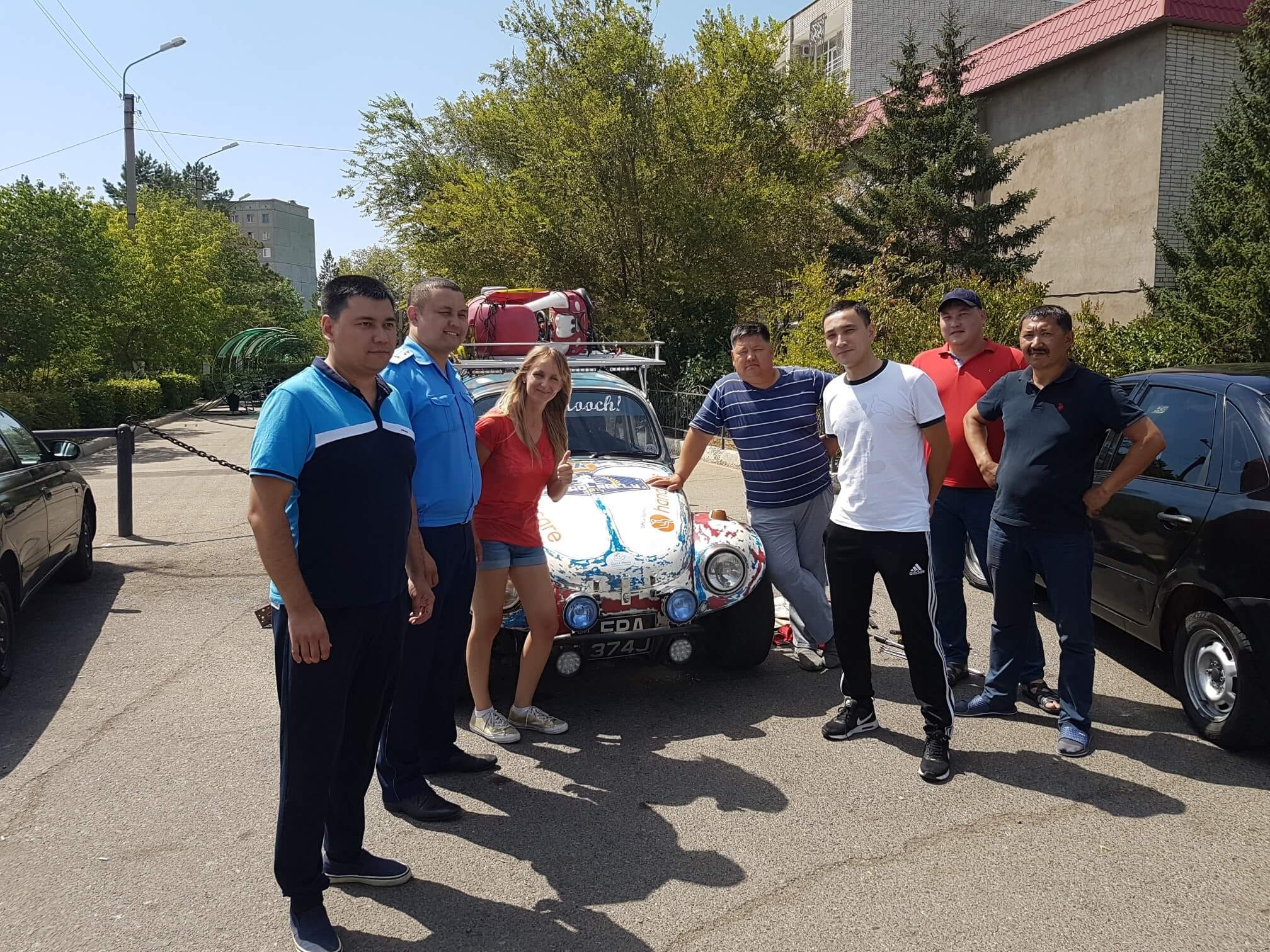 New Drums – 28th August
Just Kampers' new brake drums for Betty arrived! Colin and Steve were over the moon as they were itching to go by now as there wasn't too much to see and do in Irkutsk! Brake drums all on, and Betty back on the road thanks to Just Kampers!


We'll keep you updated with more information from Heather, Colin, Steve & Betty as they head back to the UK from the finish line of the 2017 Mongol Rally!