Best Portable Toilets for Campervans and Camping
Best Portable Toilets for Campervans and Camping
With the second wave of lockdown easing and announcements that self-contained camping will be given the go-ahead from 12th April, many campsites are taking bookings but only admitting caravans, campervans and tent campers who have their own washing and toilet facilities.
In recent days the DCMS (The Department for Digital, Culture, Media & Sport) clarifies what facilities campsites and holiday parks in England can open in Step 2. Washing facilities, toilets, water points and waste disposal points should be operated so as to ensure no household mixing takes place. Details here.
However, If you are planning on taking a camping holiday or self-contained staycation this year, it would be wise to prepare to be self-sufficient and now is the time to spend a penny on a camping toilet for your day van, campervan or general camping setup.
Don't Get Caught Short...
There are always good reasons why a portable toilet is essential for any camping trip, here are a few.
New Covid restrictions require responsible safe-contained camping so the use of shared toilet facilities are off-limits.
If you've ever had to wake up in the middle of the night and needed to make

that

journey, you'll agree, a camping toilet is a must!
If you have children that are attending the school of potty training, a portable toilet is a must and can add to the fun whilst you're camping.
Check out our top flushable portable toilets
Fiamma Bipot 34 Portable Toilet
The Fiamma Bi-Pot portable toilet is a simple, strong self-contained fresh water flush portable toilet. It is a very simple system that is easy to clean and is sturdy and compact for easy transportation. It can also be completely dismantled, including the valve, for thorough total cleaning. Ideal for families looking for a flushing portable toilet solution.
Dimensions: 43.5 x 36.0 x 34cm
Upper Tank: 15 Ltr
Lower Tank: 13 Ltr
Weight: 4.7kg
We'd also recommend the Fiamma Bipot 30 Portable Toilet which has the same great features as the Biopot 34, however with slightly less capacity.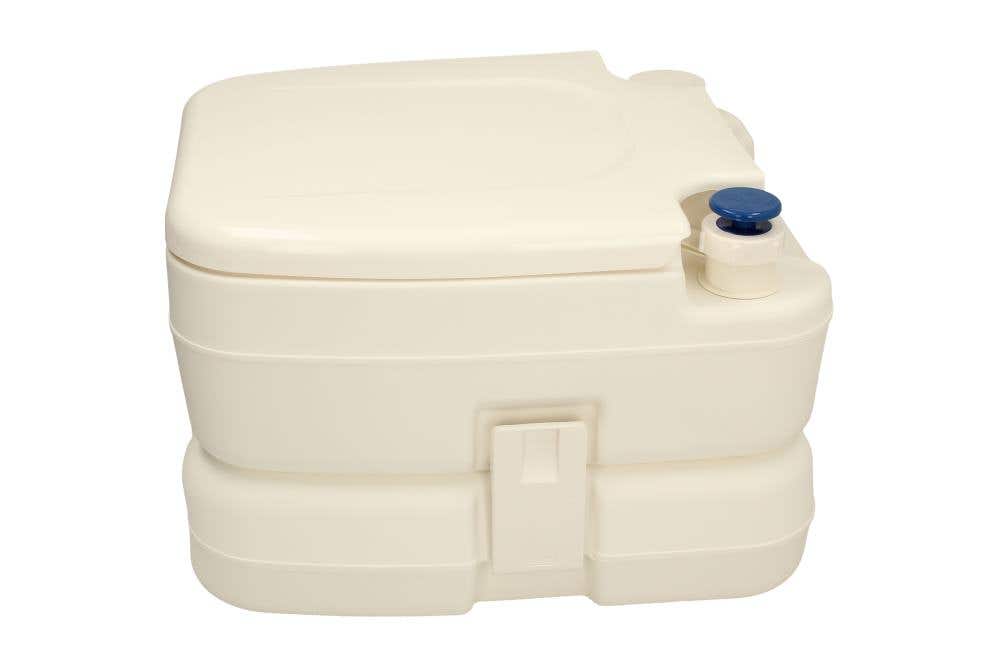 Dimensions: 43.5 x 34.5 x 30cm
Colour: Grey
Upper Tank: 10 Ltr
Lower Tank: 11 Ltr
Weight: 4.1kg
Check out our top non-flushable portable toilets
Kampa Dometic Khazi Camping Toilet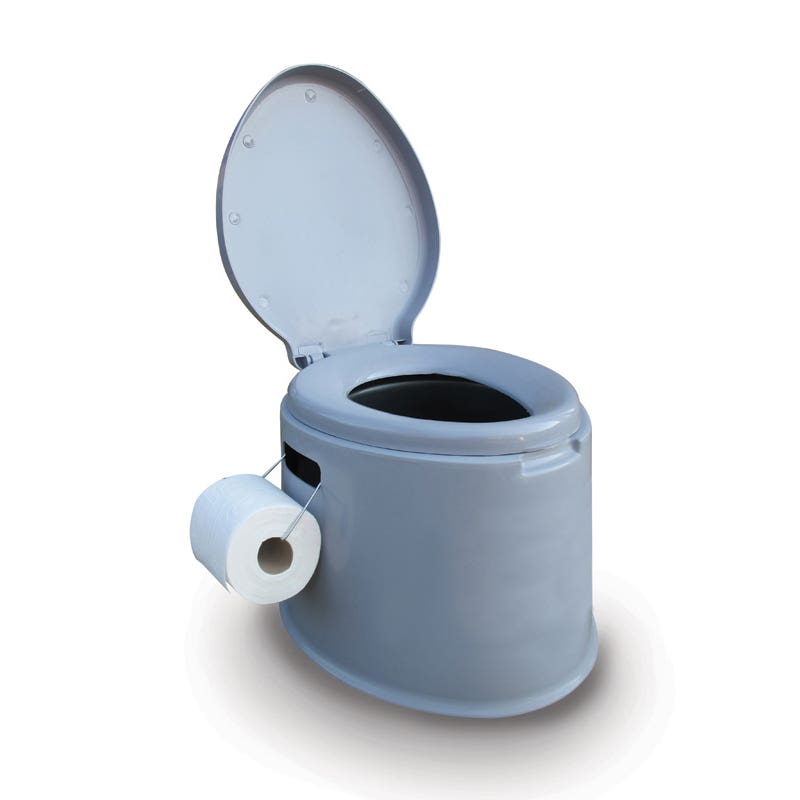 Suitable for use outdoors and indoors environments. Ideal for camping, caravanning, boats, your campervan, outdoor events and emergencies. The Kampa Khazi has a sturdy base and has a removable waste container making it super easy to empty.
Its compact size makes it easy to store when not in use and it comes with a convenient toilet roll holder.
Specifications:-
Height: 35 cm
Width: 45 cm
Depth: 36 cm
Weight: 2.23 kg
Considerations on Flushable and Toilet Bucket options.
Pros & cons of basic bucket-style camp toilets
This type of loo takes up much less space, plus you can use them to store stuff inside whilst in transit.
These are considerably lighter than a flushing style loo.
Not ideal for no.2's as they aren't sealed.
Bucket style loos are inexpensive alternatives to flushing loos.
A bucket loo tends to be the preferred option for emergency use or nighttime, quick trips.
Pros & cons of flushing camp toilets
Due to the size of some of the flushing style loos, they can take up a bit of space in your car, camper or caravan.
They can be more expensive than a bucket-style loo.
Flushing camping toilets are more suited for families and regular use.
Flushing camp toilets tend to be much more stable, so there is less chance of knocking them over...Yuk.
Flushing toilets have a sealed container so there will be fewer smells, especially if you also use chemical toilet fluid and cleaners. This will make the 'throne away from home' experience much nicer!
Consider leakage. If a campsite your visiting doesn't have a chemical toilet waste disposal area, you'll have to transport your loo and its contents home (carefully!) We'd recommend doing some research on reviews that mention leaks.
Cloggage - Many flushing toilets can be used with toilet roll, however too much, or the wrong type can lead to issues when it comes to emptying time. So, consider using a biodegradable, quick-dissolving toilet tissue for a swift exit.
Don't forget the quick-dissolving loo paper & toilet chemicals.
We strongly recommend any flushing camping toilet is used with an environmentally safe toilet fluid. This fluid when added to the waste tank will assist in breaking down and dissolving the contents and can help keep whiffy whiffs at bay. Just Kampers has a wide range of pleasant-smelling, safe to use toilet fluid and rinses. We'd recommend checking the type of fluid that can be disposed of at your campsite before buying first.
When using any camping toilet, we recommend you take with you some dissolvable camping toilet roll. Don't grab what you have at home, thick quilted toilet rolls are perfectly fine for our homes, but out in the field, dissolvability is key! If you've ever emptied a toilet, then if you know... you know!