Best Fridges for Campervans 2020
Choosing the best campervan fridge for your own needs can be tricky if you have a limited understanding of the options out there. As well as a range of makes, models, and prices, you must also contend with the different types of power supply, and the suitability of a fridge for different trips. To make things easier, we've put together a guide to the different types, as well as a list of what we think are the best fridges for campervans.
Different Types of Campervan Fridges
There are three main types of campervan fridges: compressor, three-way, and a thermo-electric cool box.
Compressor fridges:
These are similar to what you would typically have at home, only they use far less power. A normal fridge, however, would use a lot more power than your campervans leisure battery can offer, which is why you need a compressor fridge. These usually run using 12volts, and switch between the normal 240volts but for a few minutes, changing voltage every 20-30 minutes. It's during this time that they use power from your camper's battery.
Compressor fridges, as a popular choice amongst camper enthusiasts, are usually recommended for their reliability, efficiency, and easy installation.
Three-way fridges:
Three-way fridges are so-called because they can be run in three different ways: through a mains electric supply of 240v, using 12v electrics, or using LPG gas. These can be suitable if you don't have a solar panel, or if you'd rather use a gas supply or an alternative source. They're also ideal for those looking for more fridge space, as these are usually much larger than compressor fridges and thermo-electric cool boxes. Likewise, a three-way fridge can be the better of options for larger groups of people travelling, in large part due to the spaciousness of the fridge and the range of sizes they can be purchased in.
Whilst they can be more efficient and longer-lasting, gas fridges also run silently compared to many fridges, which emit a mechanical hum. If you want to use a gas supply to power this type of fridge, it's recommendable to seek the help of a licenced gas engineer.
Thermo-electric cool box
The final option is, in fact, not a fridge at all, but rather a large cool box. These use electric power to remove warm air from the cool box, instead of keeping it at a set temperature. They tend to reduce air temperature by around 20°C, so are only suitable for short trips in cooler weather.
Perfect for kitting a camper on a lower budget. This is a great option for shorter road trips, travelling only brief distances.
Compressor fridge vs 3-way fridge
If you use your campervan for long trips or trips abroad, it's probably worth taking cool boxes out of the equation. This leaves you with compressor fridges or 3-way fridges. The choice will largely depend on your power supply.
Compressors tend to be slightly more expensive, but if your campervan has a solar panel it will run efficiently and with minimal attention.
Those who don't have a solar panel might prefer a 3-way fridge, because of the options it gives you regarding power supply. Choosing from mains, 12v battery power, and gas means that you can use the fridge in different settings – whether you have electric hook up at a campsite, you have an installed gas source, or you're happy to rely on your battery.
Best fridges for campervans
Before converting your camper with a new fridge option, you should consider the sizing, fittings and voltage requirement to ensure smooth compatibility with your camper. Should you choose to install a compressor fridge in 2020, your best options include:
Just Kampers 45Lt 12v-230v Electric Compressor Cool Box Fridge/ Freezer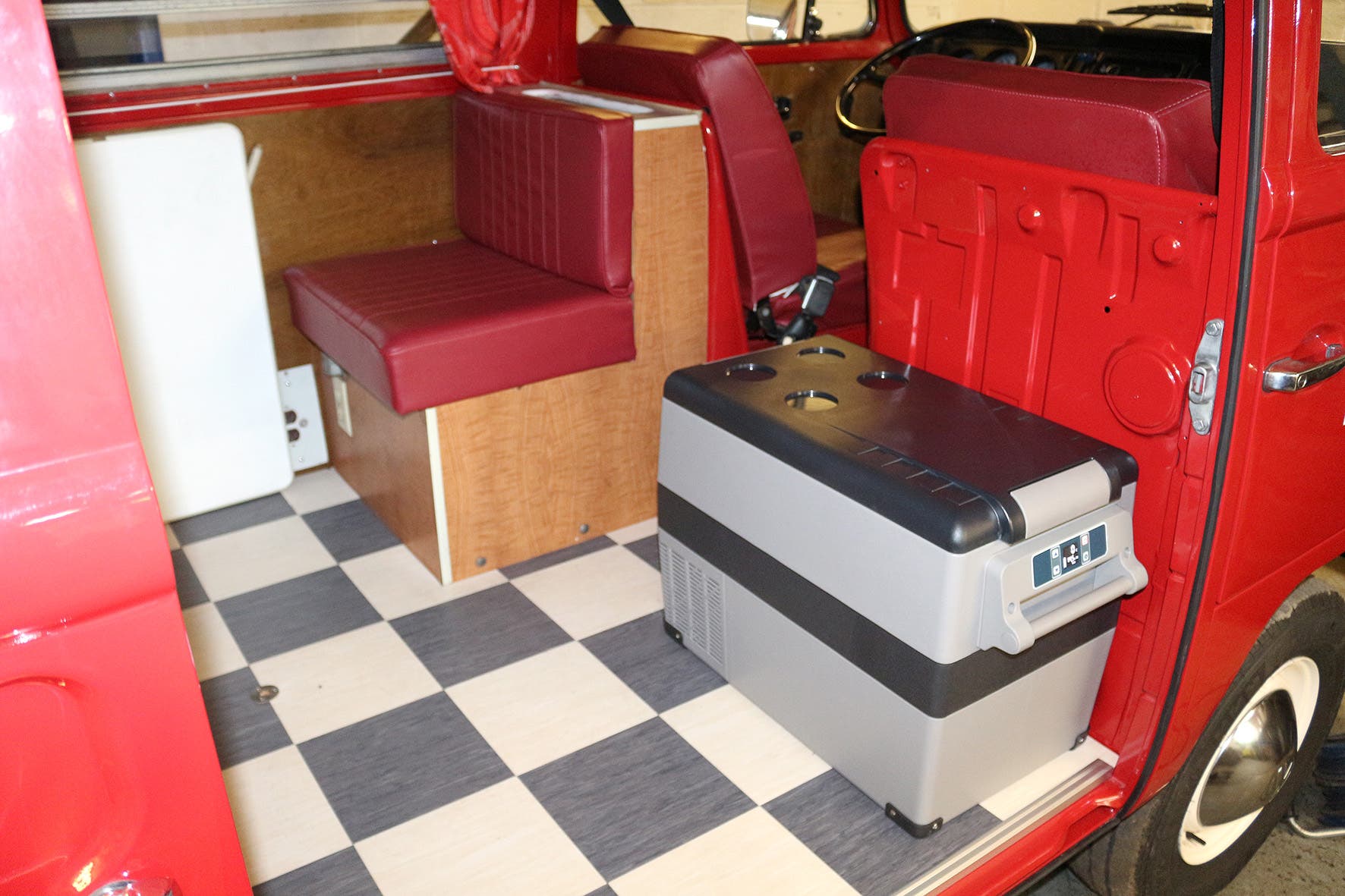 A portable fridge-freezer, this is ideal food storage for your travels and doubles as convenient seating. Complete with two compartments – the larger of which can function as a freezer, and the smaller drawer can stow perishables at cooler temperatures (-/+20o).
Read more here.
JKF 50 12v Compressor Fridge Freezer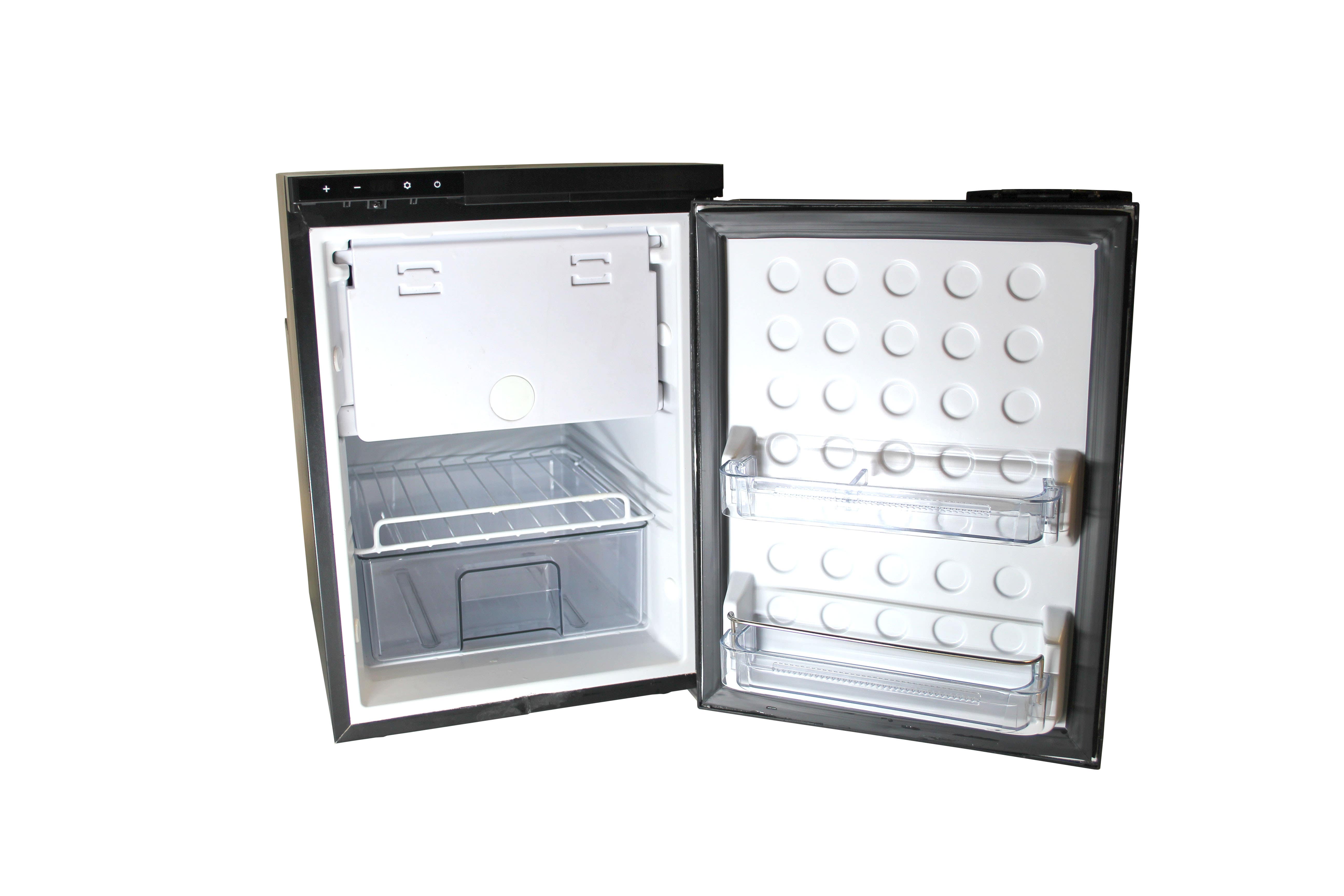 The JKF50 12-volt compressor fridge freezer to be high quality but at an affordable price. It's packed full of high-end components and features that have previously been reserved for more expensive fridges
Featuring a 34-litre refrigerator compartment capacity and an 8-litre freezer compartment. However, the freezer compartment is removable so if it's not needed, you can have a 42-litre fridge. There's one internal shelf that is adjustable to three different heights and a 'crisper' tray to keep salad, fruit and vegetables fresher for longer.
Read more here.
Dometic CoolMatic CRX50 Premium Compressor Cabinet Fridge/ Freezer (48 litre) Stainless Finish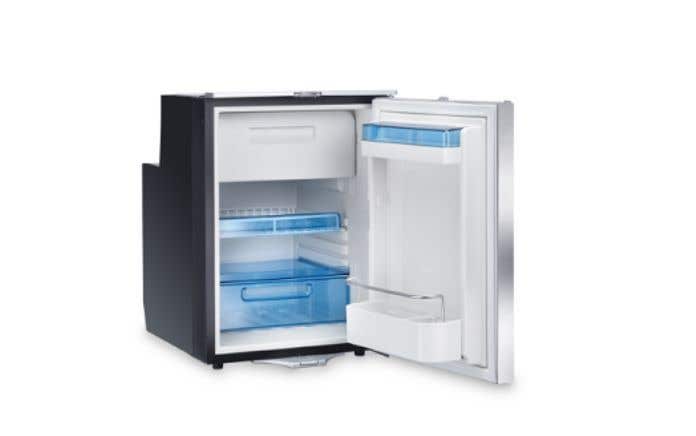 Easy to install across a variety of camper conversions, this Dometic fridge has space that can be modified to clear room for your food storage. This fridge/ freezer is great for long hauls and offers camper owners flexibility for the long road.
Dometic CoolMatic CRE50 Premium Compressor Cabinet Fridge/ Freezer 45Ltr
The Dometic range is constantly innovating the portable fridge/ freezer product. This time, as with other Dometics, the fridge uses adjustable shelving to help create more space when it's needed. It's a great option for longer trips and time spent travelling.
Webasto Cruise Elegance CR49L Compressor Cabinet Fridge/ Freezer (49 Litre)
Designed for campers on the move, this fridge understands how space is a premium. Complete with internal storage options to customise the interior compartments.
Spacious by design, this fridge is great for camper conversions given its flexibility to adjust shelving and compartments. This fridge has great temperature retention, with a thick outer wall. Complete with fixable mountings to finish off your modern conversion.
Webasto Cruise Elegance CR49L Compressor Cabinet Fridge/ Freezer (49 Litre)
Complete with all the bells and whistles of a Webasto branded fridge unit – here is a spacious unit with custom shelving that runs quietly on lower voltage, leaving your leisure battery unstrained by its daily use and comes in a fantastic contemporary Stainless Steel finish.
Best Campervan Fridge
Before hitting the road, having the right storage options can be essential for long or short journeys. With a growing number of fridge and freezer options in 2020, there are several attractive reasons to consider how a new unit can be the next fitting upgrade to your ride. For cleaner, lower energy use, to adding more space, a new fridge for your camper could settle the craving to bring new life into your campervan.