One of the most enjoyable benefits of holidaying in a campervan is how well it can accommodate to travelling with extra friends and family. Travelling in a standard car can quickly feel claustrophobic, especially for larger families or those travelling with pets. Even smaller campervans don't quite fit the needs of those travelling with families of four or five. So, for those adventuring with larger families, what is the best family campervan?
Things to Consider for Your Family Campervan
When it comes to the campervan market, the variety of models, makes, styles and sizes can make it tricky to determine the best one for your family. Understanding what to look for in a camper makes the decision easier, especially if you travel often with your family.
As you begin to research the right campervan for your family, you'll need to consider a few things to narrow down your search. For example, you'll need to consider not only how large your family is, but how much space they'll require. Can you use a smaller campervan but extend your space with an awning? How comfortable do they all want to be? Younger children may find it exciting to sleep in an awning over inside the campervan.
Certain attributes in a campervan will help to make your journey feel more comfortable, including:
Storage availability (How much do you anticipate travelling with?)
Bed comfort, or whether an alternative will work
The size of a campervan
How often do you plan on using a campervan
How to Choose Your Campervan Berths
For families of any size, consider the 'berth' of your campervan and what this layout includes. You'll need to plan carefully for space requirements. But this doesn't mean families can't get creative with space.
An icon of the open road, VW campervans such as the latest California Coast and Ocean models are almost synonymous with the idea of family travel. VW campervans are associated with practical, comfortable, and safe travel, and the California, now into its sixth generation, represents how a camper can be the best vehicle for medium-sized families looking for adventure.
But space can be organised based on standard layouts or customised to the owners' preferences. There are no universal rules when it comes to the layout of a campervan, so you should consider how you can personalise what available space you do have.
Campervan tip: to avoid being overwhelmed by the choice and variety of campervan layouts, which can be standard or customised, consider instead what your family needs.
Ask yourself: how old are my children? What will they need and want when travelling in a campervan?
Before setting out on an adventure, you'll want to ensure your family is comfortable in your new camper. Children or family members of different ages will vary in what they prefer when you go camping, the kind of bedding, privacy options, and further safety considerations.
Young children, for example, may be less independent and require more space within the safety of the cabin. Older children or guests, however, could be just as comfortable sleeping overnight in an awning, especially if they want a more authentic outdoors experience.
Best Campervan for a Small Family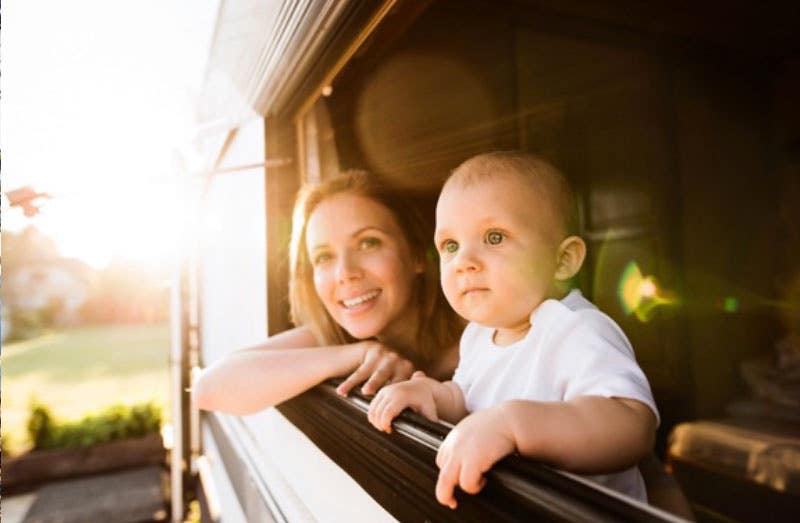 Typically, 2-berth campervans are smaller, lighter versions of touring vehicles, where space is precious and limited. This layout is more ideal for those travelling in smaller groups, ideally in pairs. This will likely include enough space for two people, rather than small families.
2-berths are better for couples looking to enjoy a lightweight and affordable campervan.
Best Campervan for a Family of 4 (Medium Families)
4-berth campervans are an ideal choice for medium-sized families with an appetite to travel. Many of the same questions are often asked about campervans, including:
Does it have a toilet?
How many can it sleep (regarding bed options)?
What are my priorities?
4-berth campervans are desirable because they're optimally sized to allow for four passengers, who can sleep, travel, and live comfortably within its cabin.
Best Campervan for a Family of 5 (Larger Families)
If spaciousness is a priority, and your family plans to make the most from living and travelling inside the cabin, then consider a 5-berth campervan. Ideal for larger families, a 5-berth campervan can accommodate more than a 4-berth and offers generous space within its living cabin.
The Different Campervan Layouts
When figuring out the best campervan layout, you will need to consider how many people your camper will be accommodating. If you plan on using your campervan regularly, or just for occasional holidaying, you will need to think about the different campervan layouts available. As a home away from home, your campervan will need to comfortably and safely house your whole family (and any friends who join in your adventures).
You might, for example, have only lounge space for beds and buy a portable cooking stove or oven to free up space. Alternatively, you might choose to creatively divide space between a lounge and dinette to create space for eating that can be repurposed at any moment for sleeping. Ultimately, campervan owners will need to prioritise how they use the available space within a campervan.
The other reason layouts matter is for road safety. If you're all travelling in the campervan, you will need to consider the number of seat belts available. The layout will shape how your family uses a campervan and what's practically achievable on and off the road.
Campervan Layout Glossary
Berth refers to the available sleeping space in a caravan or campervan.
Washroom is the designed space for a toilet, shower and basins.
Nearside is the closest part of the campervan as you walk through the door.
Dinette defines a dining area that can be converted into seats or extra bedding.
Best Campervan Accessories for Families
Generally, good accessories can simplify family travel. The kinds of accessories you choose to travel with can range from comfort, security, space-saving, to leisure and enjoyment. Your family might, for example, feel adventurous and prefer to travel with bikes for leisure. Alternatively, you might erect an awning to create more space for your family for sleeping or camping.
Awnings to Create Space
An awning is considered by many an essential accessory in camping setup. An easy to setup awning can include a porch, additional sleeping space, or room for storage. For these reasons, an awning can create and transform the useable space you have available, which will change the way your family camps.
Awnings come in all sizes and are fit for different purposes, depending on how you plan to use one. Whether a sun canopy, a storage tent, a driveway awning, or other, you'll need to decide on which is best for your family.
Storage Boxes to Extend Space
When space becomes especially limited, cupboards, boxes and portable storage items can be useful to extend or create room for storage. Often one of the greatest challenges with travelling is restrictions on space and what can be stored.
To free up key space, and travel with more, think about creating or extending space by using portable storage items to make up for space limitations.
Camping Accessories
Openly think and discuss the kinds of activities your family might enjoy. Even if you're camping nearby, you will need the right gear to make this effective. If your family enjoys other activities – kayaking or biking, for example – plan to keep storage clear for this kind of gear. Storage in a campervan is a commodity, and any available space will need to be negotiated between general storage and additional sleeping space.
Campervan tip: if storage is scarce, especially if you're a larger family, you can hire gear such as bikes, kayaks or canoes, locally if you plan to stay near amenities. Many coastal parts of the UK offer hire gear on day rates. This may be a more practical option if space is already feeling limited.
Which is Best for Your Family: Tent or Campervan?
If your family is comfortable with the outdoors, then there are a range of alternatives to consider. You might for example, use an awning to extend what's available in your campervan. Or, if you prefer camping to the views of a great British landscape, then you can use tents. For families of five or larger, you can even strike a balance between awnings and tenting to create more space for your needs. This way you can create storage and sleeping room without compromising on your campervan.
Many camping enthusiasts debate the practical uses of tents vs awnings. If you're undecided, consider what's best for your family first, then consider the other practical and creative benefits of each option.
How You Choose the Best Campervan for You?
The best campervan will look different for every family. What you're ultimately looking for is a space that accommodates your needs and preferences. Where some families are more active and enjoy the sense of adventure that comes with being outdoors, others may prefer the cosiness and comfort of camping in a spacious campervan.
When deciding on the best campervan for your family, you'll have to plan for:
Different campervan layout
How do you intend to use space
How often do you want to use your camper
Preferences with sleeping arrangements
Before planning your next family escape, think ahead about the best family campervans. If you're on the market for a 4 or 5-berth campervan, you can explore deals on our marketplace. Alternatively, if you're looking for ways to get creative with your camper, discover our range of camping accessories to unlock the most from your adventures.