Roger Albert Clark Rally 2019
Well, where to begin? The 2019 Roger Albert Clark Rally was be the toughest yet, with 300 stage miles in five days. Starting in Leominster on 21 November and finished in Carlisle on 25 November.
As a team, we have been plagued with issues with both our Type 3 Notchback and Bertie the Beetle throughout 2019. Having missed many events, we had entered and subsequently had to pull out of, we were determined to get to the longest and toughest Rally Event held in the UK.
Wednesday 19 Nov.
Bob & Mark's adventure started on Wednesday 19 November with a trip to Leominster to sort out the arrangements in the service park, in readiness for the event start on Thursday 20.
Discussing things with the scrutineers, it was clear that we couldn't (nor could anyone else) use LED Headlight or spot light bulbs. Everything else seemed in order.
We returned to Team Colorado HQ to meet with Dan Wierny our other mechanic and change all the bulbs from LED's back to regular "candles". Bertie was loaded on to the trailer ready for Thursdays Rally Start.
Thursday 20 Nov.
Mike Leflay se off from the New Forest at some ungodly hour to arrive with us all at HQ around 08:00.
We had a briefing over sausage rolls, collected our thoughts together and headed off to Leominster for scrutineering at 10:00.
We were second car on the road, so we had to be there early, even if the official start was 16:00.
Bertie was prepped and ready and scrutineering happened without any dramas.
Bertie set off from Leominster at 16:02, being waved and cheered by all the spectators and headed to Radnor Forest.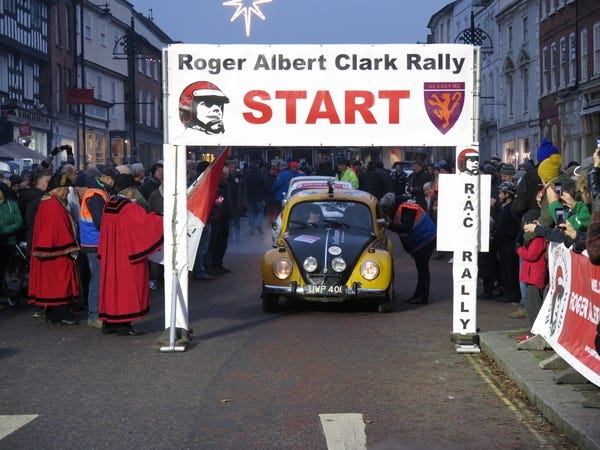 SS 1 & 2 were both laps of the 8.78-mile stage Radnor. When we arrived it was very dark, very wet and worst of all very foggy!!
Bertie, Bob & Mike set off with some trepidation into the forest, lights ablaze. Whizzing through the forestry track, basically on a shakedown for the newly assembled engine - well, if we were going to have problems, where better to find them than in the dark and fog!
We completed the first lap, though time control and headed back to the start, for lap 2. Entered the stage only for it to be subsequently cancelled on safety grounds. We were in the que, so still had to do another lap, even if it was at a (slightly) slower pace than before.
After both runs, we headed back to service, where Dan & Mark were waiting.
Bertie was checked over and safely parked up in the service park at Leominster, and we headed off for some well-earned dinner back at TCHQ.
Friday 21 Nov.
The first really early start for all of us saw Bertie, Bob & Mike heading off from Leominster service, while Dan & Mark headed across country to Epynt MOD stages where we would set up service for the day.
The rain began and so did the cold weather.
We had a total of 8 stages to do today, Crychan (2 x 6.34 miles) Gwibedog (2 x 5.43 miles), Epynt (2 x 4.05 miles) and Halfway (2 x 4.20 miles).
Bertie, Bob & Mike had one issue before the first service, when an oil pipe came dislodged from the output side of the oil pump, spraying hot oil all over the engine! At least it wouldn't rust now we thought!
Oil pipe reattached, engine topped up with oil, and they all continued to Service. Dan & Mark worked hard in the allotted 30 mins, repairing the oil pipe, cleaning the wheels of mud and debris and generally servicing the car (oil, fuel, etc).
Shortly after leaving the last stage at Halfway, the dynamo pulley let go, leaving us with some destroyed metal and no cooling - an already hot engine, this wasn't good!
Some frantic phone calls and assistance from the internet and some good friends (John Kiff), lead to us to contacting John Gurney.
The service team then drove the Service truck and towed car & trailer across the Welsh forests to find a stranded Bertie!
After an incident with a School Bus we made it to them and were able to load Bertie into the trailer for the long drive to Carlisle.
Bertie, Bob & Mike headed straight to Carlisle, while Dan & Mark headed to Wem (a small town in Shropshire) to collect the parts, en-route to Carlisle. John had already arranged various pulleys, woodruff keys and even a fan belt! These parts collected, the service team headed back up the A49 towards Carlisle.
We met with the rest of the team in the services on the M6, where we fitted the dynamo pulley and fan belt under the lights of the service station car park and continued our drive to Carlisle.
Arriving at about 23:00, we set ourselves up in the Carlisle Service Park and headed for bed at our Hotel.
Saturday 22 Nov.
Another early start meant missing breakfast in the hotel by about an hour and heading straight for the Service park.
Today we had a lovely service location of the Keilder forest, on the shores of the largest man-made reservoir in the UK.
Today is 7 stages, Kershope (2 x 16.69 miles), Ash Park (5.33 miles), Clintburn (13.52 miles), Chirdonhead (14.71 miles), Harwood (11.83 miles), Pundershaw (9.35 miles) & Paddaburn (15.03 miles) - a HUGE day on the forest.
Bertie, Bob & Mike performed at the top of their game all day, with routine fuel stops, oil top-ups and car cleaning (we have to remain road legal) being the order of the day on this epic 103.15 miles of stages in the Forest!
Sunday 23 Nov.
More early morning meaning Breakfast consisted of Coffee & Hot Chocolate for the team and a drive to Service in the Lockerbie Lorry Park.
We didn't have beautiful scenery to look at today, only really lorries and rally cars - not too bad, I guess.
On the way up to Lockerbie we noticed a bad vibration on the near side rear wheel - closer inspection from the support car to Bertie, revealed that the wheel was bouncing up and down quite badly.
Broken damper bolt we thought? No, HUGE stone had glued its self to the mud on the inside of the wheel! A simple fix.
9 stages today - Greskine (2 x 11.07 miles), Ae (2 x 8.93 miles), Twiglees (2 x 5.55 miles), Sactle O'er (2 x 6.04 miles) and Craik (7.75 miles).
The big bonus for us here was that the Lorry Park had a great Cafe and Shop, so we had somewhere warm and dry to hang out in, while the rest of the Team raced through the wind, rain and mist of Scotland.
Leaving the last stage at Lockerbie we headed all the way back to Carlisle for our final service of the day. Bertie checked out all ok, wheels cleaned, and rocks and mud removed, he was tucked up for the night.
Monday 24 Nov.
Starting the day, knowing we wanted to finish, more than anything else didn't stop us still going for it - what would a lazy drive in the Forest be if you weren't sideways at every opportunity!
We only had 5 stages today. These were Whitrope (7.38 miles) Falstone (2 x 11.98 miles) & Bewshaugh (2 x 17.67 miles), so we headed Keilder bound again for this last day. Dan & Mark set up service in the Forest again and waited for Bertie, Bob & Mike to arrive after completing Whitrope.
We waited and waited for them to arrive, but nothing? Odd we thought.
Being in a Forest we had no phone signal, nor internet, so couldn't even see how they were getting on.
Eventually they appeared looking a bit sheepish - Yes, they had passed through the flying finish, got their time and then ended up in a ditch!
Fortunately, typical rally style, there were some spectators that were on hand to hook up the tow rope and pull us free!
Unfortunately, we then had to miss the next stage as we were late in to service and didn't have enough time to go over the car and make sure all was well to complete.
Bertie was ready and raring to go to complete the final 2 stages of the day. as they all sped off into the early afternoon the service crew packed up and headed to the end of the final stage so we could refuel them and follow them down to the finish at Carlisle.
The service crew found a lovely parking spot, just after the time control and waited, had their lunch and waited. Again, cars we'd been competing against came out of the stage, and we had no phone signal at all, so we could only wait. Eventually we drove back to the end of the stage where we discovered that they had had a big off. Bob & Mike were safe, but Bertie couldn't be recovered until after all the cars had passed.
Eventually we had no option but to drive out and hope to get phone signal. This took a long time, but we managed to communicate. Bertie had been damaged, but the steering was the main concern. Bob & Mike pressed on to the finish in Carlisle, but with so much play in the steering (again, new parts, but old steering box) it was really hard work, but we just had to make it, and make it is exactly what we did!
Attending the final prize giving ceremony we were, to our amazement (as we hadn't been able to check anything) awarded first in class!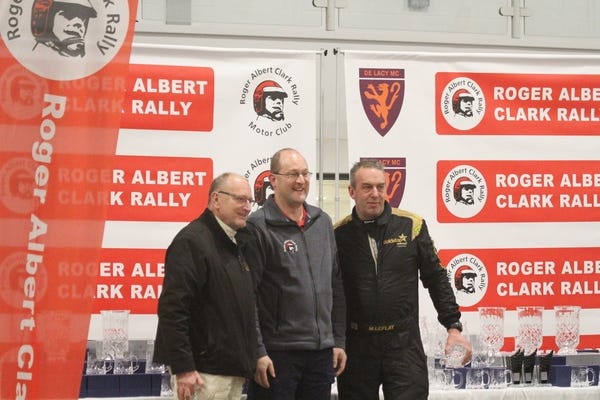 For a 70-year-old driver driving a 61-year-old car that is still mostly original (body, floor, beam, etc. etc.) it was an amazing feat!
With a long list of repairs to do now, and refitting the LED headlights, we will be preparing now for events in 2020.
Thank you to the companies that have supported us this year. Just Kampers, Goldstar Onboard and Tech Trucks. We would also like to thank our followers on Facebook, those that have attended the stages and events throughout the year (of which there are many, many of you) and of course all the Organisers and Marshalls that make events like these possible.