Clacton on Sea and Tendring, more normally associated with time spent on the beach, ice cream in hand or old time fun on the pier took on a distinctly different pass time over the weekend of the 22nd April.
Over 6000 spectators lined a route that took in 5 stages and watched in awe as various types of vehicle took to the roads, tyres span, engines roared and in the middle of it all was Bertie the 1958 Beetle.
JK sponsored VW Colorado Historic Rally team are here with a blow by blow account of the first Corbeau Seats Rally experience.
The Corbeau Seats Rally
The first event of this type to be run in England and was being run along the same lines as an Irish one-day national event with five stages in total, with each stage being run three times during the day, covering approximately 45 miles of closed road stages, some very fast sections mixed with some tighter more technical sections.
The whole team and Bertie arrived in Clacton late Friday evening 20th April. There was just enough time to grab something quick to eat and go through the timings for the Saturday and Sunday before heading to bed. So, this is exactly what we did!
Saturday 21st April
Bob and Mike had signing on at 10 o'clock so we were in the Service Park by 09:00. Bob and Mike had their heads in the pace notes leaving Mark and Sarah to get on with vehicle preparation and final checks. Due to a change in the regulations the Fire Extinguisher Installation needed upgrading with a new installation. Around 11 o'clock Bob and Mike were booked in on the recce runs. This gives the driver and co-driver the opportunity to drive round all the stages making additional notes enabling them to increase the accuracy of the runs on the stages.
Whilst Bob and Mike were out and about, Mark and Sarah completed the vehicle checks and finished plumbing in the fire extinguisher systems.
Bob, Mike and Bertie arrived back at service around 13:00 and were greeted with a fully functioning and serviced vehicle.
Scrutineering started at around 16:00 and was done and completed without any hitches and the vehicle locked in Parc Ferme around 18:00 that evening.
This let the team grab the opportunity to have a well-deserved rest and get refreshed and focused ready for the start on Sunday morning.
Sunday 22nd April
We were all up with the larks on Sunday morning. We all had a swift breakfast followed by a drive down to the Parc Ferme to collect Bertie. The service crew dropped Bob and Mike off and continued on to service and waited for the Beetle to arrive.
Bob, Mike and Bertie arrived in service after having done the first two initial time controls and we're ready for the off!
Bertie Bob and Mike left Service around 09:00 and headed off to the first stage. The car performed very well until towards the beginning of lunch where we noticed a slight drop in oil pressure. Bertie arrived in service around 12:00 when Mark & Dan set to work undertaking a full oil change which is not as straightforward as a normal Beetle as we have a sump guard and various other things that need to be removed. This work was completed within our allotted 45-minute service time. We came back out on stage with an engine full of fresh oil and Bertie running very well.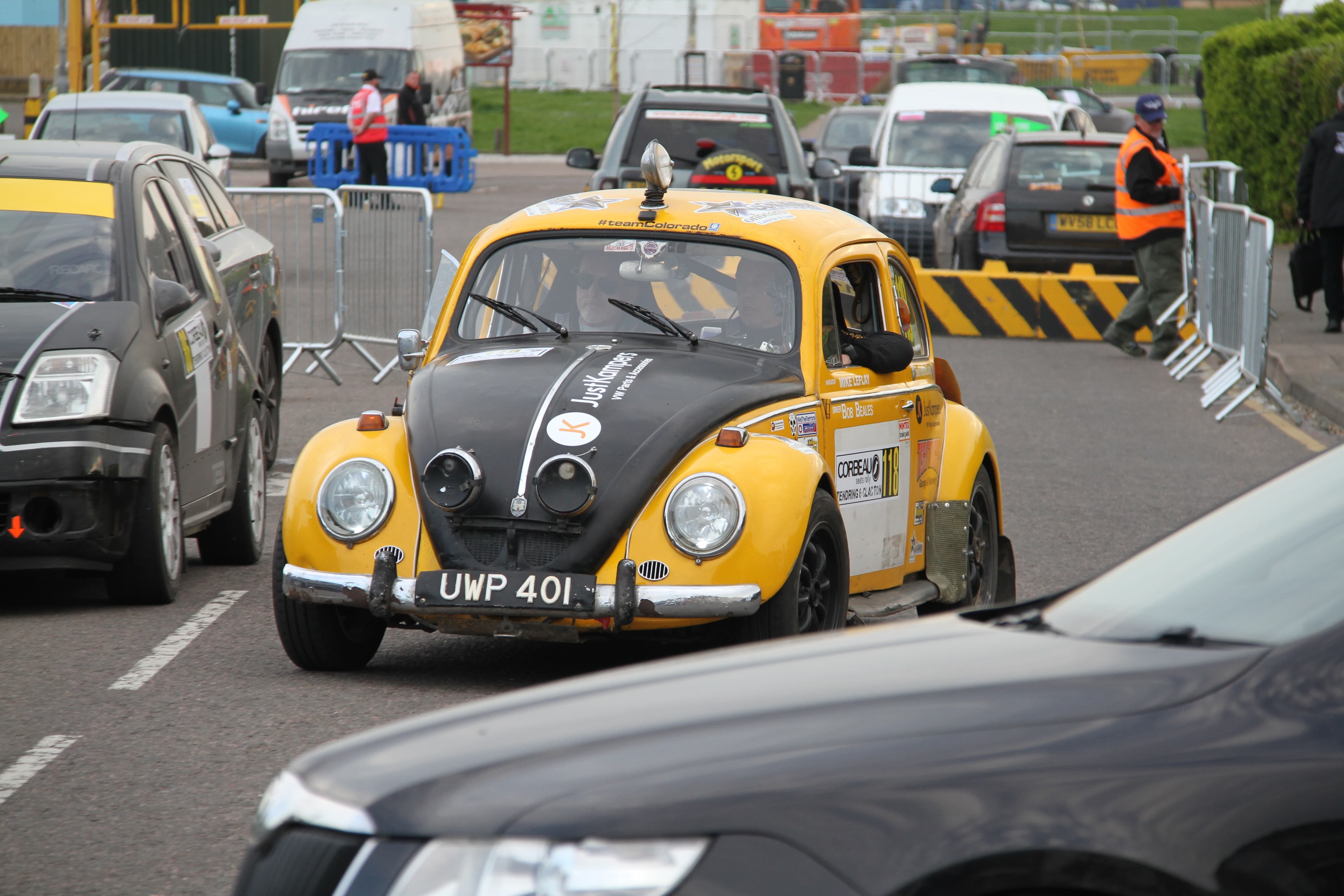 Having done some of the stages earlier in the morning Bertie was getting quicker and quicker, taking 10 seconds or more off each of his previous stage times. We'd heard about some accidents earlier in the day, with some being quite serious. This brings from the back to the front of your mind; just how dangerous Motorsport can be!
All was going well again until towards the end of the mid-afternoon session. We started to discover a bit of brake fade on the drums which made things a little more "interesting". A quick call to the service crew got Dan, Mark and Sarah ready for quick brake adjustment during our allotted 30-minute service period.
For the final session of stage runs in the afternoon Bertie was running like a dream. He rattled through the stages like the pro that he is, finishing the Rally at just gone 18:30.
As we were loading up Bertie on the trailer, the race results came through.
We started car 118 in a field of 120 vehicles. We were amazed to find that we had worked our way up to 69th overall and come in 12 in Class.
Considering Bertie, the Beetle has been a rally car since 1960 and was by seven years the oldest car on the stage we were very impressed with the result!
What a great effort by the team, Bob, Mike, Dan, Mark and Sarah!!
An excellent event, and a big thank you must go to all the spectators, marshals and organisers.
Thanks Go to Just Kampers, Goldstar Onboard and Tech Trucks for getting us to the event and allowing us to compete.
If, like us, you are keen to follow more of VW Colorado's adventures you can find them here
www.teamcolorado.co.uk or on their Facebook page www.facebook.com/UWP401/