Lombard Rally Bath 2018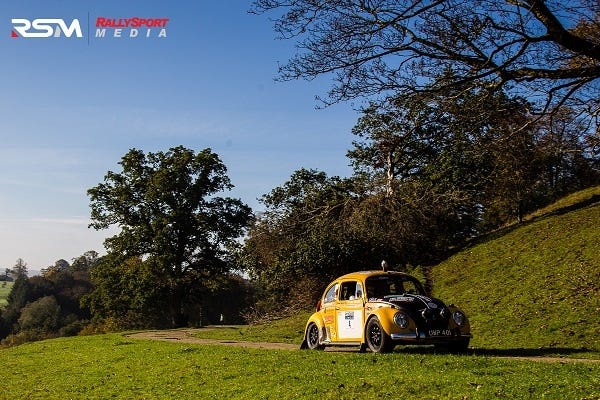 Image Credit: Rally Sport Media
For several years between 1976 and 1986, the Lombard RAC Rally was based from Bath. 2018 saw a recreation of the 1976 Rally Route.
On Friday 19th October 2018, an unusually warm October day, Team Colorado arrived at the Bath Spa Hotel (the original start point for the 1976 rally) to unload Bertie.
There was already an impressive array of vehicles (and drivers) arriving, including Stig Blomqvist in an Audi Quattro; Jimmy McRae in an Opel Manta 400 and Bron Burrell in an Austin Maxi.
A chaotic melee of trailers, cars and milling drivers and co-drivers transformed the front of this usually peaceful hotel into a rally enthusiast's dream! Bertie sat happily in the sunshine, nestled comfortably amongst these other Rally greats and the atmosphere was one of excitement and anticipation.
Image Credit: Rally Sport Media
On Friday evening, after a buffet dinner and several talks and interviews with some of the rally greats that were there, everyone retired for an early night in preparation for the early start the following morning.
Saturday dawned misty and chilly but with the promise of another sunny day. 8am saw Great Pulteney Street, in the centre of Bath, suddenly waking up to the blatting exhausts of 120 plus rally cars arriving at the start line. Bertie was car no 4 and was ready and raring for the off. With Bob and Mike fired up on RedBull and looking forward to this historic event.
Although not a competitive event (more of a "Grand Tour" really), the route was an interesting one, following as much as possible the original route in 1976.
Starting in the centre of Bath, Bob, Mike and Bertie then proceeded to Cricket St Thomas, where there was a reasonable little crowd built up waiting to cheer the cars through. They arrived at Wiscombe Park (having gone via the Colyford Service Station) around 11am for the fabulous hill climb stage.
Image Credit: Rally Sport Media
Here the cars could be tested a little and Bertie went flying up the hill - taking it all in his stride, watched by a big crowd of spectators from a nearby field! Lunch at the Beach Hotel in Minehead followed, then the Porlock Toll Road and then a drive up through Cheddar Gorge, where evidently the echoes of Bertie's engine could be heard far and wide!
Bertie sailed up to the Bath Spa Hotel and finish line dead on time at 5.15pm, having racked up a fair few miles!
Needless to say, Bob, Mike and the team were all ready for some R&R after a day of driving and the event ended with a sit-down dinner and some more interviews with the likes of Stig Blomqvist and Louise Aitken-Walker.
Words: Team Colorado
Images: (in main body) are used with kind permission of Rally Sport Media.