Wales Rally GB 2018
Almost a year on from our disappointment at failing to finish Wales Rally GB in 2017 we returned to Deeside in an attempt to regain the K1 class title.
Being held at the beginning of October, rather than the end of the month as in previous years meant that Deeside was warm and sunny. We set up camp in the service park on Thursday morning, gave Bertie a quick health check and then off to noise testing and scrutineering at Coleg Cambria, Connah's Quay, just a short drive from service. Scrutineering was straightforward and carried out by a lady scrutineer who seemed to take a real interest in Bertie and his history. With scrutineering done it was back to Deeside to sign on, and, prepare for the start of the rally on Friday.
Friday morning arrived with another fine morning in Deeside, final quick check over and Bertie was ready for the off and joining the queue at service out, shortly after service out things started to go wrong, with the oil pressure gauge showing low oil pressure and the oil warning light coming on we feared the worst. Luck was on our side, as this turned out to be a wiring fault, so we were able to continue but it did result us being late to the first stage and hence some time penalties, not the start we were looking for but on we went.
The first stage was Cocaenog, just short of 5 miles of Welsh forest, Bertie was in full stride & completed the stage with no dramas. A short road section & we were at the second stage Brenig, this was a tougher challenge over 18 miles of stage around Brenig lake mostly gravel with some short tarmac closed road sections joining up to Alwen so combining what in previous years had been 2 stages into 1 bigger stage. Bertie took this in his stride and was soon through and on his way to S3 Pemmachno, another 10 miles of tough forest gravel stages followed.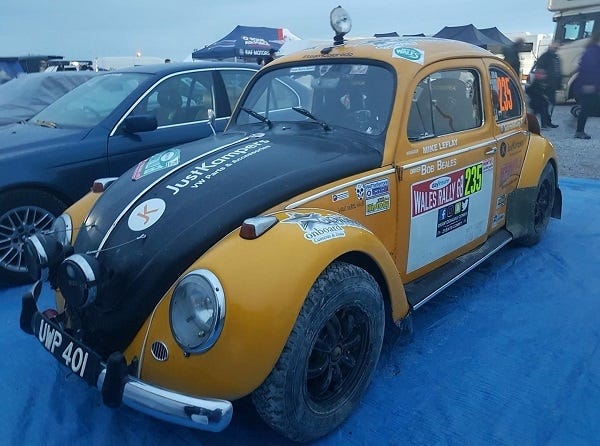 We were soon through this and back on the road heading north to the final 2 stages of the leg; two runs around 1-mile Slate mountain the home of zip world. Whilst only a short stage this was a real challenge for Bertie, some big ruts had been made by the preceding WRC cars as well as leaving lots of large loose rocks on the stage added to some steep climbs, jumps and steep downhill descents, it was immediately obvious this could easily be a "car killer" stage. Bob quickly took the sensible decision to concentrate on getting Bertie round in one piece and not pushing too hard. Judging by the number of cars stranded on the stage with broken suspension this was clearly the right choice. With the second run completed we were on our way back to Deeside for Dan to give Bertie a bit of tlc.
Bertie seemed in good shape, one of the sump guard wear strips had been converted into an "earthing strap" so was removed and a slightly loose track rod nut was all that was found to be amiss. A quick check in the rally office revealed even with time penalties we were leading our class by 5 seconds. So, with it all to do again in the morning Bertie was tucked up in bed and the team were off to the hotel.
Saturday morning arrived with a pleasant surprise a well-wisher had left Bertie a present in the form of a mini Bertie model car. Checks complete we were again queuing at service out. First stage of Saturday was Myherin just short of 13 miles of forest stage and some long climbs making Bertie work up a sweat, then off to Sweet Lamb, over the jumps through the watersplash, then the long climb back out. Bertie was working hard but coping well.
We were back on the road and off to Dyfi. Off through the stage and then back on the road to Gartheiniog and then the final stage of the rally Dyfnant, a slightly shorter 7.3-mile stage through the forest was all that stood between Bertie and the finish. A big rut created by the preceding WRC cars on a tight right hand corner lead to a big bang and the sound of rear tyres rubbing on the rear wings. Bertie had clearly suffered a bit of damage, but he seemed ok, so we had to carry on through the rest of the stage and head back to Deeside to the finish.
A lack of phone signal and a flat phone battery meant we had no idea where we had finished and so ensued a nervous drive back to Deeside. Queuing at Deeside time control a marshal handed us a provisional stage time sheet, we hardly dared look. Thankfully trepidation quickly turned to elation when we realised not only had we maintained our 5 second lead, but we had increased it, and even with our time penalties we were 45 seconds ahead of the next car and clear class winners. Having gone through the final time control we were off over the ceremonial finish ramp to be greeted by the rest of the team all waving and cheering like maniacs. What an excellent end to a great weekend.