Beachdubbin' 1 - If you build it...
Running any sort of event is hugely challenging, all consuming, completely knackering and momentarily (if gloriously) rewarding! It's certainly not for the faint of heart.
So when their, much loved, local show became threatened with cancellation and the previous organisers felt that, after many dedicated years in charge, it was time to pass over the reins; a group of 6 stepped up and took on the mammoth task.
You don't have to be slightly mad to take on such a challenge, but, in this instance it probably helped!
This is their story of Beachdubbin, a show reborn...
The Beachdubbin' dream team!
What happens when your local, long established VW show Beachbuggin' is threatened with cancellation - a staple of your calender; and it's put out for people to take over?
Easy - you do it! Well, we say easy, but, it wasn't...as you're about to find out…

It started off beginning of April, after we all thought the show was cancelled and it was all over. A heavy feeling in your heart. The event you plan all year for, tweaking your VW ready to show and shine, and all of a sudden it was gone!
Beachdubbin 2018

That was until the shows previous organisers went to a number of council meetings to try and resolve the issue, and it was agreed the show could go on but under a number of challenging conditions.

The Beach Buggin team informed the council that although the show can go on, it'll be without them at the helm and instead, new approved organisers...so, it was put up on social media for people to apply to take the new lead.

That's where we came in, six people thrown together to save a show that meant so much to all of us.
Beachdubbin 2018

So with a change of name Beach Dubbin' was born, keeping the foundations of the much loved show firmly in our minds – a not for profit charity event, and at the very least some Volkswagens meeting up on the common for a lovely day.

When we initially took it over, we had 3 ½ months to put the show on and make it a success. So we planned to make the show a bare bones event, even if it was scaled down for this year - at least it was happening.

The days and weeks following the announcement of the shows resurrection was a whirlwind of talking to press, speaking to the council, arranging meetings, booking traders, caterers and inviting various VW clubs to come along.
Beachdubbin 2018

Over various meetings with Portsmouth City Council, we were made aware what their concerns and expectations of the new show were, this meant we had clear guidelines to work from, plus, it meant some vital changes were needed to run the show smoothly. Their main concern being the protection of the war memorial and traffic management of the event. Once all this was carefully planned out by our team in various weekly meetings, we submitted our application, and received approval. It was getting real now!

Between the six of us - we all either have, demanding day jobs, run businesses, homes and have families to look after.
The amount of admin that goes into reinstating a show should not be underestimated. It is immense!
For those 3 ½ months, it consumed us all, from designing new forms, emailing what felt like literally everyone, spreadsheets, planning, meetings and show promotion.
Beach Dubbin' very quickly became our sole focus every evening and weekend!

The week before the show was a hive of activity, organising last minute meetings, volunteer briefings, goodie bag packing, sorting show equipment, and answering numerous last minute questions on email and social media.
The Beachdubbin crew with Dave and Ally the organisers of former show Beachbuggin
The day before the show we collected the keys for the common and began marking out pitch spaces, realising how big the show was going to be.
Once all was laid out by sunset, we could all sigh a temporary breath of relief - whatever was to happen now, we had done our best. So we chatted around some food on the common, and took ourselves off to bed.

And then after what felt like 5 minutes sleep - it was show day!

There was a real buzz in the air - all six of us, felt nervous, scared, but very, very, excited.
Beachdubbin 2018

We had a group photo at about 6.30am in the morning and from that moment on it was all go, go, go. You literally do not have time to drink, eat or pee.
No one can quite prepare you for just how full on the day itself is as an organiser of a show.
We have a whole new level of respect for show organisers everywhere.

From very early Sunday morning once all the volunteers arrived - which was a moment in itself. You're standing there briefing volunteers and the moment when 'it all got real' was the hair standing on end moment when you hear the rumble of air cooled engines in the distance. That moment, that sound will stay with us forever - people were ACTUALLY coming!
Southsea Common then began to fill up with traders, caterers, and amazing car club displays. Before we knew it, the main gate was open and our fear, of 'would anyone turn up', just vanished, as before our very eyes, VW after VW of all shapes and sizes started to appear.
I don't think any of us will forget that feeling of seeing the empty expanse of Southsea Common on a gorgeous summer's day, filling up with amazing cars and people. It suddenly makes all those hours and hours, late nights and lost weekends to show planning, worth it.
Slippers the Split at Beachdubbin 2018 Photo credit: Confetti Coast Photography
All of a sudden Beach Dubbin' One was in full swing. The atmosphere was buzzing thanks to Slippers the Split Sound System pumping out the tunes to keep the crowd entertained.

We really wanted to try and bring something to the show for everyone. We had 50 traders who all made such an awesome effort with their displays and trade stands, a huge family area with face painting, chill out tent for parents and babies, dedicated children's entertainment to keep the kids happy, live music between DJ sets and a variety of local street food caterers to keep everyone fed and watered.
Coupled with such an amazing variety of air cooled and water cooled VW's, Buses, American, Hot Rods, Classic Minis, Scooters, and BMX bikes on display, the support for the show was just unbelievable.
Beachdubbin 2018 Photo credit: Dave Dodge Photography

We knew that as organisers we would be kept busy during the event, generally keeping on top things throughout the day and dealing with various situations as they arise, however what we didn't expect to have to deal with was an Air Ambulance landing!
Unknown to us there was an incident in Portsmouth that afternoon which meant a very poorly patient needed the assistance of the Hampshire and Isle of Wight Air Ambulance and the closest place for the ambulance crew to meet the air ambulance was the empty patch of Southsea Common, right next to our event border.
Beachdubbin 2018

The call came over the radio from the main gate that an ambulance was parking up to wait for Hampshire Air Ambulance and could we assist?

Our show crew immediately reacted in such a way that made us extremely proud of them. Instructions were given to our crew and they acted perfectly.
A cordon was formed so the public were at a safe distance from the Air Ambulance, meaning it could land, do what it does best by providing medical assistance and take off again without worrying about the surrounding crowds.

We would like to thank everyone that attended the show for respecting the cordon, our emergency services and for following the instructions of our show crew.

After all the excitement, in what felt like the blink of an eye, it was nearing the end of the show and time for the Show and Shine Award presentation - where an incredible array of Volkswagens and an immaculate Audi won each bespoke locally made trophies.
Beachdubbin trophies 2018
The music stopped, and that was it – Beach Dubbin' 2018 was over, but WOW what a day.

Before we end, we need to say a massive thank you to everyone involved:

- Our Sponsors – Just Kampers, JKM Motor Services Ltd and Farmers Choice Free Range Ltd
- Our amazing show crew who all gave up their time to help with the show on the day and the setup on Saturday
- The Traders, Caterers, and the Emergency Services who were on display
- The car clubs from across the country, who between them brought over 500 cars to display
- Last but not least, everyone who brought a vehicle to display and who came to spend the day at Beach Dubbin'

You all helped in raising a massive £5,500 for charity - a huge thank you.
Our plans are to split the money raised between Pompey in the Community, Hampshire and Isle of Wight Air Ambulance and smaller local charities throughout the year.

So I guess the question remains – will we do it again?
You bet we will – So keep Sunday 4th August 2019 free in your calendars as Beach Dubbin' 2019 has been given the go ahead!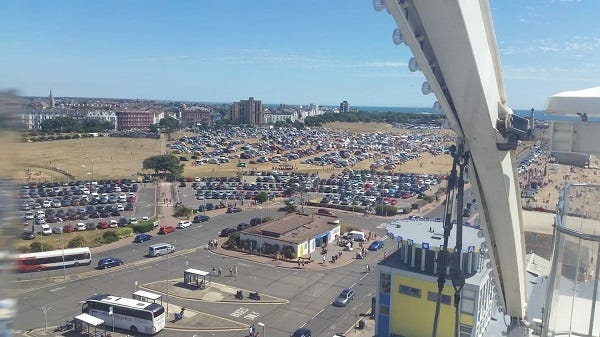 Beachdubbin 2018
Beachdubbin' 1 was a truly outstanding achievement, and, we are sure that next year is set to be even bigger and better (after the team have a little bit of a rest first)! Come August 4th 2019 we certainly know where we'll be!
To keep up to date with the latest info from the team follow their FB page:
We were so impressed with the Beachdubbin team that we couldn't help but ask them a few more questions to get a greater insight into who they are...
With regards the "6". Were you all friends or did you become so as part of the process?
A few of us were close friends before, however all 6 of us did know each other through our local VW Club. The beauty of all getting together to save the show was the close friendship and bond that we all now have with each other.
Did any of you have experience of running an event like this before?
Not to this scale, Kate & Mark had run a transport show for wedding vehicles a few years back but nothing on the scale of Beach Dubbin and certainly nothing that required approval by our local council.
Lots of people would have been sad to see the demise of Beachbuggin' but very few would put their hands up to take on such a task! As a group of people what do you think set you apart?
We had all been going to the show for years as spectators, then participants, volunteers and even as traders and all 6 of us are passionate owners of air-cooled VW's. It was heart-breaking to hear BeachBuggin was ending. It was such a great event for our city, raising thousands of pounds for local charity's and a show that we all had fond memories from.
Lots of people started tagging us in the post announcing the show was no more, putting our names forward and then If I'm quite honest I'm not sure how it happened. We started a little group chat between the 6 of us, you know the type of chat.... shall we do this? can we do this? We convinced each other we could and the next day, it was announced - Beach Dubbin was born and us 6 were at the helm!
Despite all the hard work you are set to do it again next year. What are the greatest challenges and what is it that you are most looking forward to?
Now we have this year's experience behind us I would like to think we can deal with most things that will come our way. I guess you always want to build on a show and expand it. We have already started to discuss plans for next year and are looking to get more traders from the VW scene on board to really bring something for everyone to the trade area, as well as improvements to our show and shine display area. Public feedback has been great and really constructive for next year. We have learnt so much from this year and identified areas we need to make improvements on, so we will be focusing on overcoming these for 2019. Working with your local council always brings challenges as we have to respect their rules due to where we hold the show, but we now have a great working relationship with them and are very much looking forward to Beach Dubbin 2019.
If anyone wishes to contact us with regards to next year's show they can do so at our new email address [email protected]