I have owned my 1973 Bay window bus for about 12 years now, I bought it as a total basket case and I set about restoring it...if I knew now what I did back then I wouldn't have even thought about attempting what I've done!
Anyhow after a year of welding during evenings and weekends and as a single lad in my 20s, the bus was ready for paint (the neighbours actually moved to New Zealand to get away from the noise I made and after numerous arguments and them threatening to have my van took away by a scrap dealer).
I was able to get it painted by a mate for two cases of Fosters and a few quid to cover materials, mint, job done! The bus was used for holidays, festivals and days out then it was last used for the arrival of our baby and buying a house (again another total project).
The bus was then laid up outside in a caravan storage site, down my sisters' driveway...anywhere it could be parked until it was moved on again. After using the bus with a makeshift interior and with a baby (also being a tin top) was hard so I had a dream to get it back in a sort of original state for family use, and family times ahead.
I'd dream of going to the beach and for my daughter to grow up free-willed and for us to go wild camping anywhere we could whenever we could. Time wasn't on my side, so I was grabbing 2-3 hours a night and the odd weekend I could for a year and a half while working a full-time job and making sure we had family time.
The van needed a new front panel and paint due to being outside for 10yrs, so I had a slammed ratty beetle...that had to go to fund the mini resto.
While doing the resto work, I was on the hunt for an original Devon interior, as the van was originally a Devon.
Annoyingly I had missed out on one Devon interior, but after trawling the internet in a bid to find another. Just before lockdown, I hit jackpot! An interior came up for £250 so I just clicked the buy it button and thought about delivery later as it was in Ireland of all places!!
And at this time the van was nearly ready to go to paint, but this time I was going to try it myself at home! What could go wrong ...
I had primed the van myself which was ok, and the filler work again done by myself wasn't awesome but I was happy and that's what this build was all about, what I could do myself in my time frame and with no expertise, just sheer determination to get the job done and be a good "usable" van. Also, did I mention there was an August deadline for a wedding where the van was going to have its first outing.
So back to the paint, whilst on furlough, I had a few days to get the engine bay and inside rear vents painted in the new colour L11H Sierra Yellow, a very "marmite" colour. I personally love it.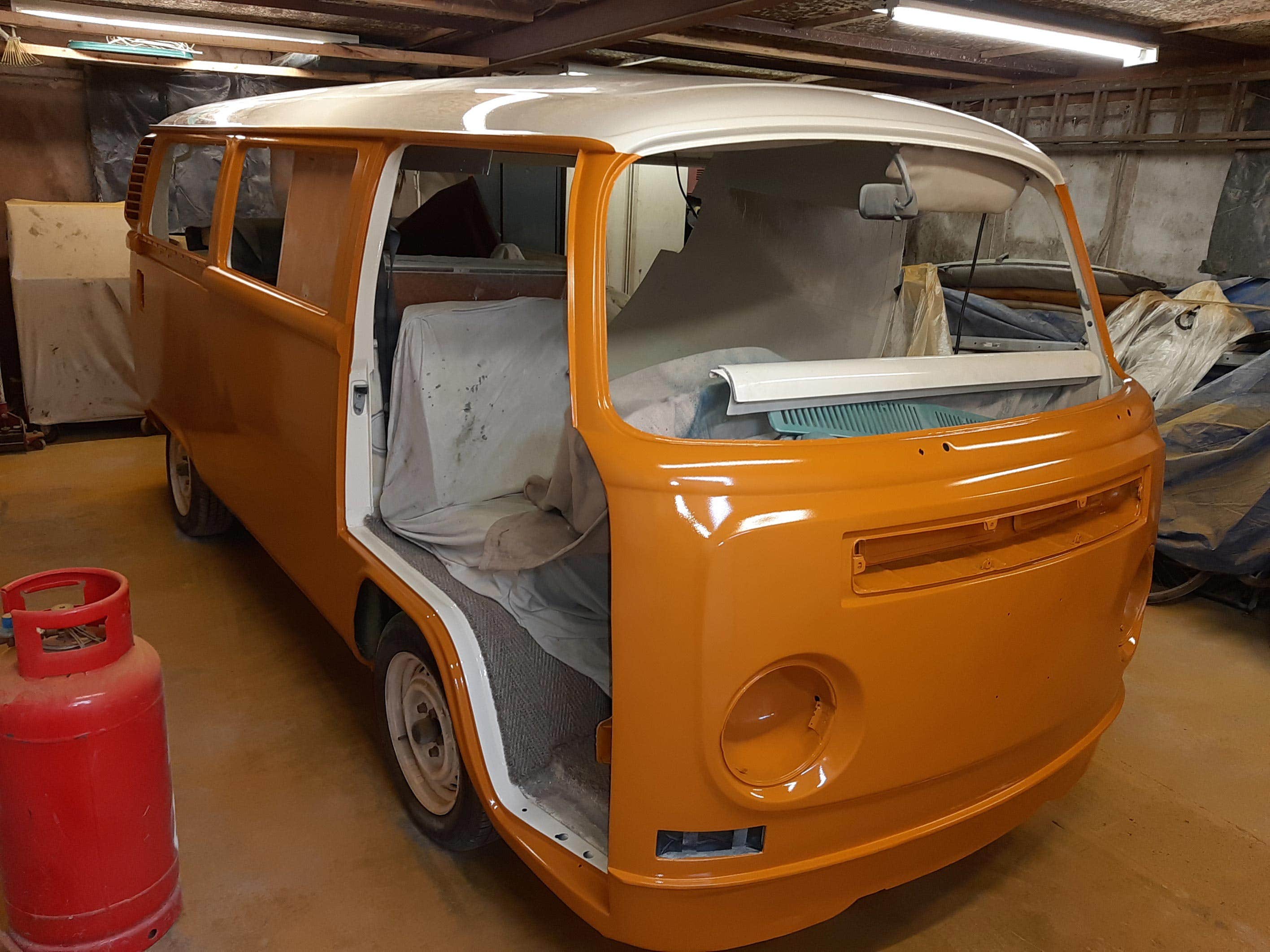 Frustratingly I was taken ill, don't know if it was the covid virus but it really knocked back my plans.
A week or two later, I was getting fed up sitting around the house trying to get better. It was around about 7 pm on Easter Monday, roughly the time when my 3yr old Daughter went to bed. I got my ass back in the garage and painted the roof, followed by block sanding and then a masking up, in a flurry of activity, I then went on to shoot the paint. All done in a few days.
I felt well on track and the interior showed up a day or two later, the dream was now actually becoming reality. I had to flatten the badly textured paint, repair and paint the doors and refit the interior.
I had managed to relax a little but going back to work in early May, meant my life was getting a bit hectic, overtime was abundant and I was doing 12 hour days struggling to find the energy to work on the van at night.
August crept up, the doors weren't done but luck was on our side. The lockdown restrictions meant the wedding was put on hold until the following year, so my next deadline was a local VW show, I booked the tickets and looked towards the end of September. No worries I'll be done I thought, I struggled again though tiredness, being overworked and feeling a little mentally down from everything this year had brought.
I couldn't get my head into gear and work on the van. September came and went the van was still not done. Then we set a new deadline in March 2021... we shall see if it's done!
As I write this on a brighter note, I have now found the motivation and mental capability to keep going. I have roughly got the van to a nearly finished state, a quick drive to get petrol 2weeks ago has boosted the build and finally, I can see an end in sight.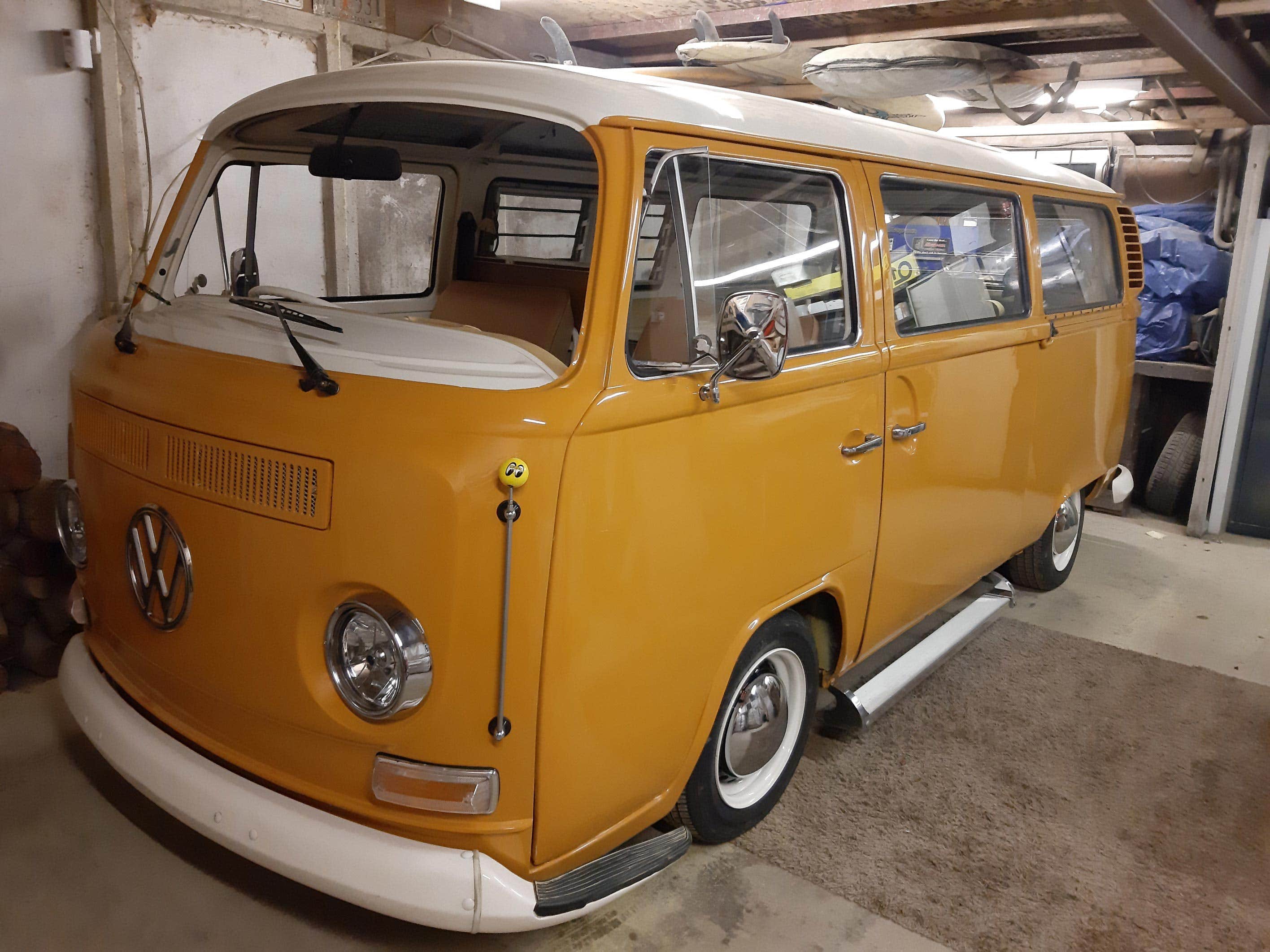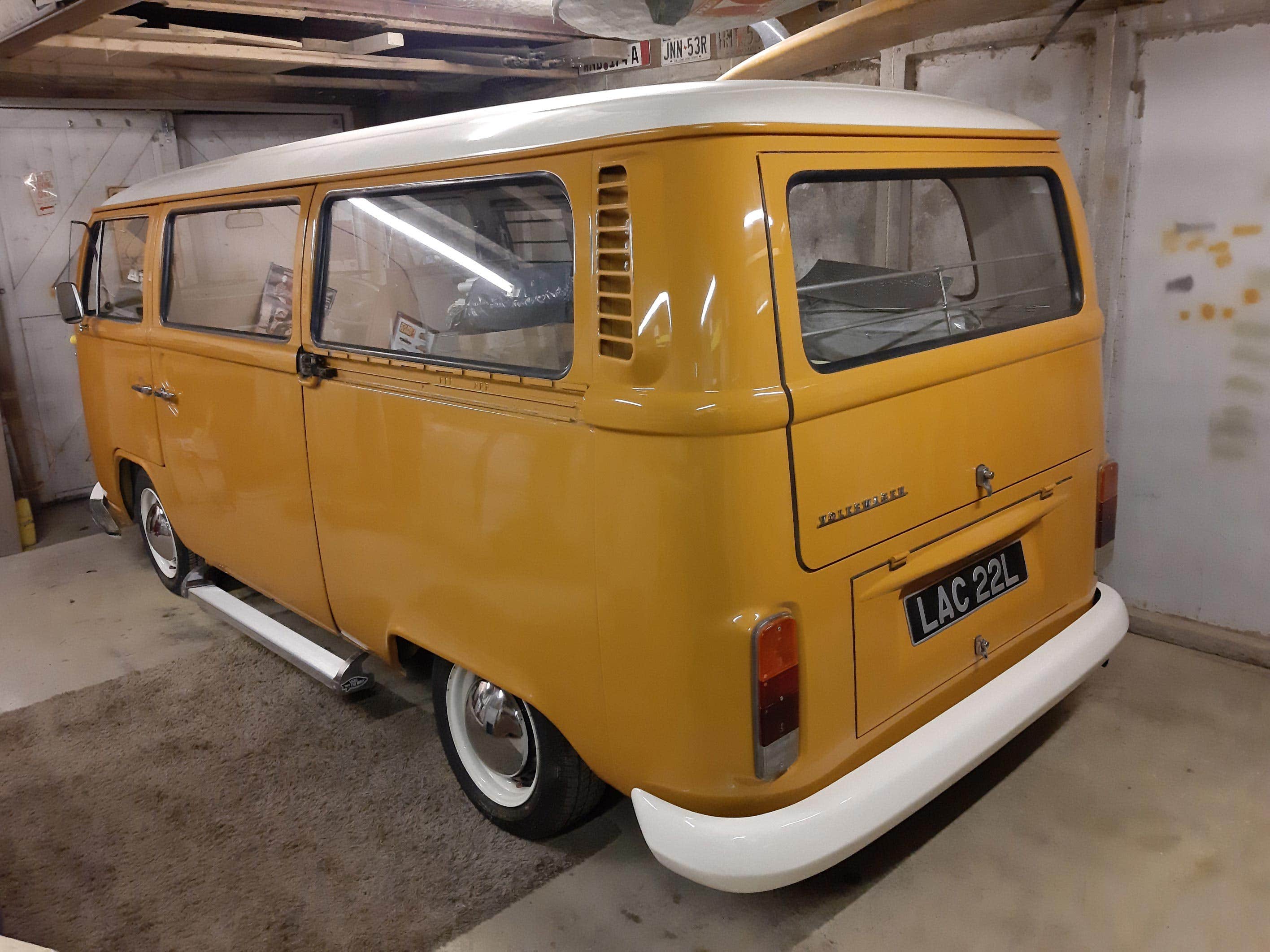 Not too much work is left to do but enough keep me going. I hope whoever reads this finds this story relatable, I have tonnes more I could write but I feel it may be too boring.
By the way, I am no painter or work in the body shop trade, so hope the pics speak for themselves, regards Andy