(Bottle) Flippin' Crazy
How far can it be?!?
Europe isn't that big, right? At least that is what we thought as we set out on our tour of 'The Lakes'. By that, I don't mean the Lake District, I mean Lake Geneva and Lake Garda with a few days at the end in the Adriatic Coast.
Turns out it is quite a long way! When you take a detour on the road less travelled, the bumps in the road are the main reason why the road is less travelled.
The Plan
Day 1
Ferry from Dover to Calais and drive to Champagne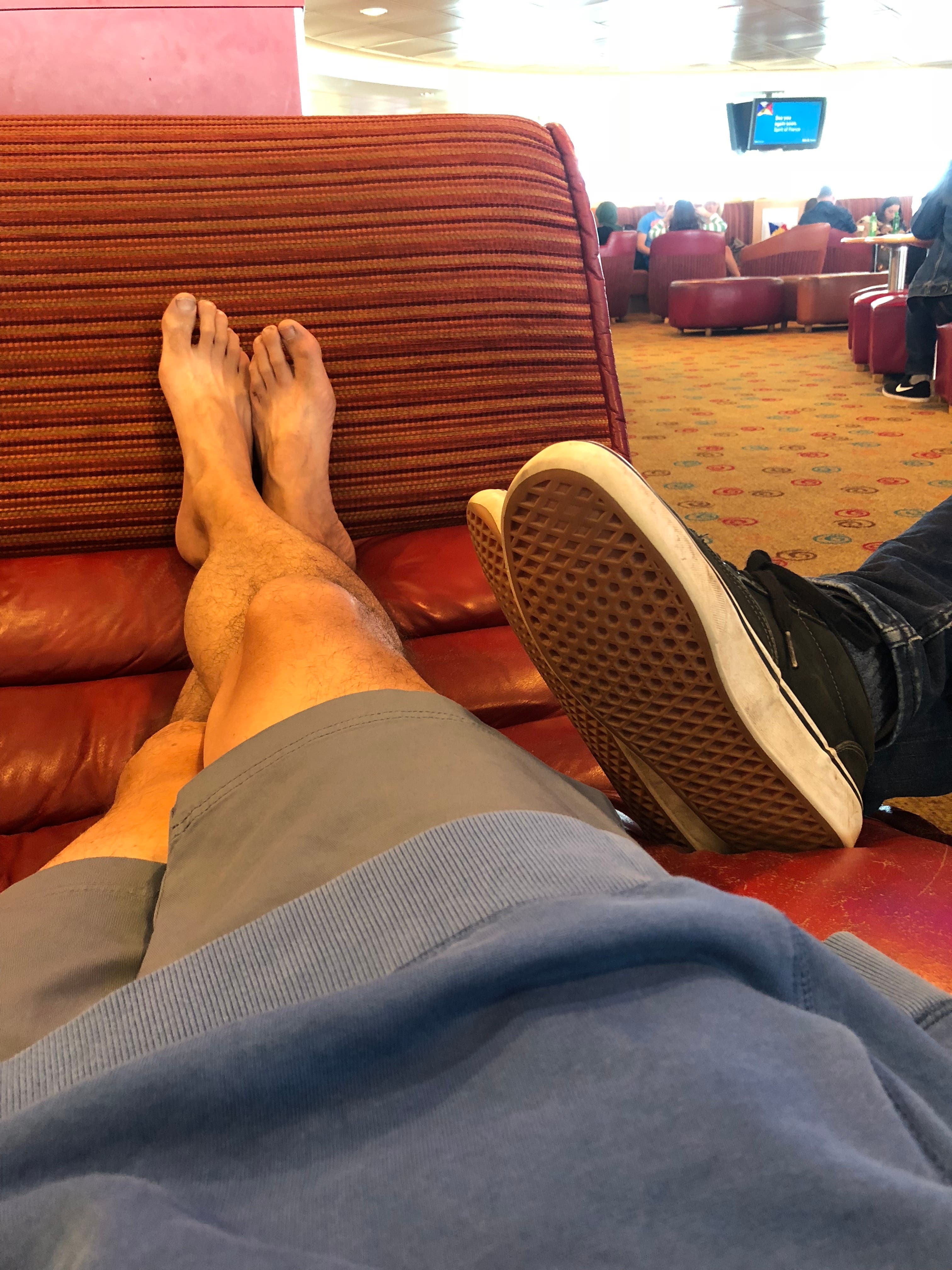 Day 2 - Day 5
Champagne to Evian on the South of Lake Geneva. Chill for a few days and stock up on free mineral water.
Day 6 - Day 9
Drive to Lake Garda and explore the area, get some paddle boarding practice.
Day 9 - Day 14
Drive to the Adriatic Coast, soak up some sun, swim in the sea and relax.
Day 15 - Day 16
Drive back to France, stopping at a very out of the way campsite to re-charge our batteries and prepare for the final push back to Blighty
Day 17
The Reality
We booked campsites beforehand, something I would definitely recommend as the last thing you want to do after driving all day with two kids in the back/front, all over the place, is spend hours looking for a campsite. Our first stop was a small campsite just outside Champagne, this was literally just an overnight stop to break up the drive.
The final push to Calais, ferry to Dover and home. Although we stuck to the plan there was one hell of a lot of driving, and a few late entrances to campsites. The first lesson learned things take more time than you think they will don't be too ambitious.
Do you really need three footballs and why haven't you packed any shorts?
The art of packing light and how I would love to master it.
I'm not going to claim to be a seasoned camper van touring specialist and my kids aren't the most practical people in the world, but one thing this trip did teach me is that when you are touring you need to think about what you are taking.
The awning takes up a lot of room, the blow-up paddleboard almost as much, but they are both worth their weight in gold.
The bikes on the bike rack, although they are a squeeze are equally as valuable, as are the emergency pot noodles and pasta pots.
I guess what I am trying to say is everything has a value but space is limited so choose what you need and assess it's relative worth, all I know is that by the time everything was packed in there wasn't much room for the kids but they do fold up pretty small!
Champagne
Ideally, I would have liked to spend a bit more time here, we arrived at dusk and left at first light, definitely on my list to visit again, maybe sampling some of the local delights!!!!!
The road to Evian
I would definitely recommend lunch in Geneva, it is on the way and is a really great place to stop and take a well-earned break. It's not cheap but sometimes it is worth splashing out and experiencing how the other half eats their paninis. A couple of hours was enough for us, and our wallets, I couldn't quite stretch to a new watch but the ice cream was pretty special.
After lunch in Geneva, we followed the lake round to Evian, I love Evian, it has a really nice vibe, the lake is easily accessible, the mountains are a short drive away and people watching is of the highest calibre.
This was my first real chance to relax and enjoy some family time. If you feel the need you can even fill up your water bottles for free from the original spring that made Evian famous and if you look to the East (don't hold me to that) you can see the three mountains that make the iconic Evian logo.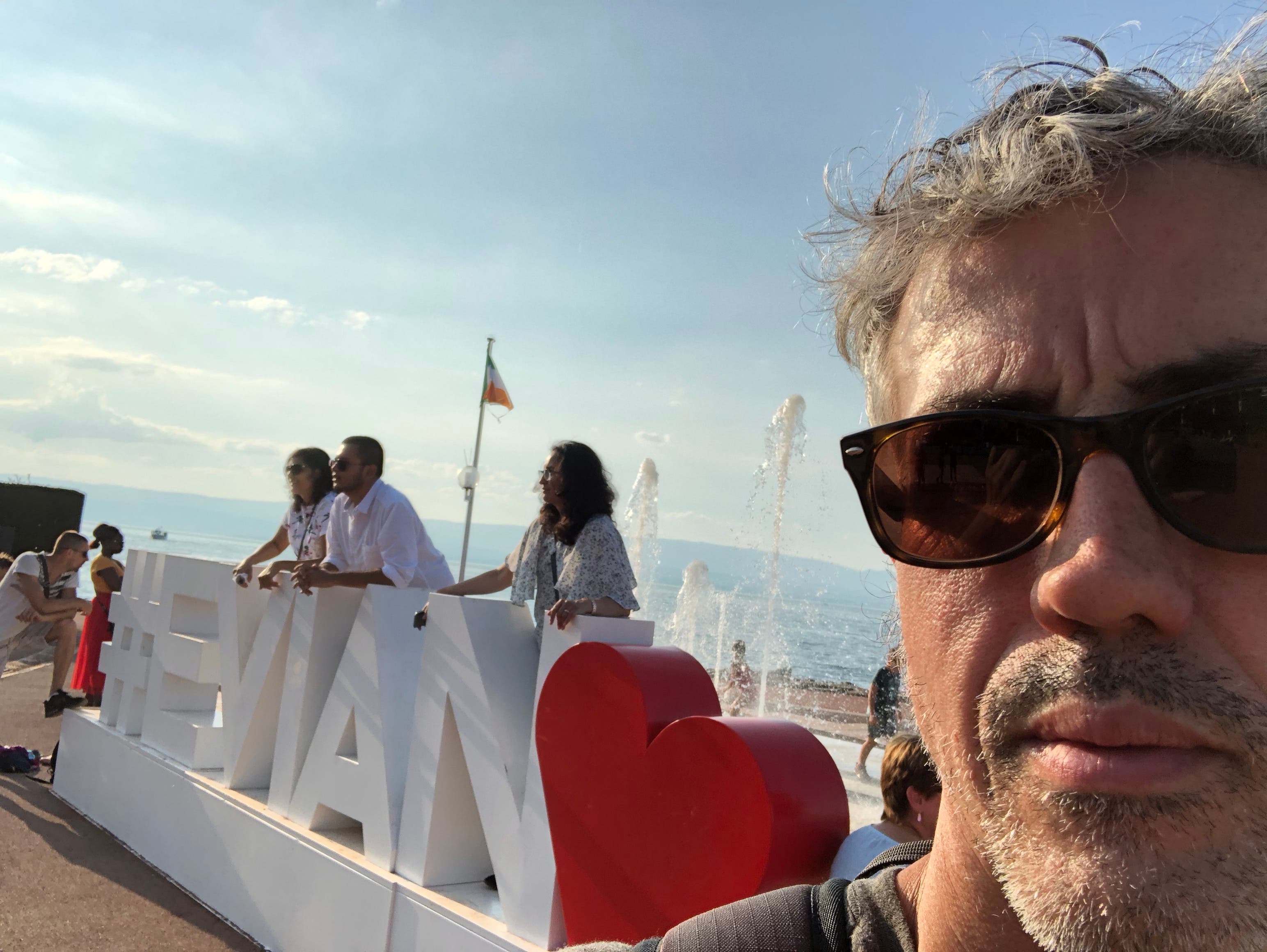 We had two full days in Evian, again I could have spent longer, but no rest for the touring family, pack it all up and on the road again…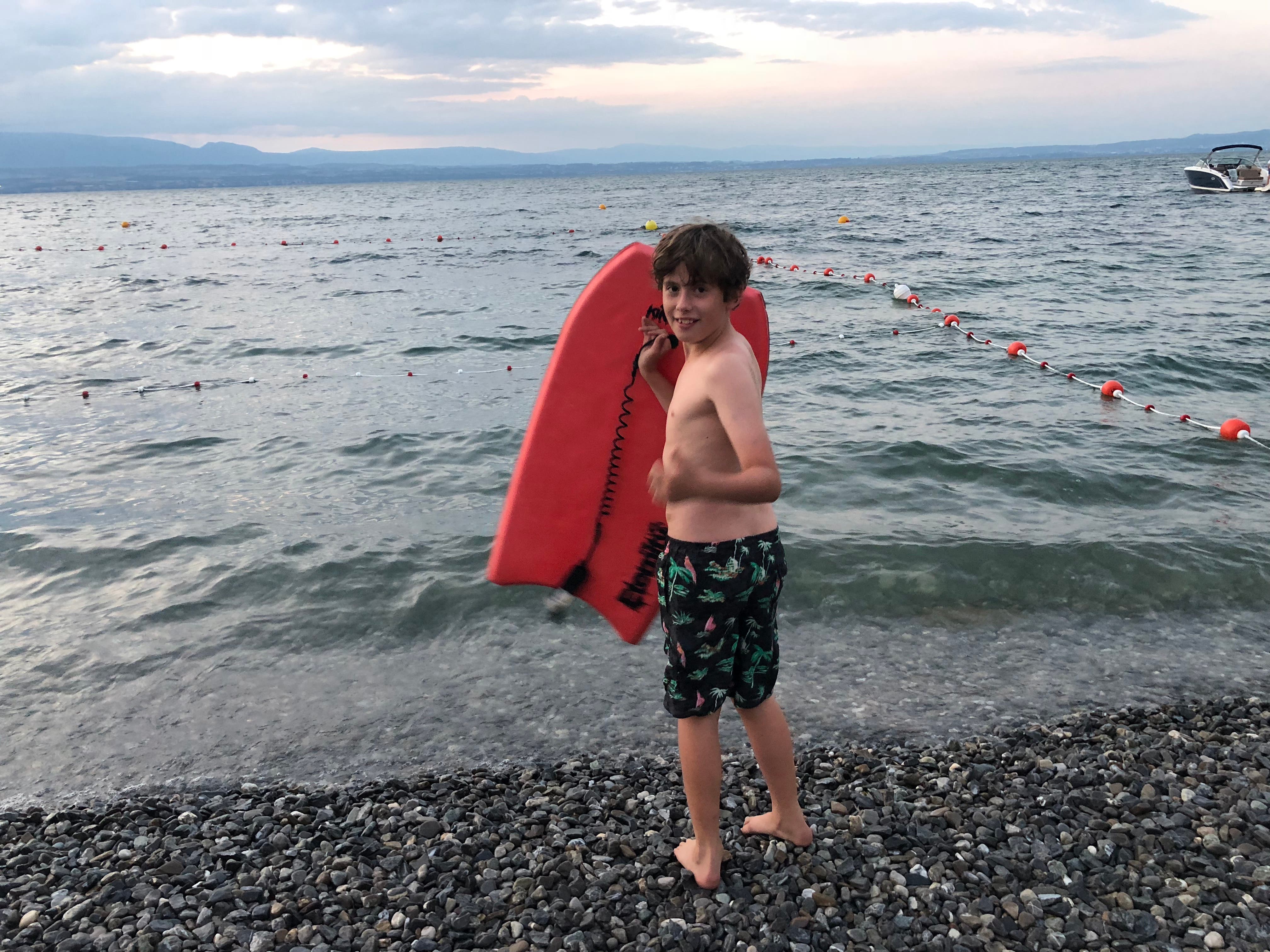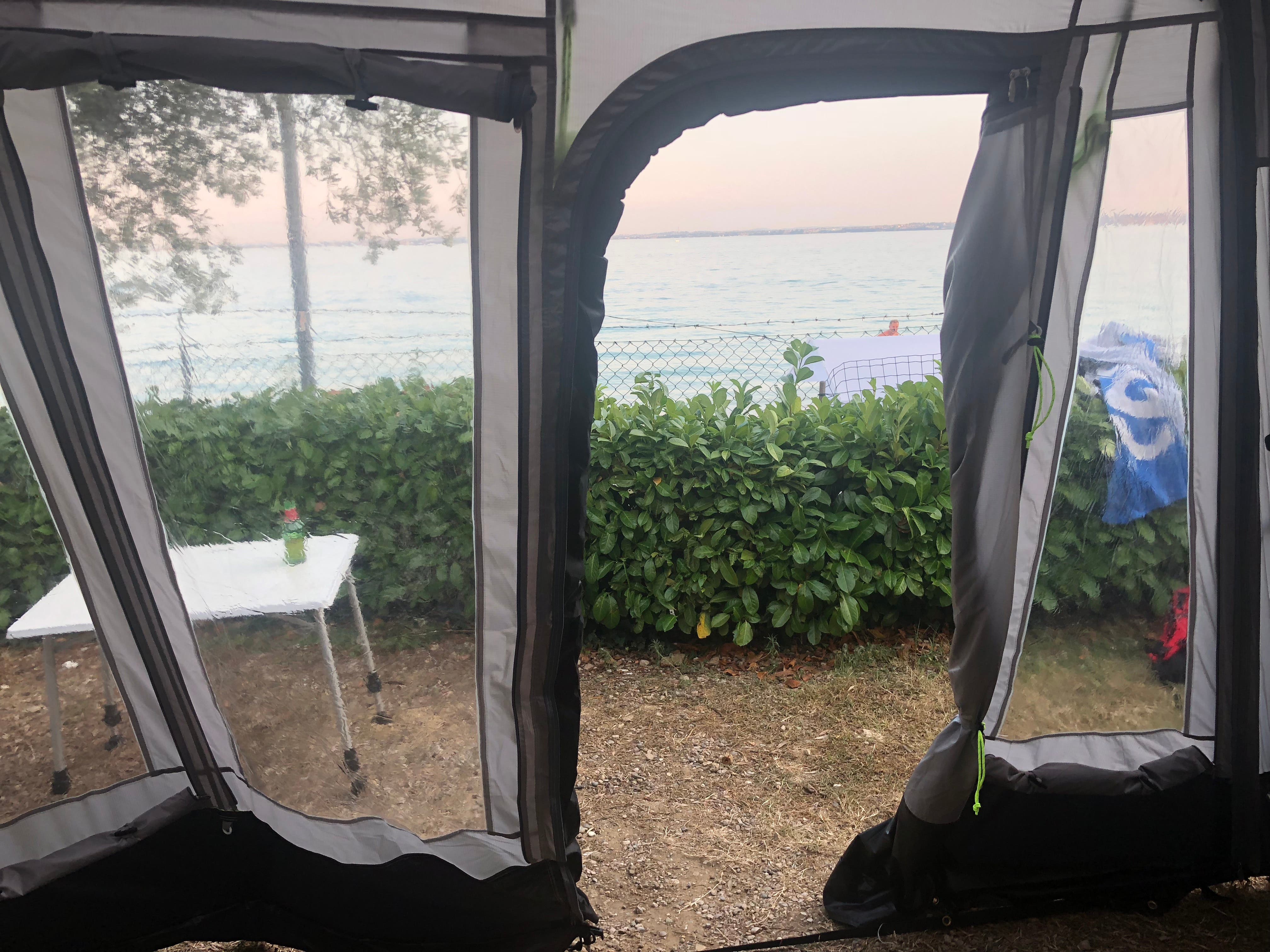 Lake Garda, getting there.
I, personally love the mountains, the Alps especially, so driving into Mont Blanc and through the Mont Blanc tunnel into Italy has got to be a highlight for me.
I hadn't really done much research on the route, Google Maps was, is and always will be, my friend! Driving through the tunnel and popping out in Italy was a real eye-opener and I know it may seem weird but as soon as we popped out the other side it definitely felt like we were in a different country.
The drive from the border was a little bit hairy, the tolls are more confusing, the roads a bit rougher and the Milan ring road made me a little greyer, but getting to Lake Garda was worth it :)
We pulled in to the campsite and our pitch literally overlooked the Lake, it was all sorts of special.
Lake Garda
You could probably spend a week touring Lake Garda, in my naivety I hadn't really grasped just how big or interesting it was. You can take ferries around it, or drive which is spectacular.
Lake Garda is a lovely place to chill, sit back and watch the world go by. This was also the first place that we managed to get the bikes out, cycling beside the lake is easy, as it is pretty flat, at least it was where we were. Food, as you would expect, is excellent and the people are effortlessly stylish. The pace of life is slower and it is hard not to feel very relaxed from the moment you get your camp set up.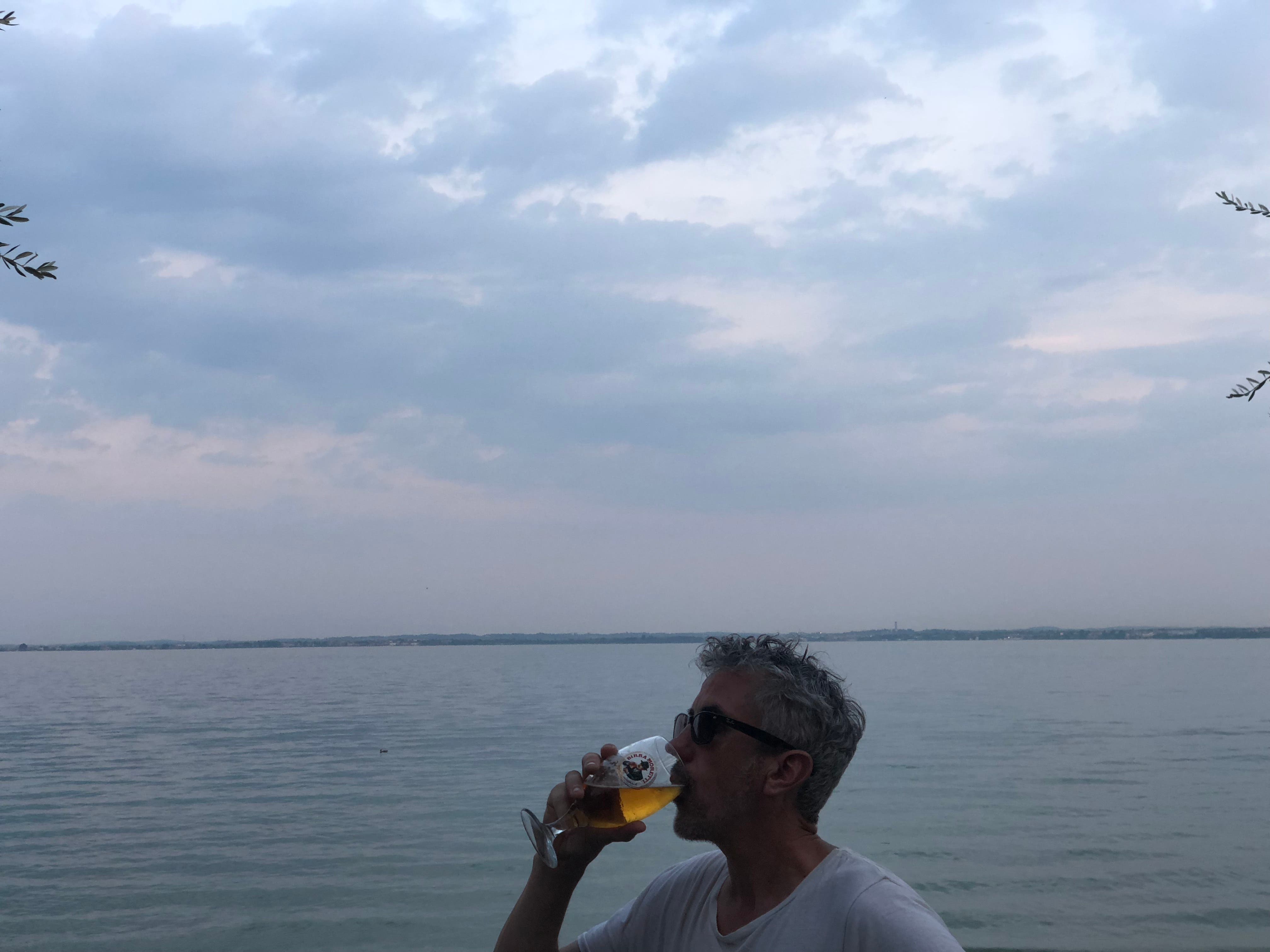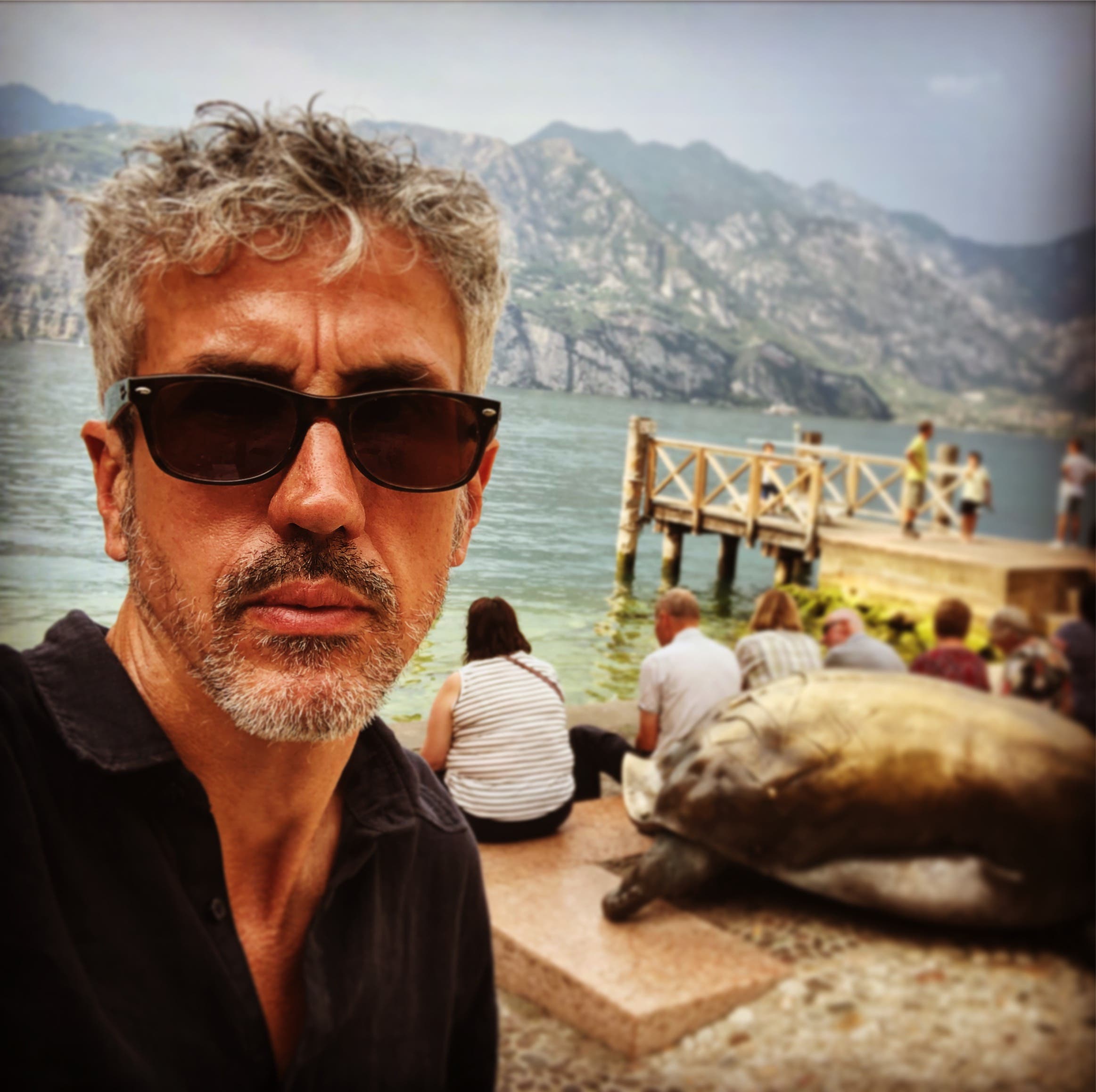 Once more into the beach
The last main stop on our tour was the Adriatic Coast, we had decided to stay at a bigger campsite with entertainment, multiple swimming pools, a gym, spa and all the trimmings. This isn't our usual sort of campsite but we thought it would be good for the kids and relaxing for us.
Turns out we were right, the staff were awesome, the wine was cheap and the ice cream parlour took a shine to my son and decided to fatten him up with free ice cream (See photos).
We weren't on the beach but it wasn't far and we managed to don our flippers and explore the deep blue.
The bikes got a lot of use and we managed between us to pick up nine punctures (note to self, spare inner tubes are a must). The national park to the north, Parco Regionale Vento del Delta Po, was a great place to cycle and we encountered a couple of very large stags along the way which added to the excitement.
Because we were so close, we made the most of the trains and had a day trip to Venice, ticking off the culture aspect of the tour; coming into Venice by train is rather exciting and although the kids were not overly impressed by traipsing around art galleries, I think they will always remember the trip.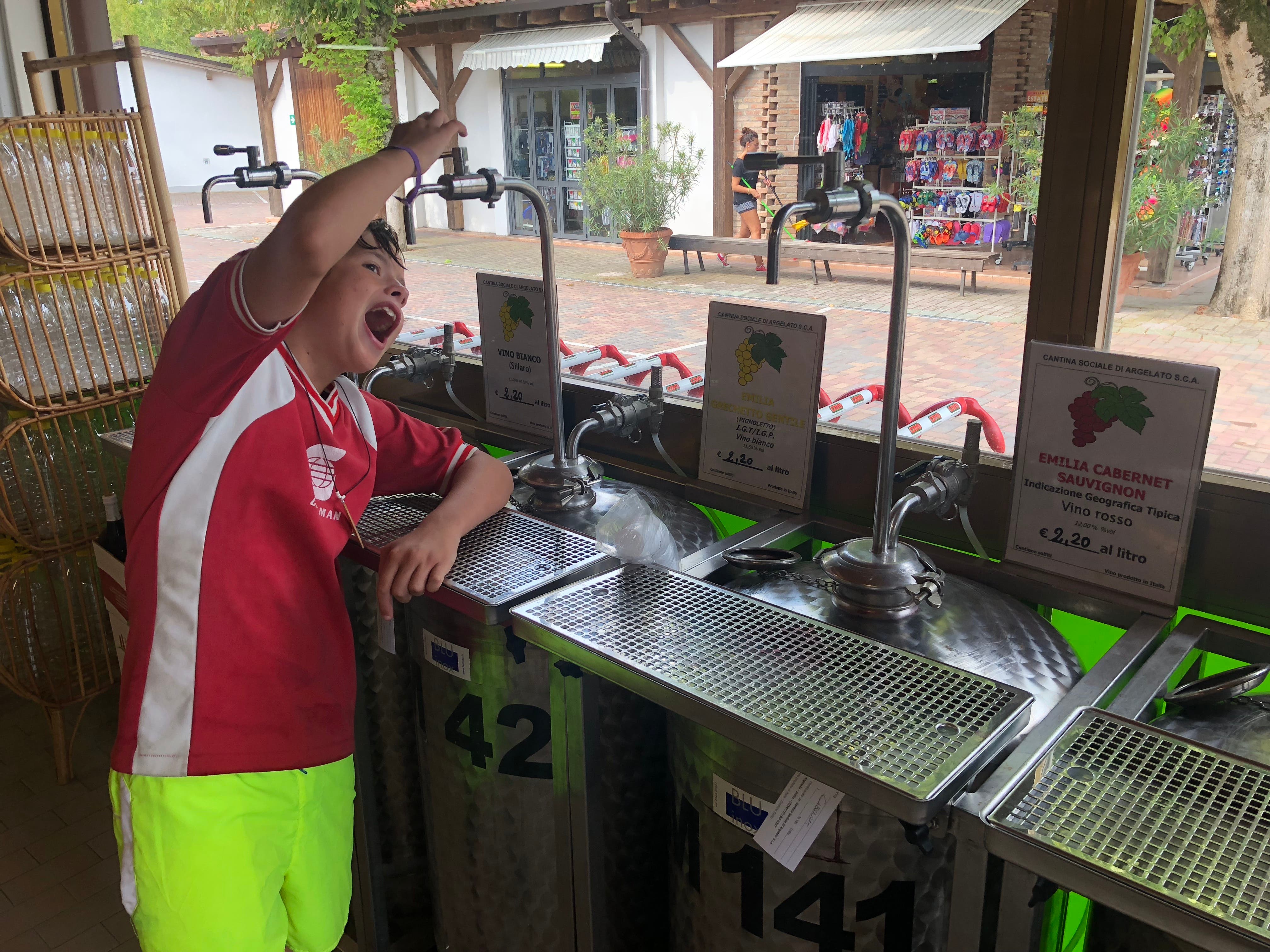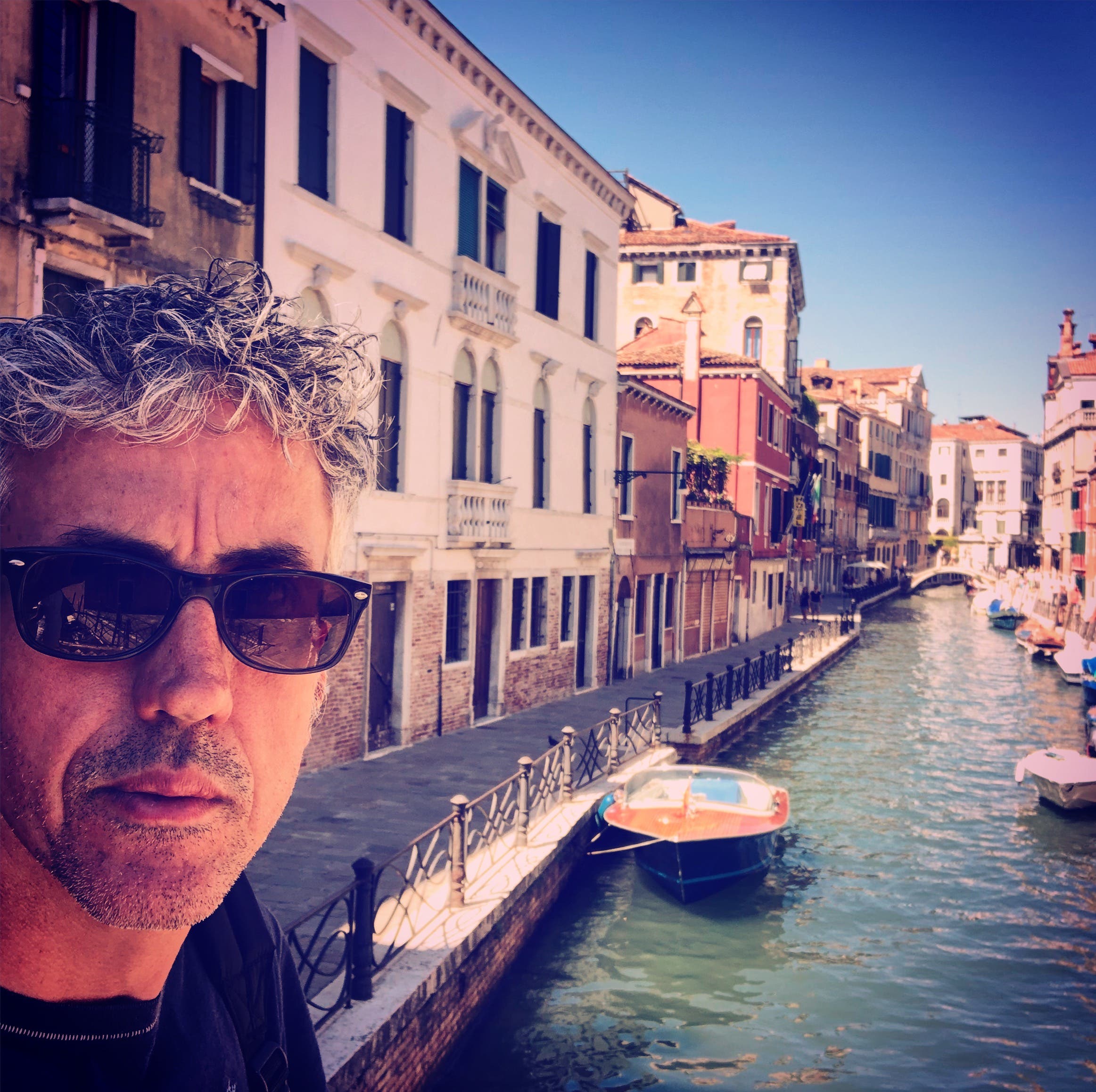 The long road home
The journey back to Blighty was broken up by an overnighter all in the van stop, at a very remote campsite somewhere in the middle of nowhere in France.
With a family of four, me at 6ft 3 inches, my eldest son (14 at the time and almost 6 foot), my youngest son (10 at the time and 5ft 6) and my wife (touching 5ft 4 ish) we could all just about squeeze into the camper without the awning for an overnight stop. Anything longer than a night and you are going to want an awning to avoid getting under each other's feet. The stars were amazing, but the restaurant was closed, thankfully we had our trusty stand by pot noodles on hand.
I don't think there is any way I could have done the drive in one go, that is the beauty of a camper van though.
What did I learn
1. The journey always takes longer than you think.
2. The cars in Italy are lovely but the roads are not.
3. Camper life can create wonderful memories, so don't stress the little things.
4. As much as you would like to think your kids will be thrilled by the countryside, a laptop and a movie can break up the boredom.
5. You only ever need half the stuff you take with you, the skill is knowing which half!
6. You will probably get stressed out at times, a wrong turn, a late-night camp set up. These things feel like a major hassle at the time, but when you look back they will seem insignificant compared to the memories you make and keep forever.
7. 6 and 3 are pretty much the same thing but I think it is worth mentioning them twice!
8. When you go on holiday in a camper and the team works together it is the best feeling in the world.
To paraphrase Randy Crawford
"Van life, it's the only life I know".
The specifics
Van - Converted VW T5 with pop-top named Scooby
The drivers - Al & Louise
The entourage (kids) - Jamie and Jacob
The date - Summer 2017