An Introduction to the Just Kampers Open Day and Camping Weekender 2019
The JK Open Day and Camping weekender is back!
This year it takes place over the weekend of the 7th - 9th June, held at JK HQ in the glorious Hampshire countryside, its an event that started over 10 years ago as a commercial open day and has grown into an event that we are truly proud of.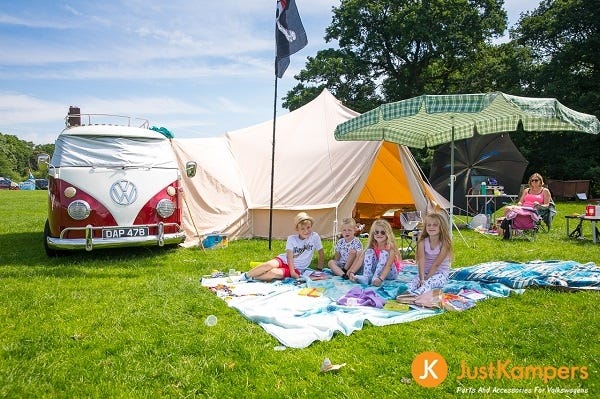 Sporting a laid back, mini festival, old school VW show feel- that we work hard to maintain. This is not an event that looks set to grow in line with its popularity.
At its heart the event is a charity fundraiser; all monies from camping tickets, trade tickets, silent auction and day visitor donations go in their entirety to the chosen charity.
This year our charity partner is Phyllis Tuckwell Hospice Care.
We have a carefully selected group of traders; ensuring that only quality and often bespoke goods make it into the line-up, the food is second to none – again we'll admit to being picky; but who wants an expensive, overpriced burger when they can eat award winning pies, delicious Caribbean vegan soul food and delectable pizza.
The main event (and trade) takes place on the Saturday (10am -4pm) to which day visitors are actively encouraged to be a part of.
We are a family friendly event and there are some great attractions for the kids to enjoy. There's pottery painting care of Arty Kids, face painting and this year a giant garden game area sponsored by Phyllis Tuckwell.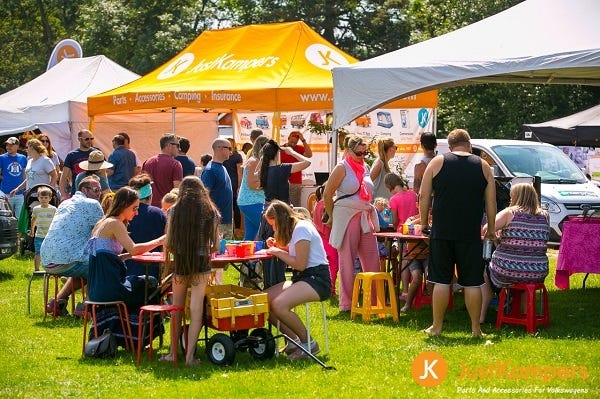 There're also cookery demos by the amazing ChefCamper.com boys who relay travel adventures, experience and knowledge as chefs through their common and obvious love of food.
We are lucky enough to be supported by some great musicians who provide live music throughout the day.
And, there is always a glut of very cool VW's to enjoy too.
Of course; being an Open Day there are great discounts and bargains to be had, a chance to have a look at the new camping range and awnings and most importantly for us, a chance to meet the people behind the business.
If you were lucky enough to bag yourself one of our camping tickets (they sold out on the day of release in an unprecedented fashion!) then you'll also have the option of cosying down in front of a giant outdoor cinema screen come late evening to enjoy movie classics on the Friday and Saturday evening.
The rest of the weekend is yours to enjoy and chill out as you wish.
You really don't have to own a VW or campervan to enjoy the event – if you love getting out and enjoying the great outdoors and a sense of freedom, we're pretty sure you'll love this too.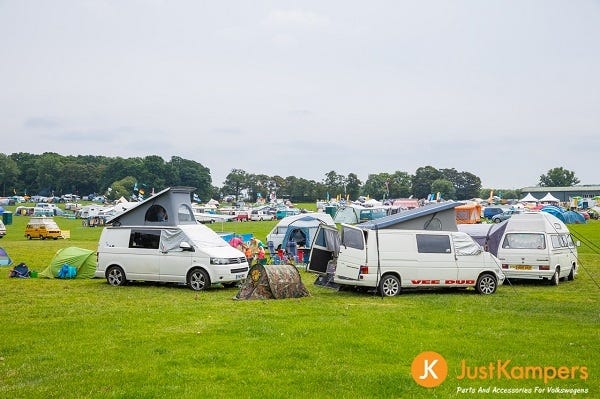 Don't want to take our word for just how nice the vibe is; here are some others…
"The nice thing about this event is that it feels more like a club gathering than a trade open day, with a great vibe and a whole load of cool VW's… If you missed it, you missed out!"
Al Goo for Volksworld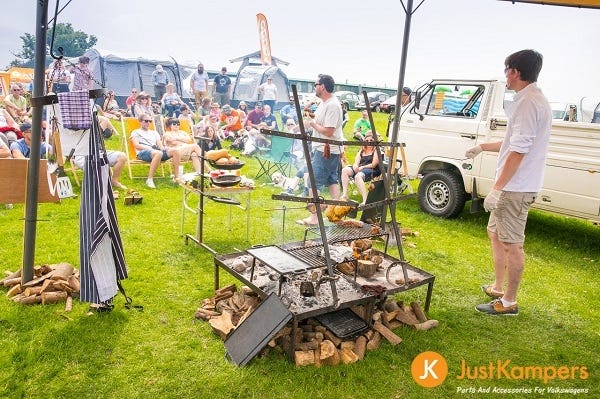 "It's an incredibly chilled out event, with some cool live music, great food and plenty of kids entertainment… If you were kicking back in a field in Hampshire you were in good company, that's for sure!"
James Peene for Camper and Bus
Hopefully we'll all see you there!

The Details:
Venue:
The fields around JKHQ!
Just Kampers Ltd,
Unit 1,
Stapeley Manor,
Long Lane,
Odiham,
Hampshire,
RG29 1JE
Dates:
Camping 7th-9th June
Open Day (Day Visitors) 8th June
For more details check out the event on the JK Facebook page;
www.facebook.com/events/316110195571805/