An Introduction to the 2019 Camping Range
We can just about see the promise of Summer on the horizon. When visible(!) the warmth of the sun is intensifying, along with our desire to be outdoors making the most of our time indulged in VW orientated family fun.
Luckily our summertime daydreams over the winter period have borne fruit in terms of an even bigger and better camping range.
We've taken note of the changing trends and our own preferred set up's on site to inform this year's range.
More and more we are finding people on sites who prefer a separate awning/tent arrangement rather than rely on a driveaway; so, this year we have increased our range and therefore increased your options!
We're working with well established camping brands such as Outwell, EasyCamp, Kampa and Vango. All bring with them a wealth of knowledge and experience in outdoor leisure goods industry.
Outwell, a name synonymous with quality, provides some great additions to our driveaway awning range. The most notable is the inclusion of the Outwell Milestone Pace. This brings new technology that allows for a fixed position/attachment free snorkel. No more fiddling and moving the van backwards and forwards to the "right spot" to re-attach after your days out. It also has the bonus of being able to be used as a tent; completely independent of a vehicle allowing for even more flexibility of use.
If you prefer a more traditional driveaway you can still have it with the Outwell Milestone Pro. The Pro features the same rain-safe front canopy and extra side access door as the Pace but has a more traditional attachment flap, here again though some well thought out changes to the length means that you can attach over the top of your vehicle rather than via awning rails – ideal if you don't have them!
Two other Outwell options are the inclusion of a tent to our range, a first for JK but as we've already mentioned things are changing and we are finding people who want the flexibility of a standalone tent, whether its to store your kit, for the kids to sleep in or to use in conjunction with other vehicles. We decided that a budget friendly, well received award winner would be a welcome addition to the range – hence the inclusion of the Outwell Earth 5 Man Tent.
Another desirable addition offers shelter from the elements in a size that's practical as well as offering some privacy. The Outwell Touring Canopy offers just that and is an ideal solution for attendance at shows, overnights or weekend camping trips that don't warrant the full set up.
Want an air awning – we've still got you covered with offerings from Vango in the form of the ever popular Kela IV and Kampa with the Kampa Travel Pod Action Air, the Trip Air and a smaller pole option Travel Pod Mini.
There are some fantastic additions to the camping furniture and accessories range too. Far too many to mention individually, and of course we love them all, but we've highlighted some of our favourites!
First up the Cornillion Seat and Storage in both the Medium and Large sizes. Made by Outwell they provide seating options as well as extra storage – which has the benefit of folding flat when not in use. Ideal when space is at a premium and you need everything using it to be multifunctional.
Another favourite is the Easy Camp Tobago Hammock – again this takes little space but can be utilised again and again whilst camping. There really isn't anything more relaxing than finding your own spot to string up a hammock and rest lazily swaying under the tree canopy.
Whilst you are whiling away time you can rely on the Cobb to cook your dinner -the Cobb has been a long time favourite here at JK and a stocked item for many years. They are quite simply fantastic pieces of kit -and bought as part of our bundle kit they are great value for money too. You won't regret buying one – the only challenge will be to decide what to cook!
Want to go the conventional two burner route; the Outwell Appetiser Duo Portable Gas Stove will do you well particularly if you couple it with the Manley Espresso Maker for your morning coffee!
When it comes to cooking these Kampa Space Saving Stainless deep stackable pans allow for real functionality without the need for huge amounts of space – a common trade off in camping pan sets. Dish up onto the envy inducing Kampa Aegean 12 Piece Melamine Set.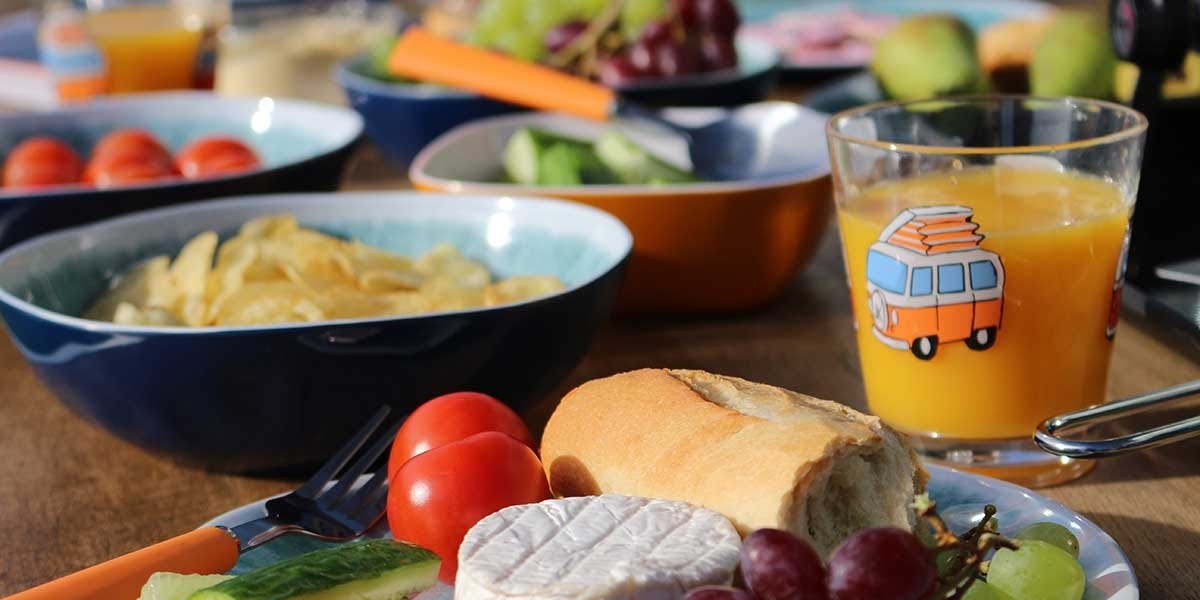 Then settle down to relax in your choice of comfy camping chairs. The Outwell Marloes Folding Chair is a seriously comfortable offering in muted classic tones of Ocean Blue or Warm Red or the Kampa Tub Chair in vibrant Burnt Orange or Blue.
We're sure that you are going to love this year's camping range, just as much as we do. The only problem you'll have is trying to choose between them all!
Whatever adventures you get up to this Summer we'd love to hear about them!
Send your stories to: [email protected]