The largest of the Channel Islands, Jersey has 19 stunning beaches from little coves and pebble beaches to huge stretches of white soft sand and perfect surfers' waves. It is the beachside family paradise.
For the more adventurous, there are enough water sporting activities to keep you occupied for weeks as well as stunning clifftop trails for hiking, green lanes for safe cycling and many high-end restaurants, traditional local pubs as well as incredible locally caught seafood that go straight from the sea to your plate.
Whether you're looking for a romantic weekend away or a multi-generational week long family holiday, Jersey has something for everyone and with the weather being a little sunnier and warmer then the mainland as well as the sea temperatures higher, it's an easy and safe holiday getaway.
Portlet Beach in Jersey - Photo courtesy of VisitJersey
Commonly Asked Questions:
Do I need a passport to go to Jersey?
As long as you are a British Citizen you do not need a passport to travel to Jersey from other areas in the UK, however photographic identification is required.
Is Jersey part of the UK?
Jersey is a self-governing crown dependency and therefore not part of the UK but the UK is responsible for its defence. The Lieutenant Governor on the island is a representative of the Queen however it has its own financial, legal and judicial systems.
Do they speak French in Jersey?
Although you will notice a French culture in Jersey, with all the street names and many house names and buildings in French, English is the local language. Jersey does have its own language called Jerriais which is a Jersey French although this is rarely spoken these days.
What is Jersey Famous for?
Jersey has one of the largest tides in the world with the island nearly doubling in size when the tide is at its lowest!
Make sure you stop for a real Jersey ice-cream as Jersey's cows are famous for the rich and creamy milk they produce.
Wherever you are in the island you are never more than 10 minutes by car from the sea! You can't get better then that from a holiday destination.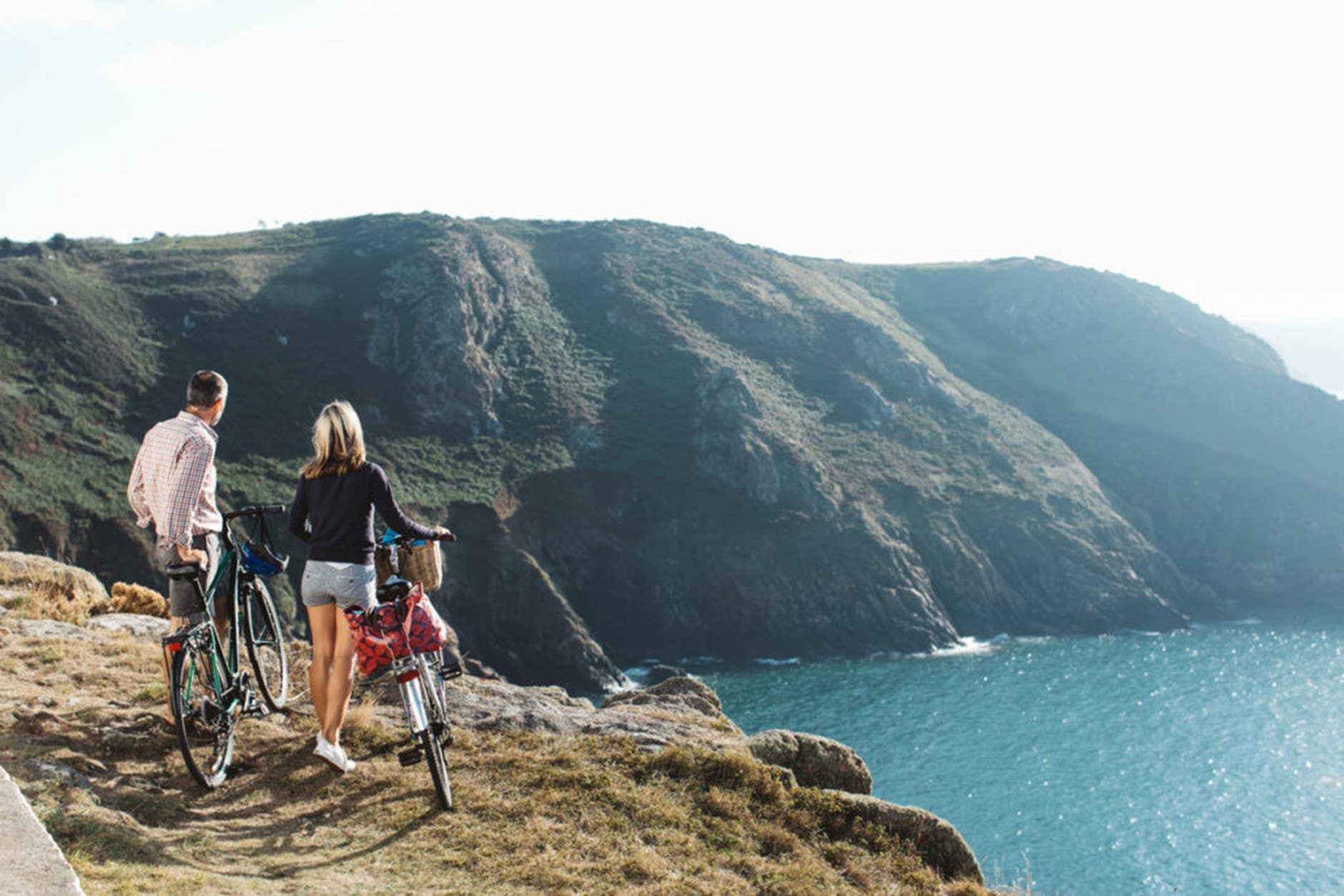 Cyclists on the Cliffs of Jersey - photo courtesy of VisitJersey
Things to Do
Cycling
Jersey has created a network of small 'green lanes', designated small back-roads where pedestrians, cyclists and horse riders take priority over motorists and there's a speed limit of 15mph keeping any drivers at a safe speed. There are plenty of hire bike shops with pedal and electric bikes available as well as a system of electric bikes found around the island which you can use an app to hire them for any given time.
Walking
With so much stunning scenery and quaint country lanes, Jersey is the perfect place to pack a day sack and see where the road takes you. Being only 9 by 5 miles and a good bus network, you can enjoy getting lost without the worry of getting home.
Watersports
Name it and Jersey should have it. Watersports include Jet Ski adventures, rib tours to the outer lying islands, water skiing and wakeboarding, banana boating, kayaking tours, paddleboard hire, wind surfing, kitesurfing and more. With so many beaches to choose from, you can find a sheltered spot for a flat sea paddleboard and take on the waves of St Ouen's for an evening surf all in one day.
Historic Sites
The island has a human history dating back 250,000 years to when bands of Neanderthal nomadic hunters used the caves to hunt woolly rhinos and mammoths before the island was even an island. Also, with the last remnants of the medieval Duchy of Normandy, and being one of the only parts of the British Isles to be occupied by the Germans in World War II, Jersey has a fascinating history that you can experience through historical sites, World War II bunkers, ancient burial grounds, castles and caves.
Golfing
With 5 courses to choose from, for such a small island, it's a golfers' paradise. Tee off in the warm sunshine with views over the white sand beaches and follow in the footsteps of golfing legends Ted Ray and Harry Vardon both from Jersey and Ian Woosnam who's made his home there.
Gorey Castle in Jersey, photo courtesy of VisitJersey
Attractions
Jersey Zoo
Founded by the naturalist and novelist Gerald Durrell in 1959, Jersey zoo was one of the first ever zoos built for conservation purposes rather then just as a tourist attraction. The stunning 32-acre grounds are filled with rare and endangered species, highlights are the Gorillas and Orang-utans. Not only is it a great day out for the whole family, but your entrance fees go to supporting the incredible work they do around the world, helping to conserve the animals in their natural habitats.
Absolute Adventures
With expert instructors, Absolute Adventures is a one stop shop for a watersports based adventure on the island. Take your pick from kayak tours, coasteering, SUP'ing, inflatables and blokarting on the beach.
Seafaris
Take some time off the island and jump onboard one of Seafaris Ribs for the ultimate boat tour or private charter around Jersey's stunning coastline or go further afield to one of the offshore islands or sandbanks. You can even head to a different country and have dinner in France before a sunset ride across the water back to Jersey keeping your eyes peeled for seals and dolphins along the way.
War Tunnels
Experience what it was like to live in Jersey while it was occupied by the Germans in World War II through the words of the people who were there. Through first-hand accounts or tales passed down through the families, you'll learn stories of everyday life, unexpected events and even the funny situations of ordinary people living through exceptional experiences.
Jersey Bus & Boat Tours
Choose from shuttle buses to Jersey's main attractions, two hour or full day tours in a vintage open top bus or a boat trip onboard the Jersey Duchess for an education 2 hour tour around the south coast including Corbiere lighthouse and Elizabeth Castle. Jersey Bus & Boat Tours will give you a memorable day out.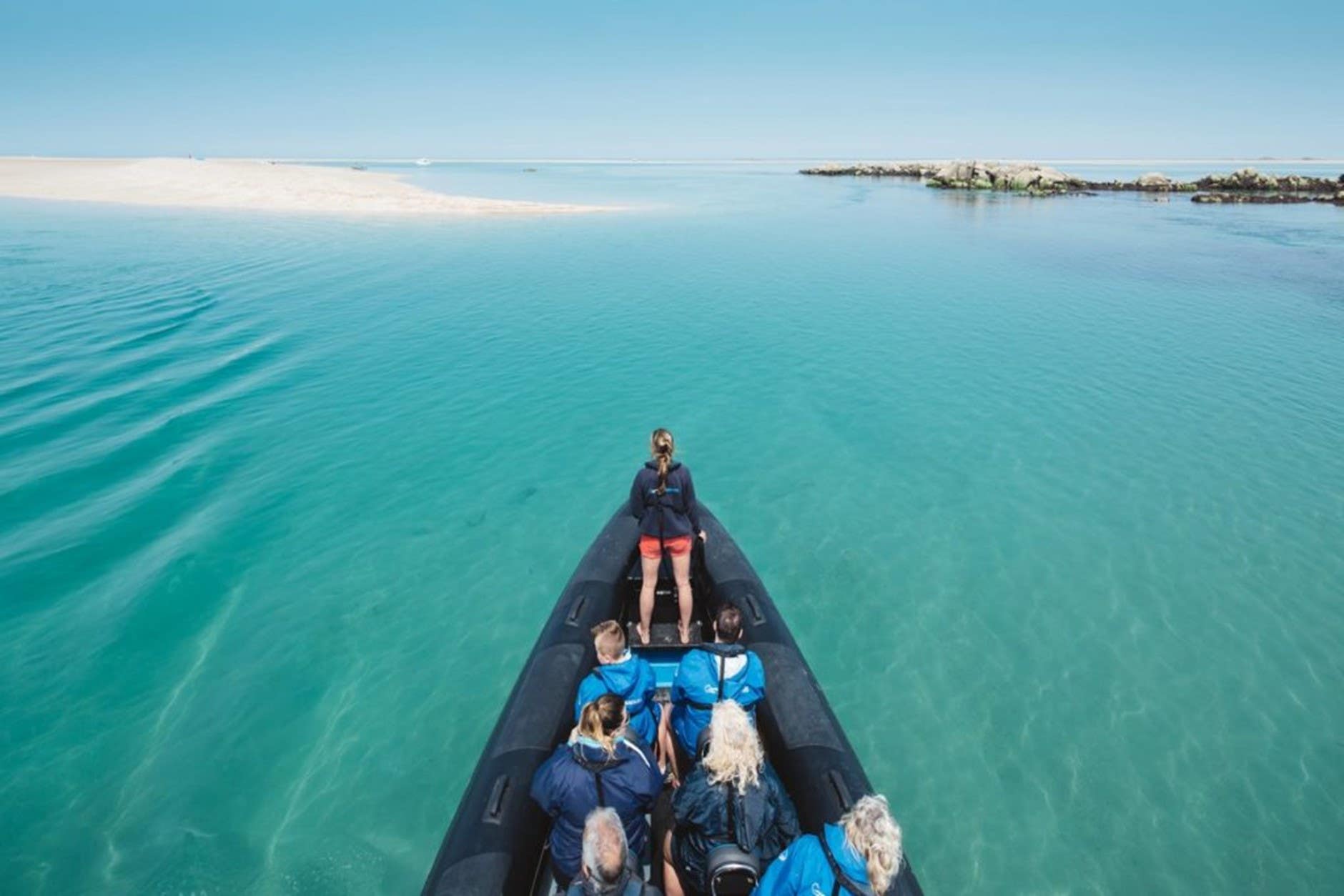 Jersey's Seafaris, photo courtesy of VisitJersey
For more on things to do and see in Jersey click on the link for the official Visit Jersey website https://www.jersey.com.