Setting the scene
Did you know that in the mid '50s, Scottish grandmother Charlotte Hayes (affectionately called Granny Hayes) took part in the gruelling REDeX Trial, which saw her driver over 10,000 miles around Australia in 20 days, in an event which was too gruelling for a lot of professionals to tackle?
It's a story that not a lot of people have heard about, so as we mark International Women's Day with a series of blogs about women in the classic car scene, and the wider automotive industry, we thought we should share Granny Hayes' amazing story.
In 1955 Australia, women and automobiles weren't natural bedfellows.
As Georgine W. Clarsen, from the University of Wollongong puts it: "During the 1950s and 1960s, Australian magazines and newspaper columns devoted to motoring emerged as sites for the elaboration of highly gendered meanings for automobiles.
"Targeted to a male audience, they worked to define cars as a quintessentially masculine technology and routinely denigrated women motorists, often through humorous stories or cartoons syndicated from the United States or Britain.
"Young women drivers were frequently lampooned as ditzy, unable to concentrate on the task at hand or give a clear hand signal, and mothers-in-law were routinely portrayed as nagging back-seat drivers."
Couple this less-than-welcoming environment with the details of the REDeX Trial itself, and it really highlights just how impressive it was for Granny Hayes to rise to the challenge.
The REDeX Trial
A reliability trial which put off a lot of seasoned rally drivers, the REDeX Trial covers 16,900 km (10,500 miles) around Australia, covering some of the harshest terrain and roughest roads you can imagine. It took place over 20 days in 1955, between August and September, and included 17 stages and a mix of different road surfaces (including some which could only generously be called roads!).
Here's how the organisers described the concept for the rally: "A reliability trial is not a race, and it is not an endurance test. The cars are such as can be bought at any showroom dealer. It is a sporting event in which the reliability of each competitor's car is the only consideration.
"Its point is in showing which car is more suitable for handling common road conditions than another. Each section must be done in a set time, and fast driving is no guarantee that a competitor will do a section within a set time. Generally speaking, the earlier a competitor falls out the faster he has been speeding. Drivers must obey traffic regulations". Australian Motorist, August 1953.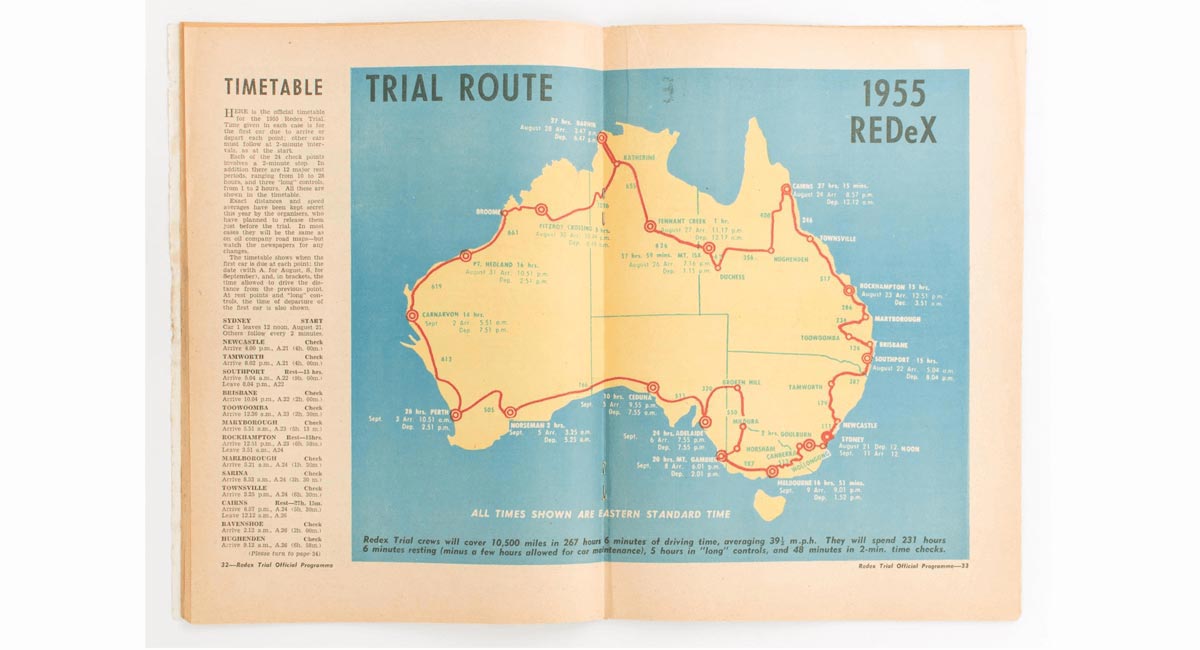 A map of the REDeX Trial, from the 1955 event's programme
According to the rules, only simple modifications were allowed which included guards for the sump, lights and windscreen, extra fuel tanks and standard type heavier shock absorbers. Each stage had a set time for completion and demerit points were deducted for damage to the vehicles.
Set against this background, most of the women competing were doing so as navigators alongside their husband drivers, generally viewed by the media of the day as supplementary to the proceedings.
Given the realities of the REDeX Trial, our plucky Scottish granny wasn't an obvious participant. She'd be leaving her beloved slippers behind, and driving her personal VW 1200 Beetle during the trial, with her son as navigator and a family friend, nicknamed 'Fatso', acting as their mechanic. None of them had ever done the REDeX Trial before.
My own Nan would (undoubtedly) have described Granny Hayes as "a game old bird".
Charlotte 'Granny' Hayes, and her son George Ross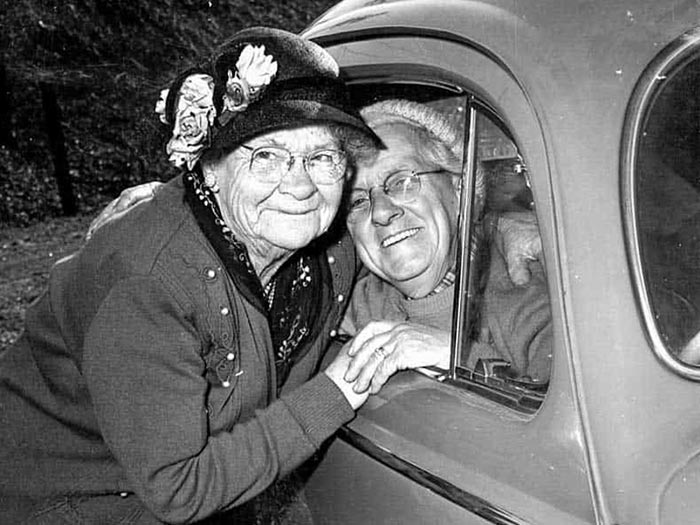 Granny Hayes says goodbye to a friend before the rally
Who is this daredevil granny?
Mrs Charlotte "Granny" Hayes had moved from Edinburgh, Scotland, to Glebe, New South Wales, Australia in 1912. She was a businesswoman, the oldest competitor that year (at 65 years of age), and grandmother with a love of Highland Dancing.
Taking part in her first REDeX Trial, having driven from Melbourne to Sydney in 11 hours as preparation, she felt equal to the job.
She told the Australian Women's Weekly "I'm as strong as a horse".
Arguably representative of every stereotypical image of a Grannie you can imagine, Granny Hayes was very much of her time with her slippers, twin set, dress, brooch and hat. She would don a blue/grey boiler suit for the race, and a similarly coloured woollen hat in line with her team.
As one of only 14 women who entered that year, out of a total of 182 drivers, Granny Hayes regularly drove from Melbourne to Sydney and was quoted as saying "driving holds no fears for me".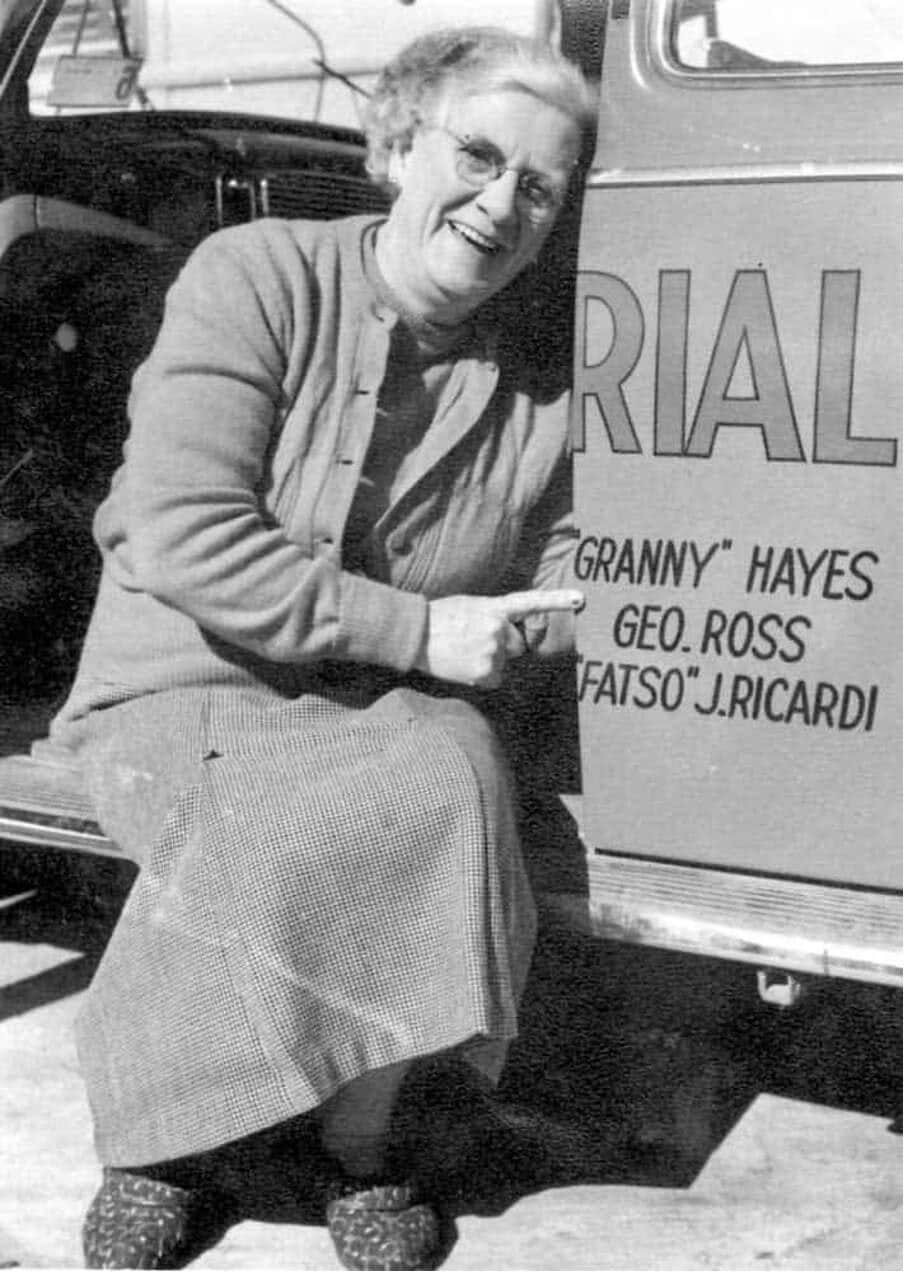 The indomitable Granny Hayes
The 1955 REDeX Trial
1955's event was to go down in the race's history as one of the toughest Round Australia's ever run, not least due to an additional stage, new that year, which took the competitors through a swamp. This swamp adventure promptly took out the majority of the racers, and was subsequently removed in favour of another route!
Just four VWs had taken part in the race in the 1954 REDeX Trial. Sixteen entered the 1955 event.
Renowned rally competitors, Laurie Whitehead and Laurie Perkins, were officially supported by Volkswagen and drove their own 1200 Beetles in the '55 event. Granny Hayes entered with her private car, un-supported.
182 cars entered the event. Granny Hayes was one of only 54 cars to complete the 1955 REDeX Trial, and the only woman to do so. Sixteen VWs entered the rally, but only six crossed the finish line, with the other ten getting lost or being taken out of action along the way.
Charlotte would go on to finish in 31st place with 1653 penalty points. 500 of these were due to 'chassis cracks' – the same penalties affected many other competitors.
Even the fact that Granny Hayes finished the Trial when so many other teams didn't manage to was indicative of her strength of character and resolve. She was subsequently featured (on behalf of VW Australia), in publications such as Women's Weekly and Readers Digest.
Volkswagen were very much open to the benefits of a woman driver completing the race and demonstrating the hardiness of the VW Beetle.
Granny Hayes raced in the Round Australia again. This time competing in a Fiat 600 which ultimately was no match for the Trial. We have absolute faith that, had Granny Hayes been competing once again in her trusty VW Beetle, she'd have crossed the finish line, smile on her face and a gleam in her eye!
Got a cool story from VW history?
Hopefully you enjoyed learning a bit more about the intrepid Granny Hayes, and it's sparked interest in undertaking an adventure of your own.
If you know a cool story from about people doing amazing things in their VWs, let us know!
Drop us an email to JKWorld@justkampers.co.uk
We'd love to learn more about obscure figures from history, or your own amazing exploits!