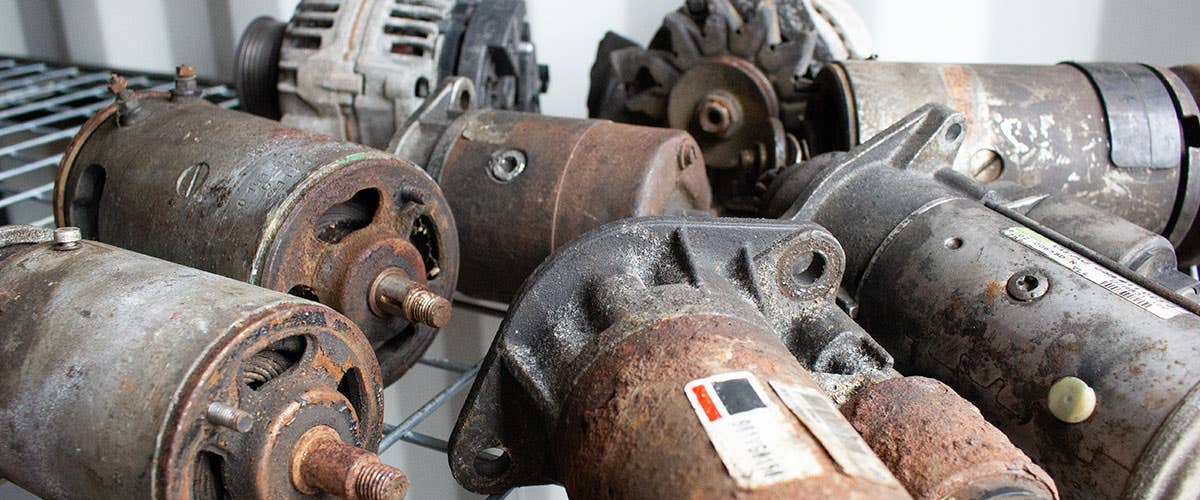 Old core, you know the score
We stock a massive range of refurbished and rebuilt parts, from alternators to Solex carbs, but we need 'core' to keep doing this. That's why we're keen to buy back old, but salvageable, units from you so we can continue to stock reconditioned parts and accessories to keep your classic VWs on the road.
What is 'old core'?
Core is the essential main component of mechanical parts like engines, dynamos, starter motors, and other parts. We're looking for core which can be lovingly restored and refurbished to its former glory to then take pride of place running someone's beloved VW.
What Just Kampers wants, and what we're offering:
We've got a list of the core we need, with our own Just Kampers part number, and the original OEM part number from VW, as well as the price we'll buy back reusable old core units for.
This list will be updated constantly, as we pay out for existing core and find that we need more of other types.
We can only organise rebuilds on core units from original equipment manufacturers like Volkswagen and Bosch, and so will not accept aftermarket units. The core also needs to be complete, with no missing parts, and no damage to the body or other issues like broken lugs, or cross-threaded studs.
We'll arrange collection of your old core units, if they're suitable for rebuilding, but because of the time and money involved we can't arrange this for single units, and would need to be collecting multiple units from you.
| | | | |
| --- | --- | --- | --- |
| JK Part Number | Name | OEM Number | JK Buyback Price |
| J10155 | Dynamo 38 amp VW T2 Bay 1600cc 1967–1973 CG19 | 211903031DX | £20 |
| J10157 | Hella Alternator (55 amp) VW Beetle 1974 Onwards, VW T2 Bay 1974–1979 1600cc | 043903023CX | £27.50 |
| J10159 | Starter Motor (12v) Beetle 1967–1998 T2 Bay 1967–1975 CS62CF | 311911023DX | £20 |
| J10160 | Hella Starter Motor (12v) VW T2 Bay 1975–1979 | 091911023X | £20 |
| J10202 | Automatic Starter Motor T2 Bay 1967–1979 T25 1979–1982 | 003911023BX | £20 |
| J10214 | Alternator (65amp) VW T25 Diesel 1986–1992 CA319CF | 068903017MX | £20 |
| J10215 | Alternator (90amp) VW T25 Diesel 1981–1992 | 068903017PX | £20 |
| J10217 | Alternator (45amp) VW T25 1600, 2000cc Aircooled 1979–1983 CA205CF | 070903023CX | £20 |
| J10521 | Alternator (55amp) VW T2 Bay 1700,1800, 2000cc 1971–1979 | 021903023FX | £20 |
| J10542 | Starter Motor VW T25 Diesel 1984–1992 | 068911023MX | £20 |
| J10805 | 45amp Alternator VW T25 1900cc Watercooled 1983–1985 | 060903017AX | £20 |
| J10806 | 65amp Alternator VW T25 1983–1985 | 060903017X | £20 |
| J10807 | 65amp Alternator for T25 Models petrol 1985–1992 CA298CF | 026903017AX | £20 |
| J10808 | Alternator (65Amp) VW T25 Diesel 1979-1985 CA139CF | 036903017X | £20 |
| J11674 | Hella Starter Motor VW T25 1983–1992 1900cc–2100cc | 025911023AX | £20 |
| J12045 | Starter Motor VW T4 1.9, 2.4, 2.5 Diesel And Petrol 1992–2003 | 02B911023L | £20 |
| J12851 | 90amp Alternator VW T25 1900, 2100cc Watercooled 1984–1992 VW T4 1800, 2000cc Petrol 1990–1995 | 025903023E | £20 |
| J12884 | Starter Motor T4 2400cc Diesel 1990–1994 | 02B911023A | £20 |
| J12885 | Starter Motor VW T4 1800, 2000cc Petrol 1990–1992 | 02B911023F | £20 |
| J12886 | Starter Motor VW T4 1900, 2500cc Diesel 1990–1995 | 02B911023C | £20 |
| J12888 | Alternator 90amp T4 2500cc Diesel 1995–1998 | 028903027N | £20 |
| J14436 | Starter Motor 6 Volt VW Beetle 1946–1964 VW T2 Split 1950-1964 | 113911021B | £20 |
| J42288 | Starter Motor 6 Volt VW Beetle 1964–1966 VW T2 Split 1964–1966 | 113911021B | £20 |