JK Staff Cars: Roger's 1966 Beetle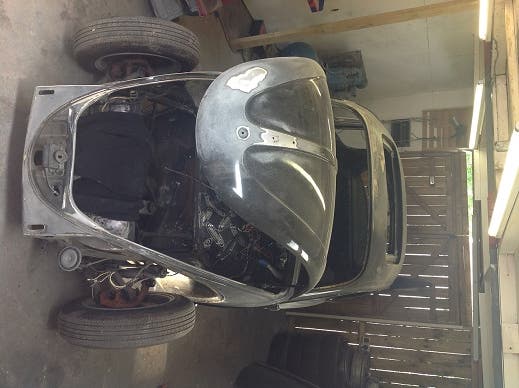 Our Customer Service Manager Roger has been doing some work on his 1966 Beetle has gone to have a paint job!
The Beetle has already had a Front Disc Conversion and narrowed beam fitted, the interior has been stripped out and painted all the floor, it has also been stripped of all it's exterior trim and the windows removed ready to be resprayed in Gloss Black by Neil Harvey.
Neil is also prepping and repairing any imperfections in the body work, welding up the holes in the Rear Wings where the Bumper Over Riders pass through, and welding up the Exhaust Exits on the Rear Valance as a Stainless Steel Quiet Pack exhaust has been fitted.
The interior will eventually be re-trimmed in leather with Alcantara inserts in the seats together with a New Head lining.
Last but not least, Roger recently tried the sunroof for the first time and surprise, surprise it works a treat!