JK Staff Cars: Michael's T2 Bay Westfalia (New Engine & Spain Trip)
The summer of 2018 saw me coming to the ominous realisation that the constant loss of oil I was experiencing with the Camper was probably more that just the main-bearing seal or leaky push-rod tubes. There was a distinct knock on start up which was a pretty big clue that it was time for a reconditioned engine swap. Being that I work for JK, this was a fairly easy task and with help from my colleagues we were able to do the bulk of the work over a day.
Setting Sail for Spain
I had always been cautious of taking the Camper overseas because of concerns about the engine. Now there were no excuses, so we decided to bite the bullet and booked ourselves onto the Portsmouth to Santander Ferry route for September. This is a 24 hour ferry-trip but seeing as we live less than 30 minutes drive from Portsmouth, it really isn't so much of a work up.
We actually really enjoyed the experience of travelling by sea to Spain. Positives are that you can unwind slowly on the boat and save the wear and tear of a 1300 mile round trip plus if you go in the low season your would-be fuel bill might pay for the ferry ticket. If you are lucky you'll have a good nights sleep and awaken to a pod of dolphins passing the boat, which sent my missus into a fit of joy-filled hysterics!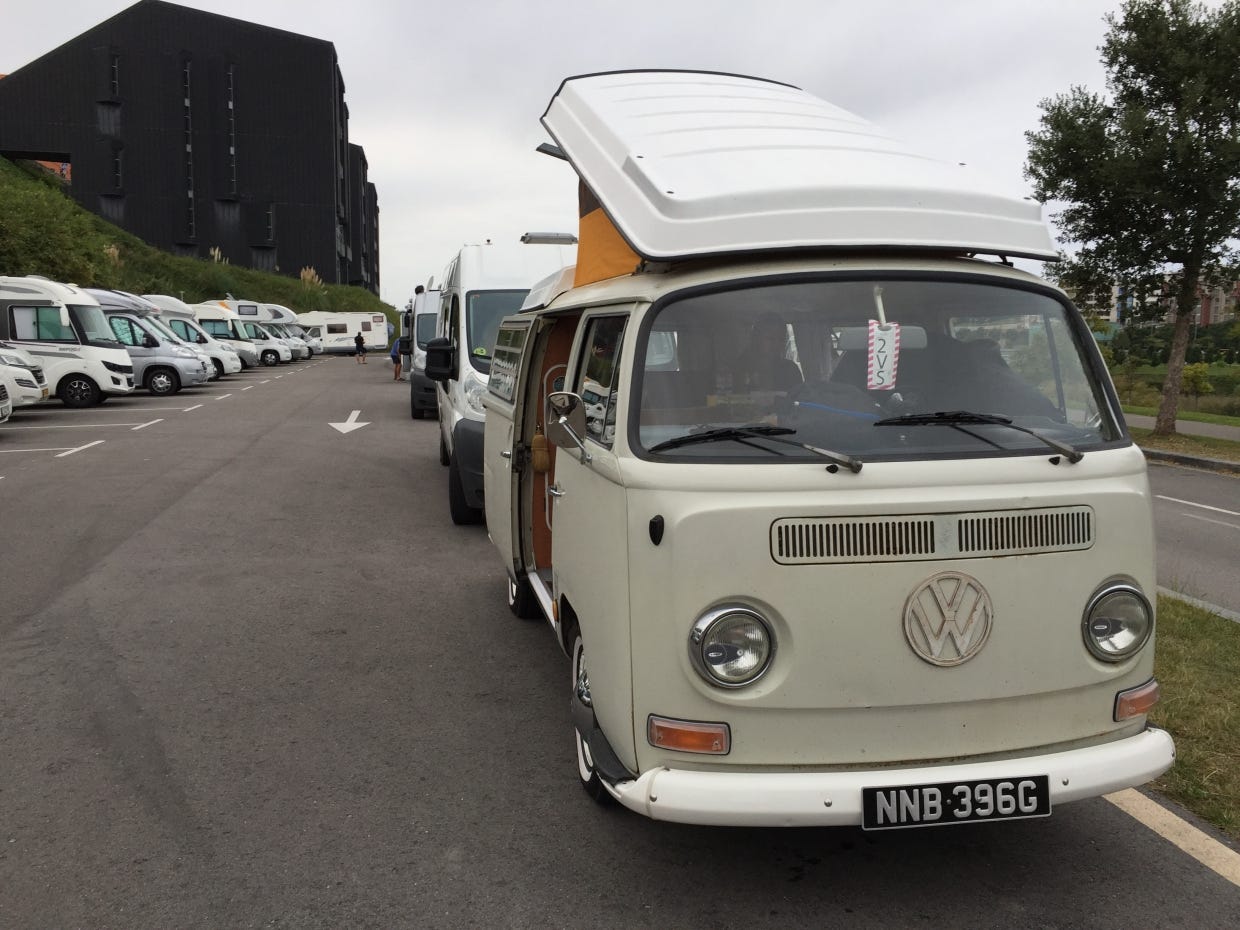 The beauty of going to northern Spain in the autumn is that it is the end of their holiday season so this means it's very quiet and you can pretty much rock up at a campsite without booking ahead. Obviously what the Spanish consider 'a bit chilly' still counts as Summer for us! Since the Costa Verde (Green Coast) offers some of the best surf spots in Europe, it would have been foolish not to at least attempt to surf, even though I was a complete beginner.
Playa de Vega
After a night in a motorhome service area, it took us about one and a half hours to get to the Ribadesella turn off, where we made our way down through some amazing rock formations and forest, to arrive at the Playa de Vega campsite. This is located just 400 metres from the 2km 'Vega' beach. It's a small, friendly, family run site with a lovely relaxed vibe. This is helped by the 'Vega Verde' Surf Camp that seems to have taken up semi-permanent residence. It's mostly Germans and they are chilled out, quiet souls, who are into Surfing, Yoga and a Vegan Diet.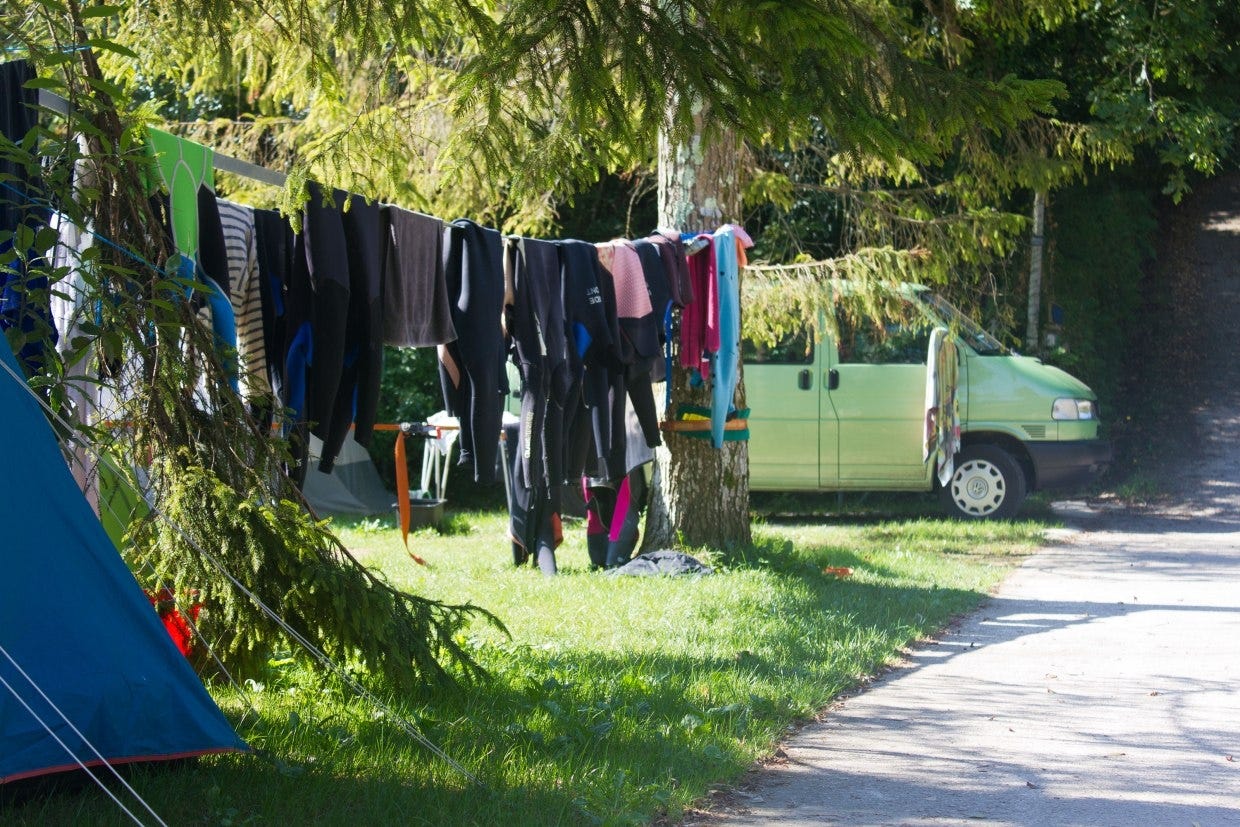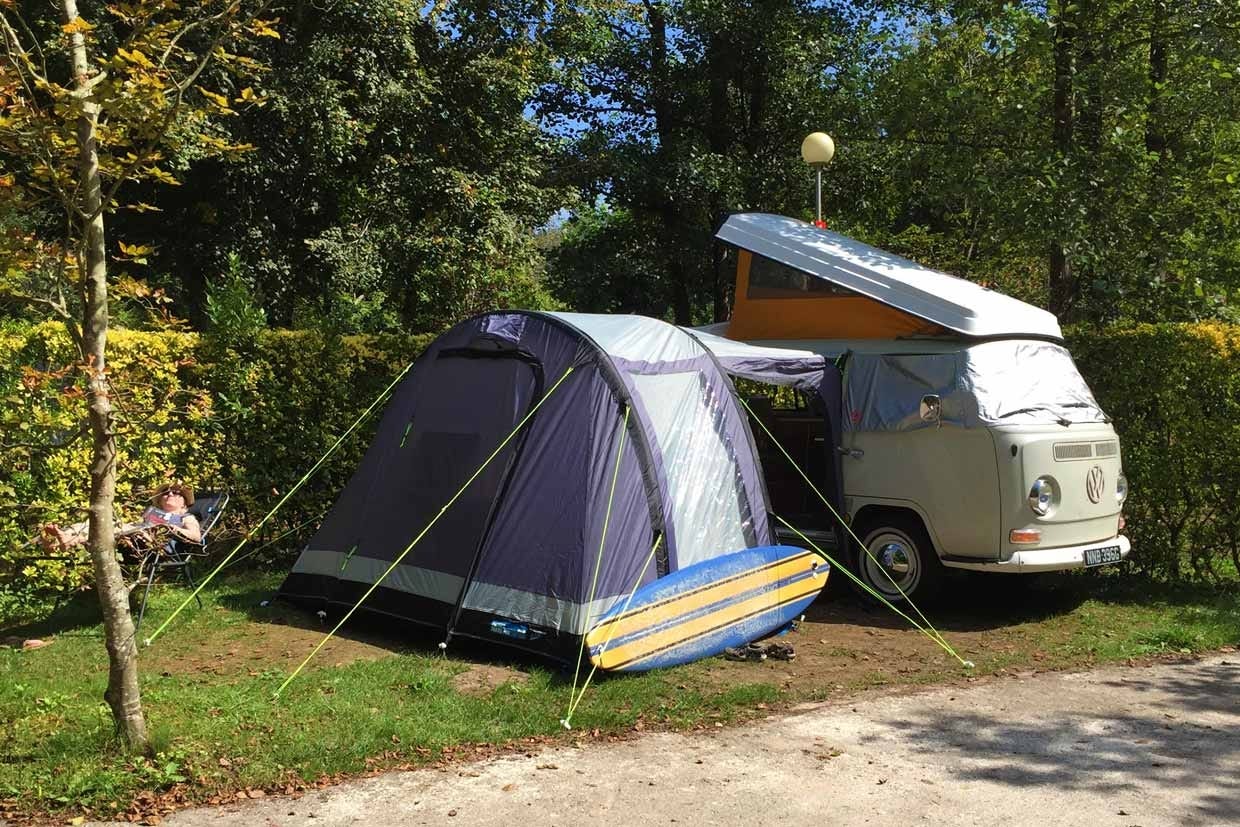 The next day we made our way to the beach along the footpath at the side of the campsite. It's a treat for the senses with the vivid smell of eucalyptus trees filling the air and the sounds of a babbling brook that you follow to the beach. Whilst I was considering buying a soft board (AKA Foamie) for this trip, my mate had offered to lend me his 7'6″ Minimal surfboard. It seemed like a great way to save some cash and step up to the 'real thing'. However, in reality I struggled to make the transition!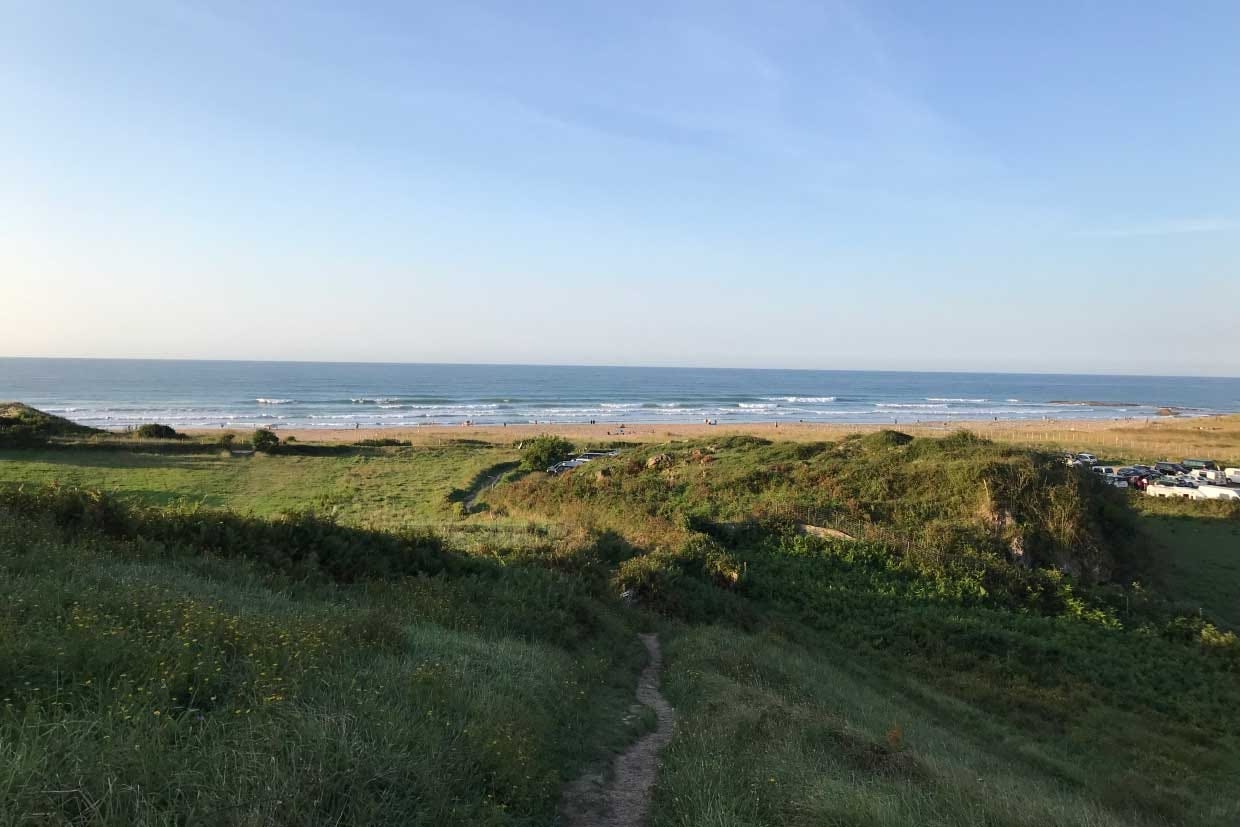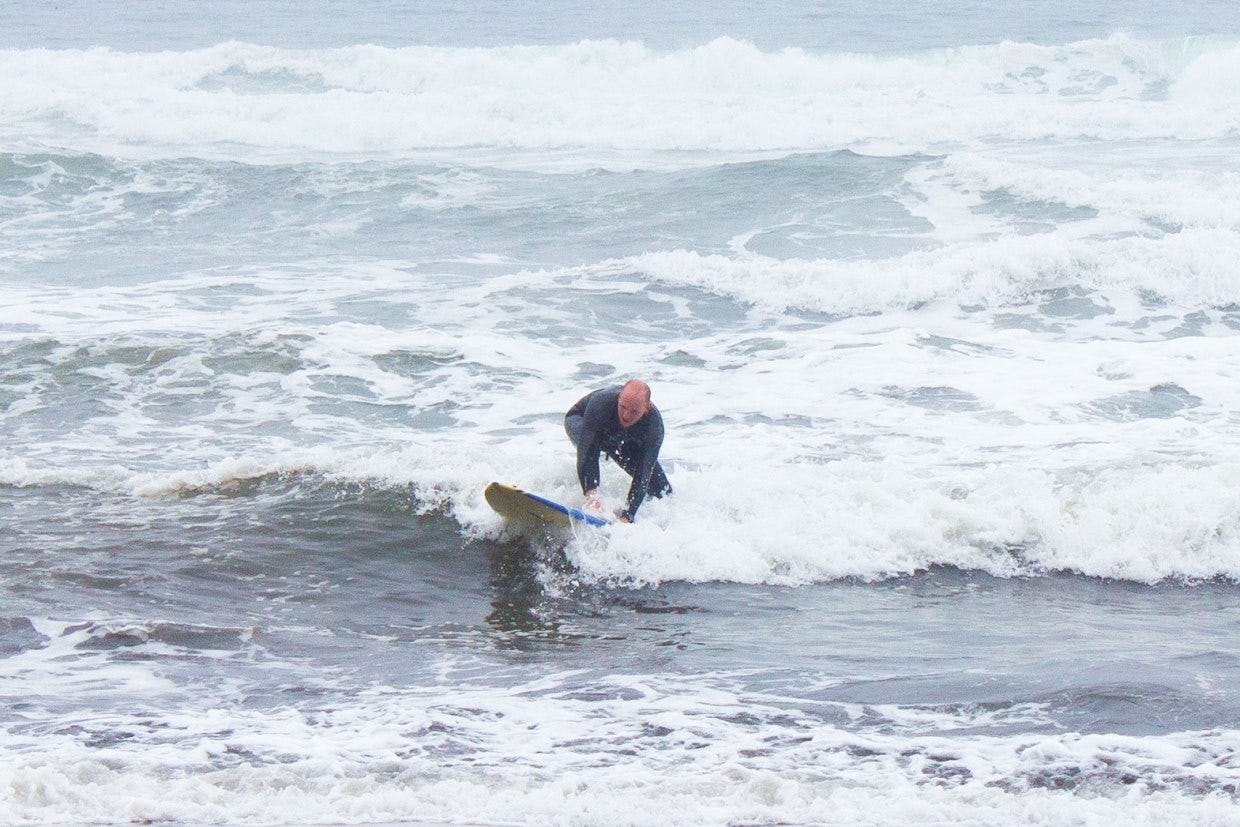 I wasn't too disheartened as not a lot of other folk were having a great deal of success but it was frustrating all the same. Still, the sun was out and it was great fun being in the sea. I even got some free personal tuition from a chap called 'Franz' on the last morning in Vega, which really helped and was greatly appreciated.
Covadonga
On a gloomy Sunday we made our way to Covadonga, where the hero of Asturias, "Pelayo" is buried (he defeated the Moors and established the kingdom of Asturias). This made for a lovely scenic back road trip up into the Picos de Europa. It soon became apparent that a popular thing to do for Spaniards is to attend mass at this holy site. We parked up and hiked up the hill to the La Santa Cueva (The Holy Cave), where Pelayo is allegedly buried, and the mass was in full swing.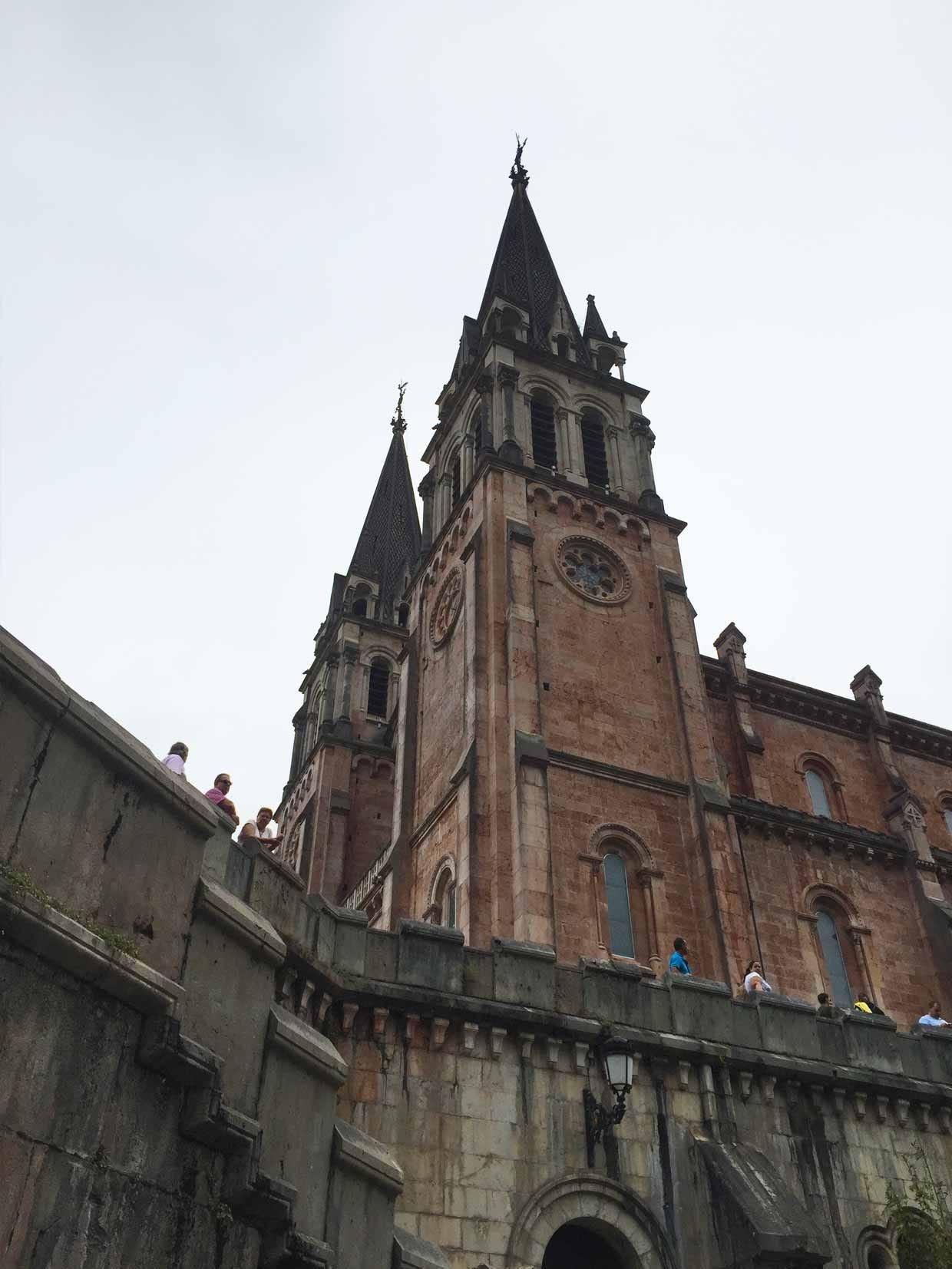 We then made our way inside the Basilica where we heard some beautiful choral singing, accompanied by what sounded like a squeeze box… very authentic and the missus was made up. After most of the congregation took communion, the place emptied fairly sharpish and as we observed on the way out of Covadonga, it appears that lunch after mass is the thing to do. We took heed and headed back to base.
Cudillero
Our second major camping stop would be the seaside fishing village, Cudillero. Think Padstow or St Ives but with a Spanish vibe. After setting up on the first evening, we made our way down the extremely step pathways to the village, which was coming out of siesta, so was still fairly docile. The architecture is really interesting and the way they have built houses onto such steep cliff faces is truly mind boggling.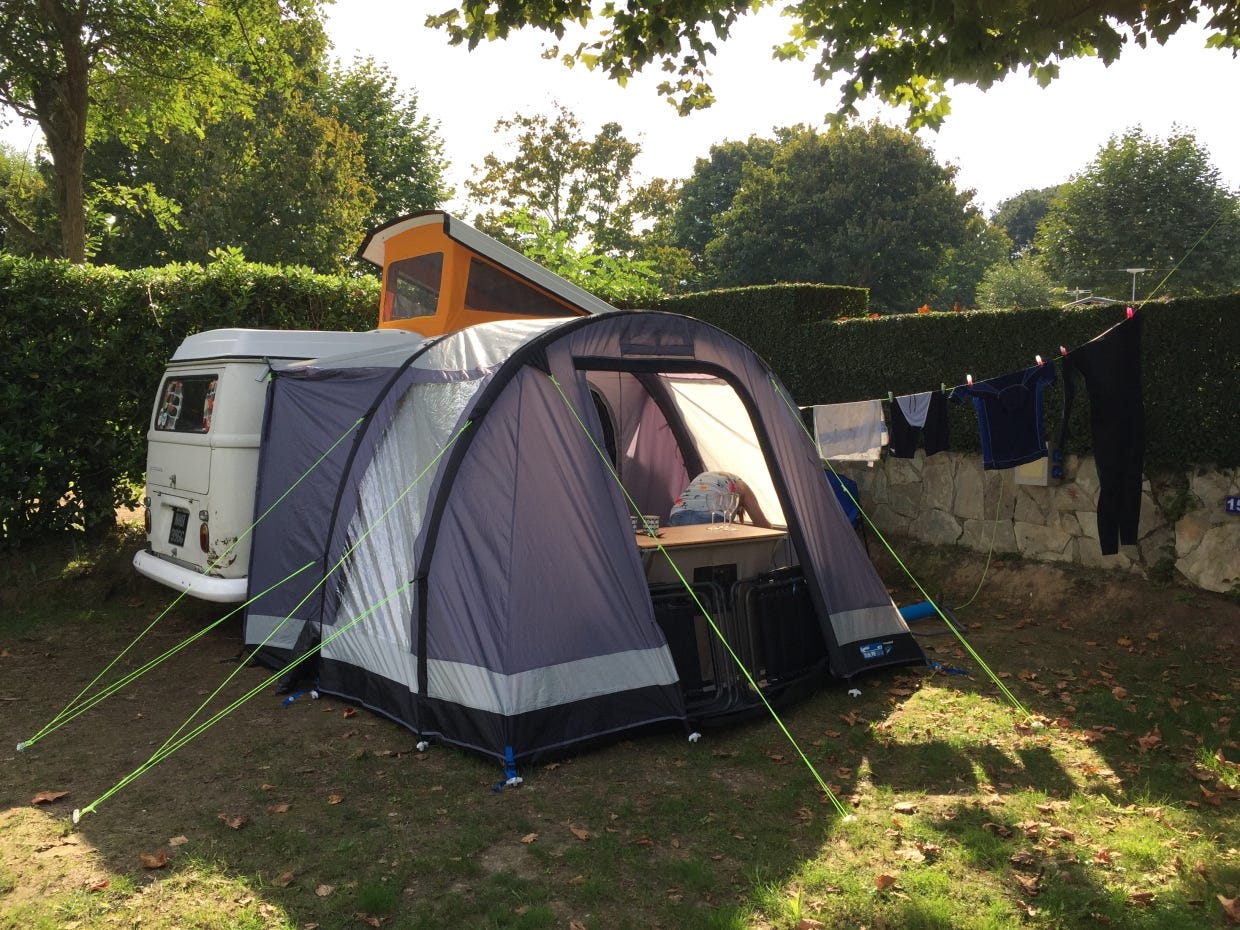 The next day we hiked some different pathways into the village that took you right up onto the high point of the cliff, with amazing views across the harbour. After making our way down to the village centre, we decided a "Shandishe" and lunch was in order so stopped for some Tapas, opting for 'Potatas-Bravas' and 'Sardines' – a rustic Spanish version of fish and chips. Spot on.
Oviedo

Mid-week, we decided to drive to the Asturian Capital city, Oveido. After finding some cheeky free parking at a mall on the outskirts of the city, we made our way into the centre. We made our way to a park with a statue of Woody Allen (go figure) before heading to the historic centre. After wandering around and checking out the Cathedral, we stopped at a 'Huevos Rotos' (Egg n Chips!) restaurant – not quite your cultured Spanish delicacy but the food was actually really good. More common ground was found in the Asturian love of 'Sidra', a flat scrumpy style cider that is served in a quite unusual manner by pouring the bottle from high up - don't try this at home kids!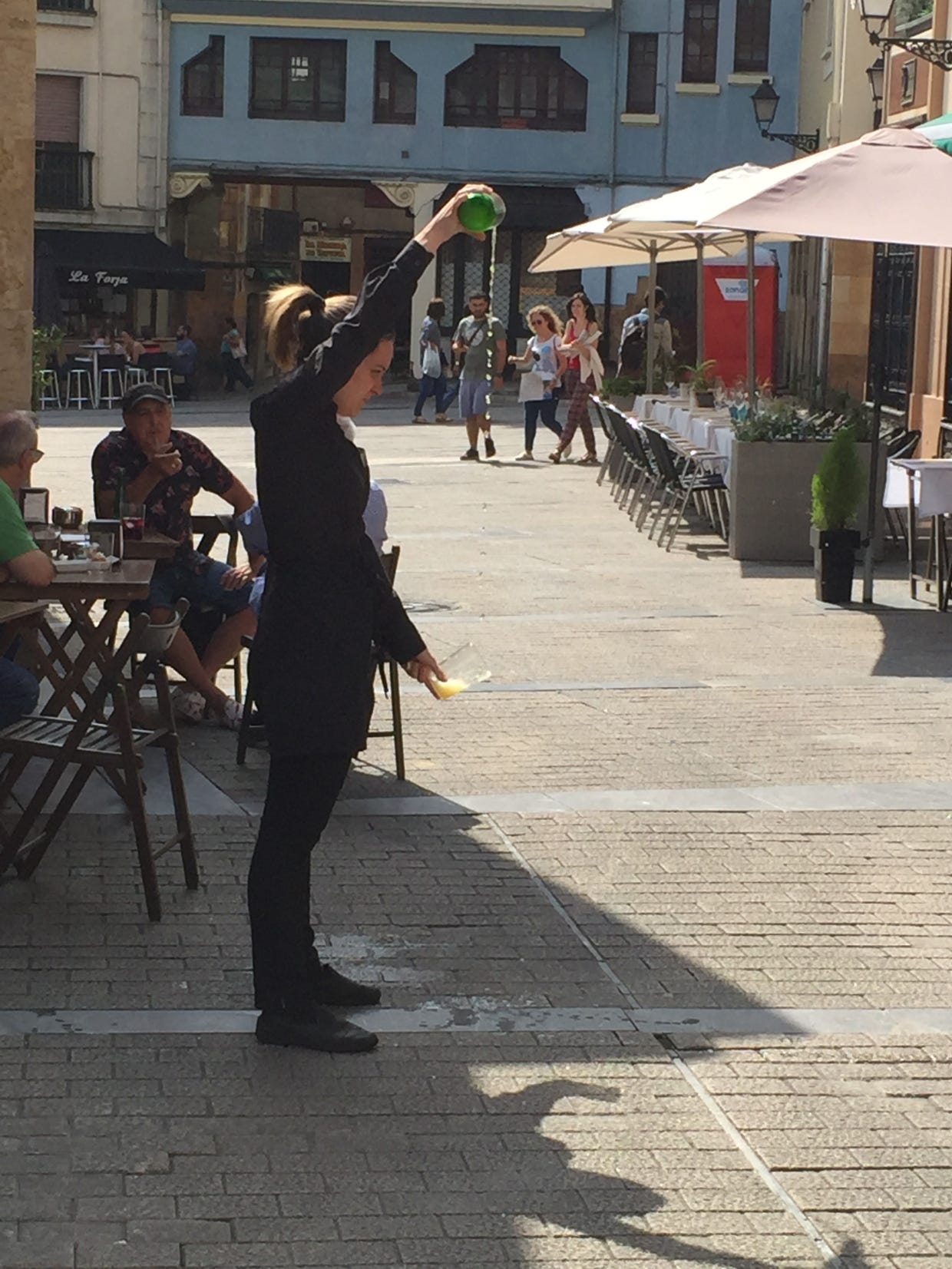 Stopping for fuel on the way back I noticed a little pool of oil under the right hand heat exchanger. On initial inspection it looked as thought the rocker gasket may have blown, which sent my mind spiralling but once I opened the engine compartment, it was soon apparent what was going on. The oil cap was lying on the edge of the engine seal - I'm not sure if it had worked its way loose or I had simply forgotten to replace it when I last topped up the oil in Vega. Oh well, if that's the worse that happened in a weeks travel in a vintage VW then we got off lightly!
For the last couple of days, we spent one doing 'nothing' – reading and lounging about, with another spent on my final stab at surfing. This was at the Playon De Rabas beach, which was practically deserted due to the gloomy overcast weather and chopsy surf. It was a typical Cornish day in my mind and no reason to throw in the towel on surfing. I gave it a good couple of hours with lunch in between and came a little closer to the elusive 'stand up surfing' but the waves were really quite chopsy with no clean breaks. A first gear climb out of the beach carpark made me wish I'd let the engine warm up a little more but it did provide some much needed heating for our feet – the first time we'd pulled the red levers down the whole trip.
The Long Journey Home

On the final day we packed up the van and payed our dues to the lovely hosts at Camping L'Amuravela. We took one last dip into the village of Cudillero to take some photos and we also needed to stack up on booze at the local supermarket.
We arrived in Santander mid-afternoon with plenty of time to spare. Thankfully the ferry port offers free secure parking, so we wandered into the city via the Cathedral, narrowly avoiding a funeral service and then made our way to the actual Santander Bank Building (seemed fitting as I am a customer!). After a bite to eat we headed back to the van, where we found the people queued in front of us had also returned to their vehicle. I had noticed the JK stickers on the back of their T4 when we'd parked up so this naturally led to curiosity, and by this point we were desperate to have a conversation with some fellow English speakers.
Clare and Franka had been touring Portugal in their home-brewed T4 Camper. The conversation starter was about how they had managed to pull off a really cute rustic vibe in the rear, with a neat kitchen unit behind the front seats, complete with draws, sink and fridge powered off a solar panel. The bed was a futon style fold-out affair mounted along the far side.
I was curious to hear how they had fared in Portugal as our original plan had been to drive all the way round the Costa Verde and down to the Portugese borderlands. Apparently people in Portugal were VERY van friendly and there were many locations for wild camping, of which the locals were happy to tell you about. On the flipside it was apparently much warmer and difficult to stay cool, day and night. You can follow their adventures on Instagram or they also have a blog like mine.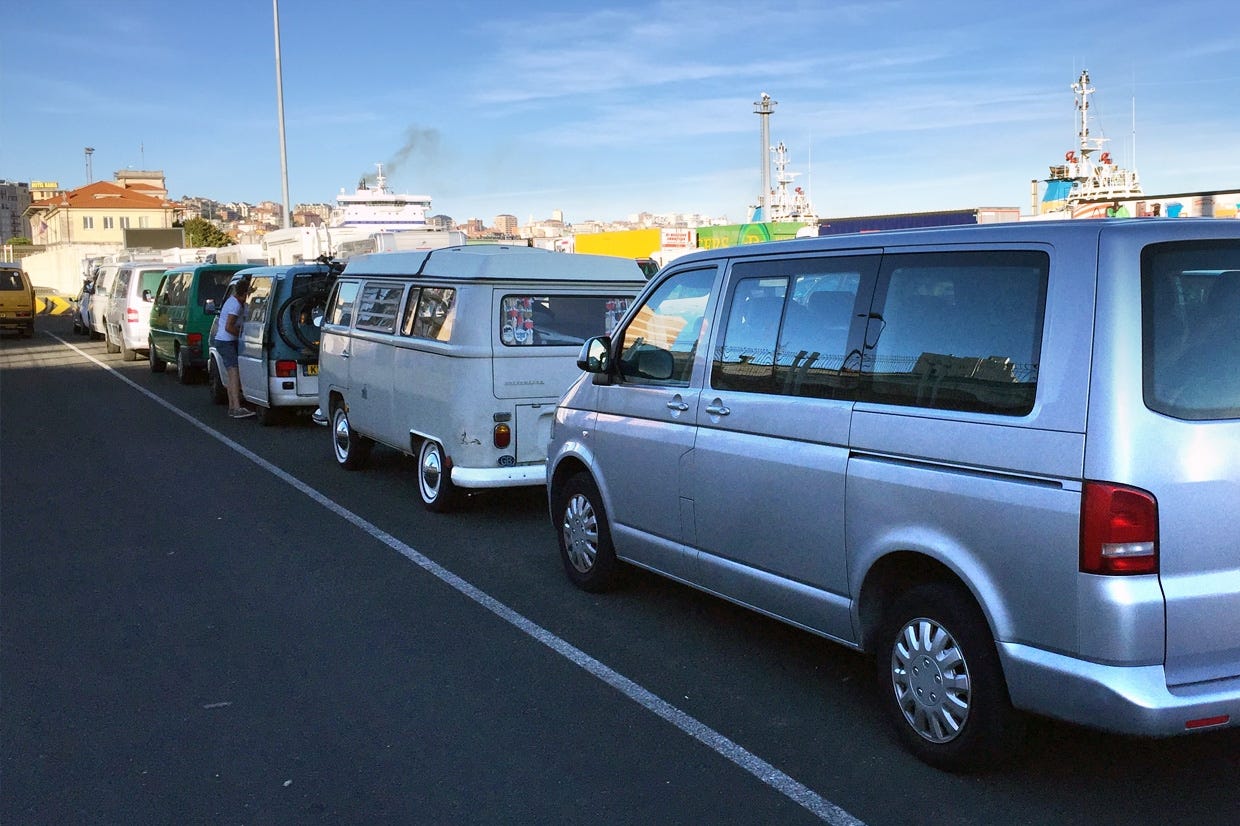 After not too long a wait we made our way onboard the Ferry and with a slightly heavy, yet fully sated heart that we watched the lights of Santander disappear in the warm sea breeze on deck. It was a really great experience and if you have not been to Europe on a ferry with your van, I thoroughly recommend it.
READ ABOUT MICHAEL'S CAMPER RESTORATION HERE