JK Staff Cars: Michael's T2 Bay Westfalia
My 1969 T2 Bay Westfalia 'Campmobile' was discovered in Colorado by our MD Mark Reynolds on his trip across the U.S.A. in 2014.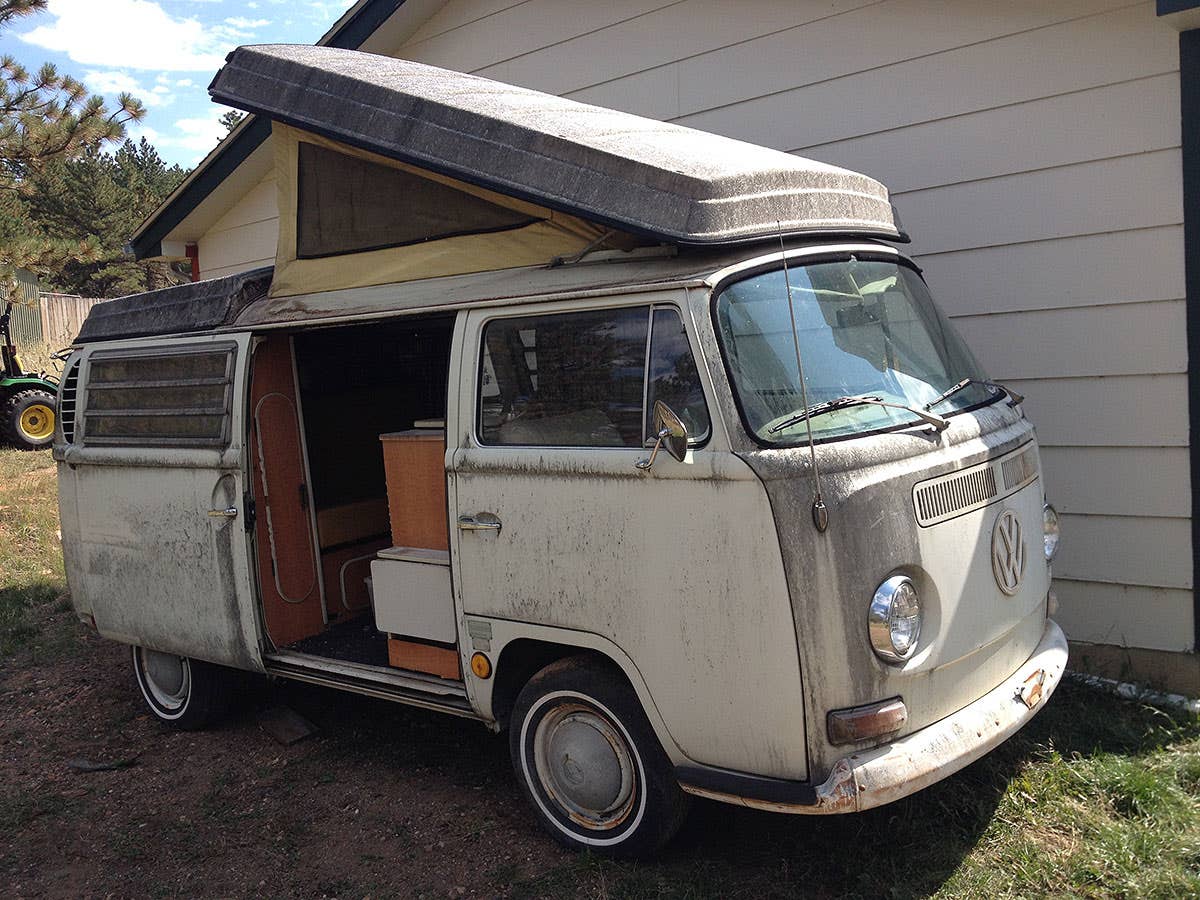 Originally from Riverside County, California, it made its way up to Eugene, Oregon in the early 90s (I found a job application to the 'Humble Bagel' inside!). There it was rear-ended in an accident and then later made it's way up to Wyoming where it was stored for over a decade.
In that time it had it's engine removed, played host to a few wasps nests and 'baked' in a tin shed so has stayed relatively rust-free, although most of the rubbers needed replacing.
The first thing I did was to call in the services of a talented local panel beater to bash out the damage in the rear. As you can see the results are pretty impressive!
I removed and took the Pop Top away from JK before collecting the Bus, so I could get started on restoring it. It was in a pretty sorry state, with bare glass fibres on display under a layer of dirt and grime (although allegedly some early roofs came without a gel coat). Getting advice from a mate who worked on yacht hull restoration, I used a Powdered Gelcoat Cleaner to scrub away the loose glass fibres and get rid of the muck.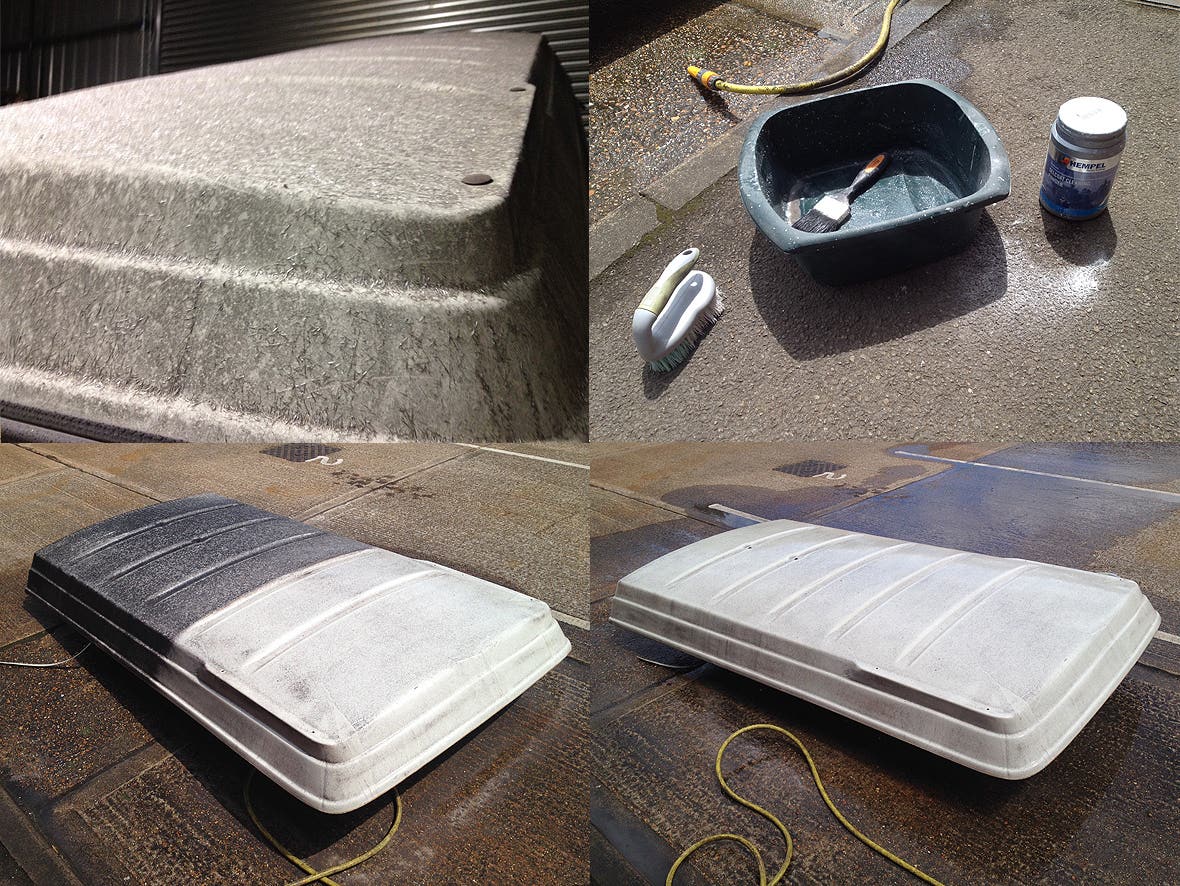 One of the securing 'blocks' for the roof hinges had rotted away, so I moulded in a fresh piece of wood and also reinforced some of the other contact points that showed signs of weakness.
Next, to seal the roof and prevent any osmosis I used a product called Gelshield 200, a two-component epoxy primer, which you apply in two colours to ensure coverage (note - two 750ml tins is enough to cover the whole roof should you choose to go the same route).
Whilst most people advocate using 2 pack to finish Pop Tops. Due to budget restrictions, I decided to roller on a yacht decking paint which produced decent results. To finish the roof, I fitted a Westfalia Roof Seal Kit (
J12505
) and a Yellow roof tent (
J29199
).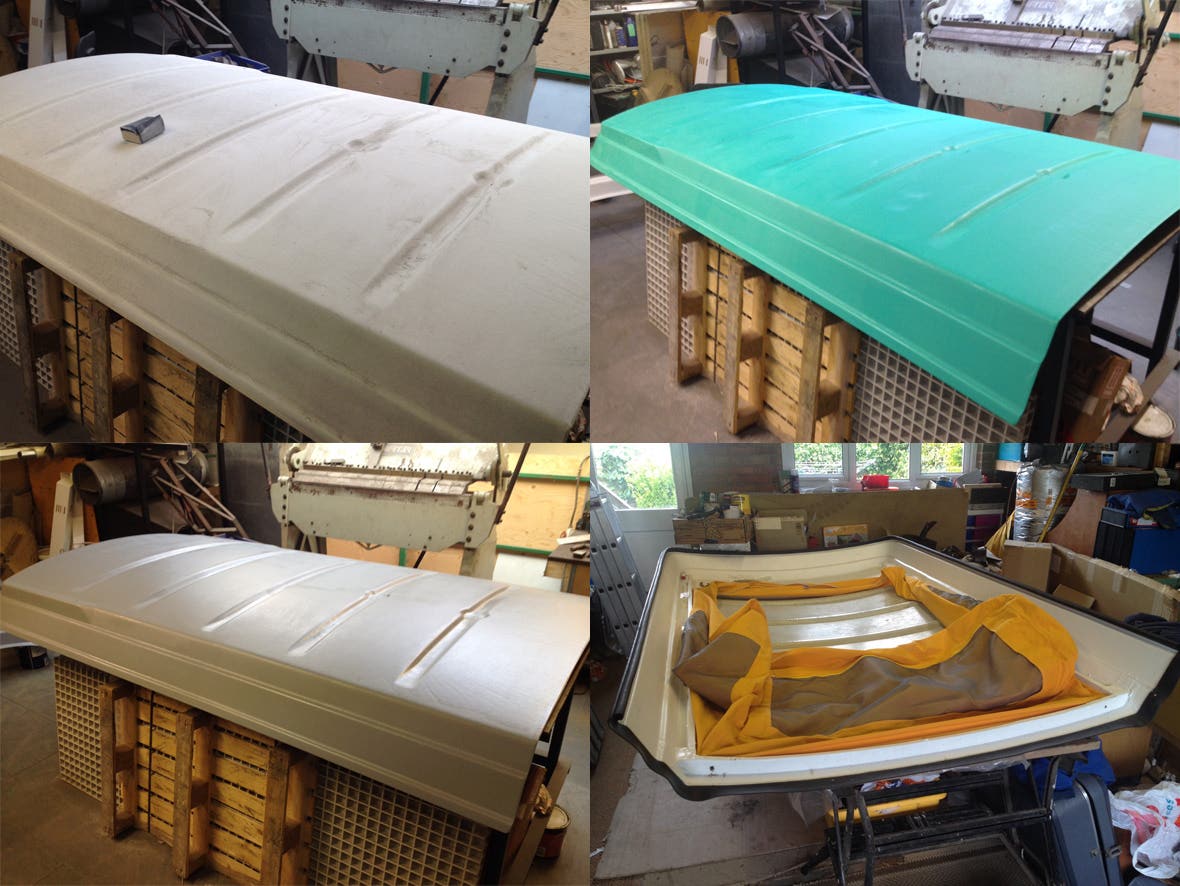 I took the Bus down to Southampton in July 2015 and got straight to work on the only major piece of rot, the battery tray (J10035).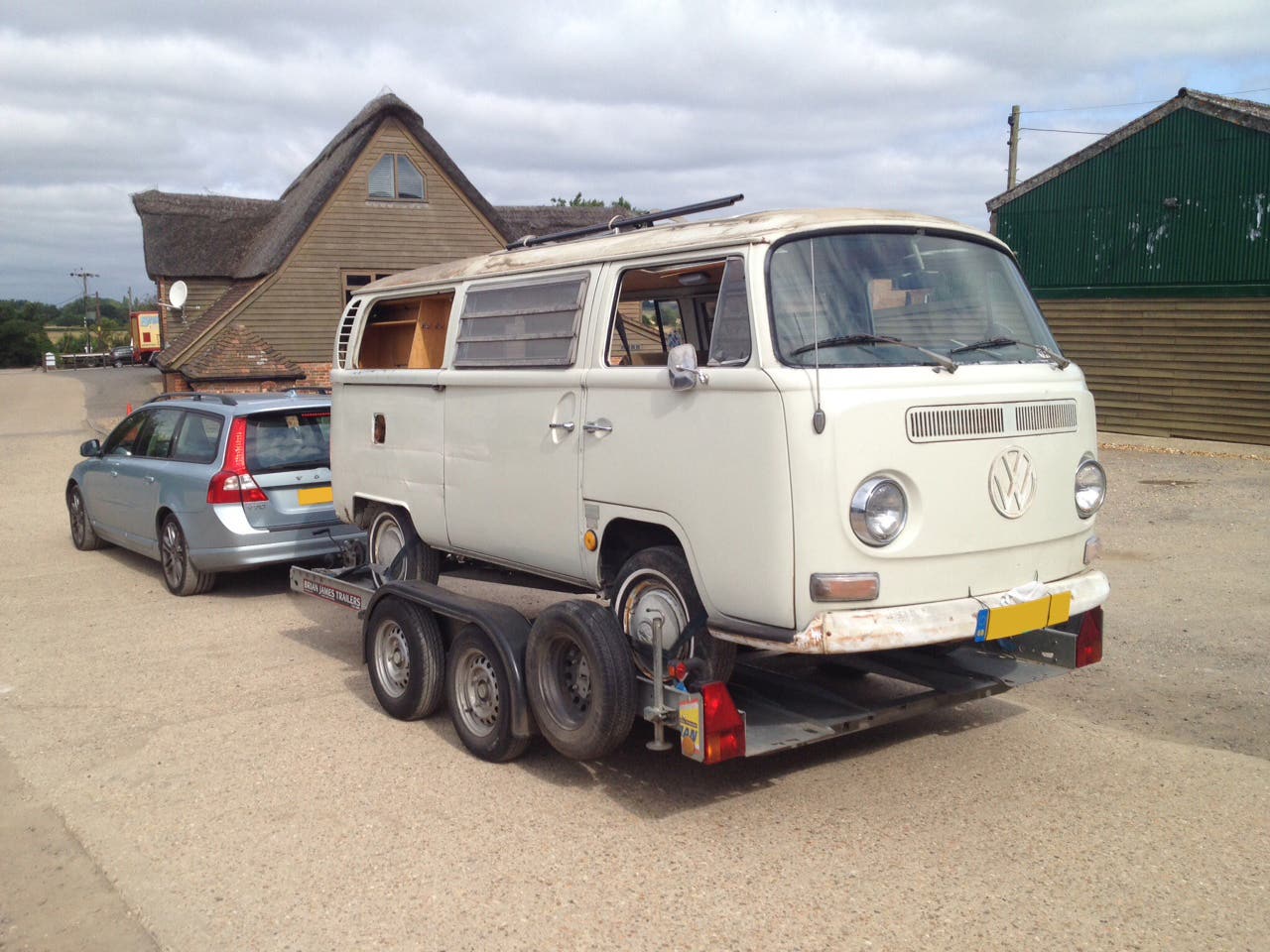 This was my first welding job on a vehicle after attending a course at a local Technical College. Despite the challenges of welding in a confined space mostly left-handed, I managed to get the job done in one afternoon... to finish I ground back the welds, added some seam sealer and primed for painting!
Most of the original Westfalia Interior was intact, although loose as Pete had been templating off of it, so it came out easily. After removing the original (rotten) plywood floor it became clear the next job to tackle was to remove surface rust from the cargo area.
I started with a drill-mounted wire-brush. This proved fairly laborious and slow going until I discovered polycarbide abrasive wheels, which do an excellent job of removing rust without scoring the metal (or leaving broken wire embedded in your face!). With a couple of coats of hammerite and a quick blowover with a rattle can, it was looking as good as new.
On the outside, beneath the grime most of the original paint was good, if a little thin in places. However, the rain gutters had a fair amount of surface rust, perhaps a mix of trapped water around the Pop Top seals and intense sunshine?
All the glass came out, exposing some nasty surface rust in the window recesses where the original rubbers had dried out, cracked and let rain water in. I went to work with the drill mounted wire brushes and polycarbide wheels again, this time applying Bonda primer for extra protection from any future rot.
The fuel tank came out next. It was harbouring some soured fuel that had left a nasty sticky tar residue on the floor of the tank. Whilst being tempted to replace it with one of JK's remanufactured tanks (J40633), I'm a bit of a purist and wanted to try and retain as many of the original parts as possible. I opted to get the old tank professionally degreased and powder coated. Then I used a tank flush and sealer (Slosh by Rustbuster) to seal the inside, ready to accept some fresh fuel. Before refitting, I replaced the Fuel Sender Unit (J10190) as the original was totally gummed up.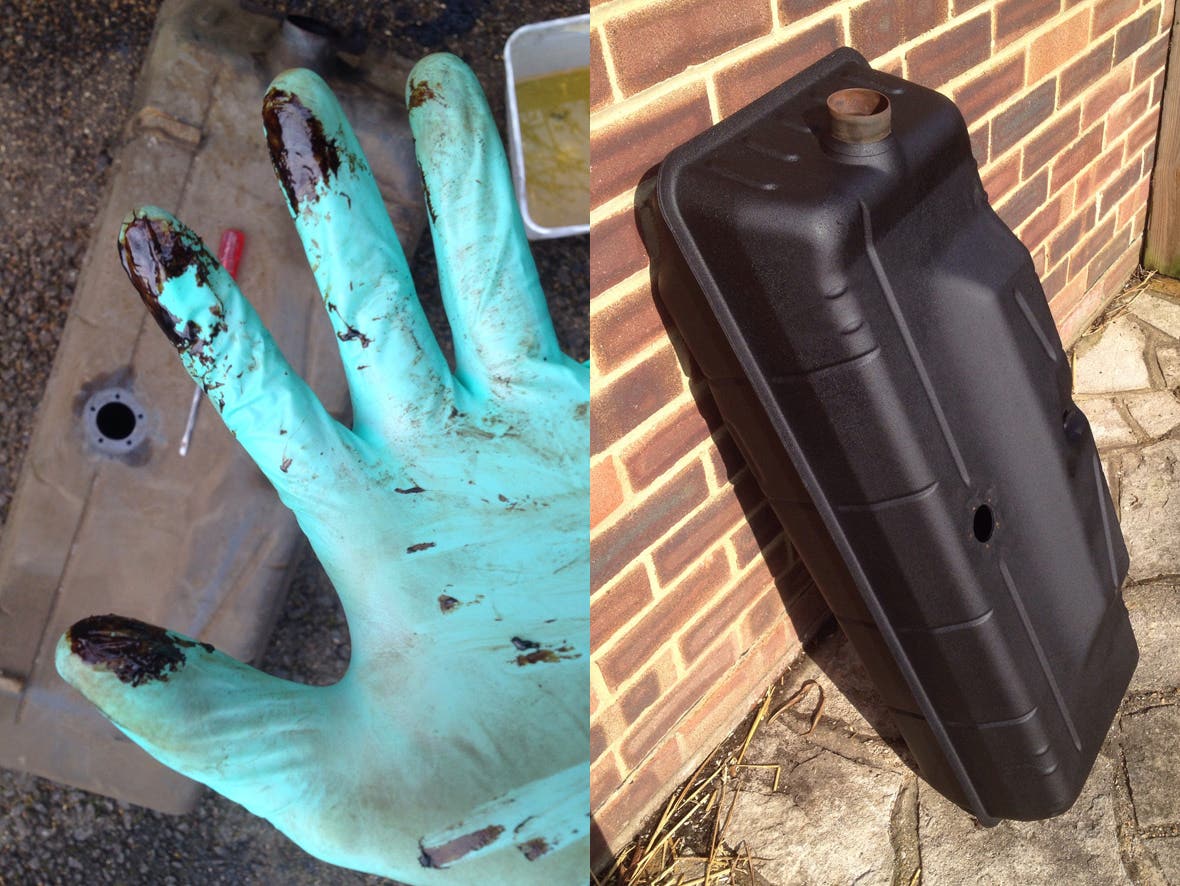 What I thought would be the most challenging job was the wiring. The previous owner had locked up the original ignition barrel and fitted a second on the dash (which was also seized!), along with a push button starter mashed through a hole under the driver's seat that had wires trailing directly to a knackered starter. Removing the original barrel proved to be a a bit of a headache, with lots of talk on the internet of hooking a wire around the rear to press in a pin … as it turned out, the original casting's pin-release-hole needed to be drilled to release the barrel. The culprit of the jammed ignition was the steering lock mechanism, so in the end I could retain the original lock cylinder and key.
To add to the grief the indicator stalk was defunct, with half of its wires severed and the bus had a mix of 1969/70 wiring that is common in mid-1969 buses. Thankfully, there was a later model indicator stalk in the glove box, ready to fit. Obviously being a US bus the brake light/signal circuit needed converting to UK spec - there are plenty of good resources for figuring this out online. Fitting our US headlamp conversion units up front (J13644), soon things were coming together. To make life easy, I wired in a later headlamp relay (J10161) so I could use the 'flash' function which is not available on the US buses. I also fitted an Electronic Rev Counter (J29329) for kicks - it looks like it should have always been there!
Next I turned to the brakes, although they still worked(!) I decided better to be safe than sorry… looking at the brake fluid that came out (see photo right), it was probably a wise choice. I replaced all the cylinders and brake pads both front and rear, along with all the brake hoses.
The bus came without an engine, so I purchased one secondhand. A mid-seventies Twinport bored out to 1641cc, it needed a fair bit of work to get it running right. Half the tinware was missing or needed powder coating and I chose to reinstate the original thermostat controlled cooling system, along with new heat-exchangers (J10080, J10638) and a JK Stainless Steel quiet pack exhaust (J12289).
The biggest missing piece of the puzzle was a Moustache Style engine support bar. To find one in good condition is a hard task these days but JK's Ian Weener was able to point me in the right direction and after a few weeks I had a pretty solid example in my possession. With a bit of blasting and powder coating, it was looking as good as new.
With a new flywheel (J10480) and clutch (J10131) fitted, it was time to fit the engine! Considering it was unfamiliar territory, the engine went in first time without a hitch and after wiring up, connecting fuel lines and heater control cables (which required a bit of problem solving as they were an inch short!) the new starter motor (J10159) fired it up first time!
In went two new sets of drive shafts complete with CV joints (J12742) and then came the worst job of the whole project, the front Ball Joints. Where there is no MOT testing in the US, ball joints can stay in a bus to the point of failure - 3 of the 4 on my Bay were VERY rattly and would obviously fail the MOT, aside from the fact that all the boots were perished.
They all looked original, so I knew shifting Ball Joints that had been in place for 40+ years was going to be an interesting job. After trying various 'YouTube' methods (like the 'Ha' guy with an air-wrench who makes it look all too easy), it took a week of soaking them in penetrating oil before they would shift. Thankfully the new Ball Joints (J10071) went in with relative ease!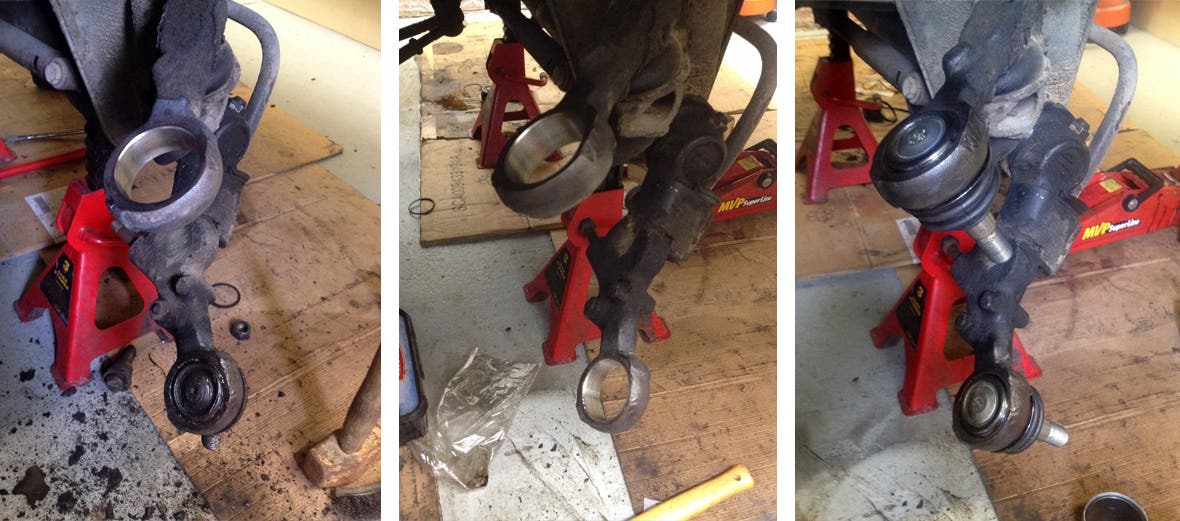 With freshly powder coated Bumpers and Wheels, plus all the glass back in place, it was time for the bus to get it's first MOT - to my astonishment, it passed first time with just a couple of advisories!
The registration only took a couple of weeks, time in which I went about re-trimming the front seats and re-fitting the original interior. JK's Westfalia cabinet trim came in very handy (J39549, J39432, J39431, J39430) along with our Westfalia Interior Panel Kit (J40302).
The Bus, now affectionately referred to as 'Henry' by the Mrs, made it's maiden voyage to Lepe Beach, Southampton in late July 2016 - a little over 15 months from when I purchased it. This went without a hitch, although we nearly lost a hubcap on the Redbridge Flyover! We've since taken it to Devon and back for a summer holiday and plan to take it down to Spain next year - watch this space...
READ MICHAEL'S 2017 UPDATE HERE