The JK Open Day and Camping Weekender returns!!
The Open Day Weekender returns…
We are nearly ready to release camping vouchers for our ever-popular Open Day and Camping Weekender.
This event had its beginnings over 10 years ago – as a (very much smaller) standard company open day. It's grown a bit since! The aim then - as now - was to open up the doors, invite customers and friends in to see what we're all about and build on friendships old and new.
It's something that has always been important – especially as a predominantly web-based business, to share our personal experiences as owners, and, be a part of the amazing community of people who share our love of VW's.
Our secondary aim has always been to raise as much money for our charity partner each year as possible.
This event has always been run as a not for profit event and last year we raised an unprecedented £21,000+ for Phyllis Tuckwell Hospice Care. This year we hope to raise even more!
That's where you come in!
All the monies collected against Camping and Trade vouchers– plus all donations taken on the gate, the silent auction and collection buckets go, in their entirety, to the hospice.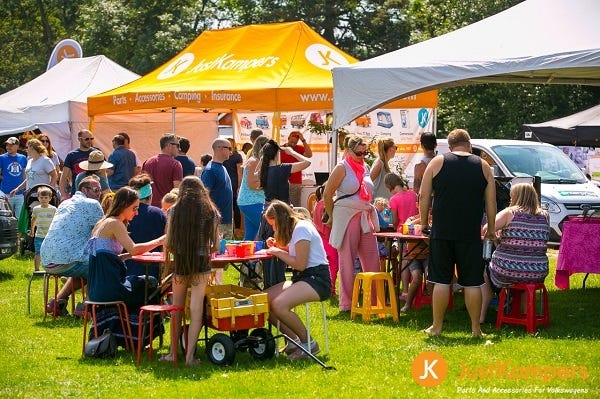 So, what can you expect?
Well, it's super family friendly and laid back. Think old school VW show with a mini festival vibe. It's all about the sharing the love… of VW's mainly! So, if you fancy some time to chill the Hampshire countryside, eat some great grub, and mingle with like minded people this is the event for you!
Day Visitor attendance:
Free entry (donations on the gate gratefully received) Saturday 6th June 2020 10am -4pm
JK 2020 Camping range displays
Special offers and discounts
Phyllis Tuckwell Vintage Goods stall
Trade village – carefully selected traders with bespoke goods and services
Amazing (and we really mean it!) food and drinks vendors
Workshop/Conversions specialists focus
Live music
The Flying Seagull Project Bringing smiles to the children at our event and the world over!
Super friendly laid-back vibe
Lots of lovely VW's
Camping (Advance Camping Voucher holders only):
Entry from 2pm Friday 5th June
All the above!
Food vendors available Friday (PM) and Saturday (ALL DAY)
Free outdoor cinema (Friday and Saturday evenings)
Live music (TBC)
Toilets and showers
Space to roam
Chill time with friends and family in the beautiful Hampshire countryside
Strictly limited camping vouchers available.
The first batch of camping vouchers were released last weekend, and whilst we're thrilled that so many of you want to join us, the unprecedented demand meant that our site just couldn't cope. This left many of you (and us) feeling frustrated. So, we have decided to do things a bit differently with the remaining allocation to give you a fair and equal opportunity to secure a camping voucher.
Enter the lottery By Clicking Here
For more event, details join the FACEBOOK EVENT PAGE