Just Kampers
Written by the JK Team
Published 7 April 2022
More from this author
VW Action 2022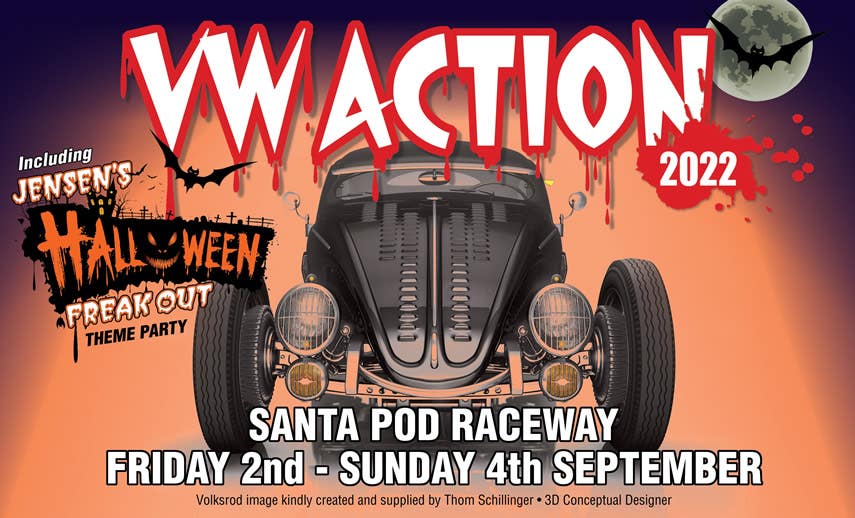 Date: 2nd-4th September 2022
Camping Availability: Yes
Location: Santa Pod Raceway, Wellingborough, Northants, NN29 7XA
Ticket Prices:
Ticket Type

Early

Standard

Kids

Gates Open

Grandstand

Saturday

£25

£33

£5

Sat 8am

Free

Sunday

£25

£33

£5

Sun 8am

Free

Weekend

£62

£76

£5

12 noon

per day

Autojumble

£40

£50

n/a

12 noon

n/a

Saturday Track Sign On (VAG ONLY)

£45

£45

n/a

n/a

n/a

Sunday Track Sign On (VAG ONLY)

£45

£45

n/a

n/a

n/a

Early Tickets end 26th August.
VW Action is the longest-running weekend VW Show in the world - now in its 46th year! The show has in one form or another been the true 'Jewel in the Crown' of UK VW events, from its early days at Stoneleigh, the NAS Stoneleigh shows, the period of its residency at Peterborough, at Herts County Showground, and now at Santa Pod. The last twelve years or so at 'The Pod' have produced quite exceptional shows, and 2022's event continued to raise the bar.

This year's event will continue the great tradition of VW Action delivering the absolute best event for the true VW enthusiast. VW Action is a show to which people are happy to bring their young family members, and yet which provides full-on entertainment for all of its visitors, whatever their age or interests.