Show season will shortly be back in full swing; it's only month until the 2022 VolksWorld event!
As the clocks go forward and the evenings get longer, the anticipation builds for the car show and gathering experiences that we all know and love. March will kick off another jam-packed year of events, and on the 19th and 20th of next month, we get to kickstart it with a weekend at Sandown Park for VolksWorld!
VolksWorld 2022
The much-loved magazine publication VolksWorld is blessing us with another show to celebrate the boldest of Europe's air-cooled vehicles. This year's event will be hosted at its usual site at Sandown Park in Surrey.
The VolksWorld show gives everyone the opportunity to showcase their beloved air-cooled cars and transporters, and sneak in a few modern vehicles, too!
Amongst the hundreds of show quality cars, there'll be a variety of club stands, traders, and swap-meet tables so that you can indulge yourself. The event is also enhanced by the addition of live music and other VW related entertainment to keep you occupied.
If you're interested in making the most of the weekend, then you can even camp on site, soaking up the atmosphere and enjoy the excitement alongside your family and friends. Make sure you bring the kids along as they'll get in for free!
If you'd like to come along to the event, you can purchase your public or club tickets here!
If you need directions to the event, please follow this link to navigate Google Maps.
If you didn't already know, VolksWorld is a well established magazine for air-cooled enthusiasts and the like! If you'd like to hear about the company and it's origins, please follow this link to find out more.
What are we bringing to the event?
At the event, we plan to showcase a few new products that we are releasing this spring alongside a few of our vehicles. You can find us at either one of our stands, we will have staff operating a stall in the outside area and another in the Surrey Hall. So, if you have any questions you'd like answered or would simply like a chat, just come over and we'll be happy to have a little chinwag!
These are the vehicles that we will be showing at the indoor trade stand, within Surrey Hall:
1956 Oval Beetle:
Chet's Reed Green beetle has been modified with a stripped out interior and additional gauges to give it a race style appearance! At the heart of the Oval is a 2007cc engine with MSD ignition and twin 40 DRLA carbs. The beetle is currently sporting Crestline wheels with wide Oval rear tyres.
1973 T2 Bay in Velvet Green:
Was fully restored back in 2010. Doris the Westfalia has been loved by Shaun and Caz for 20 years. Ages of restoration have culminated in a display of beauty and grace; the right-hand drive bay is fitted with a standard 1600cc engine with the original oil bath cleaner. Two inch dropped spindles have been fitted to the front and horseshoe plates on the rear.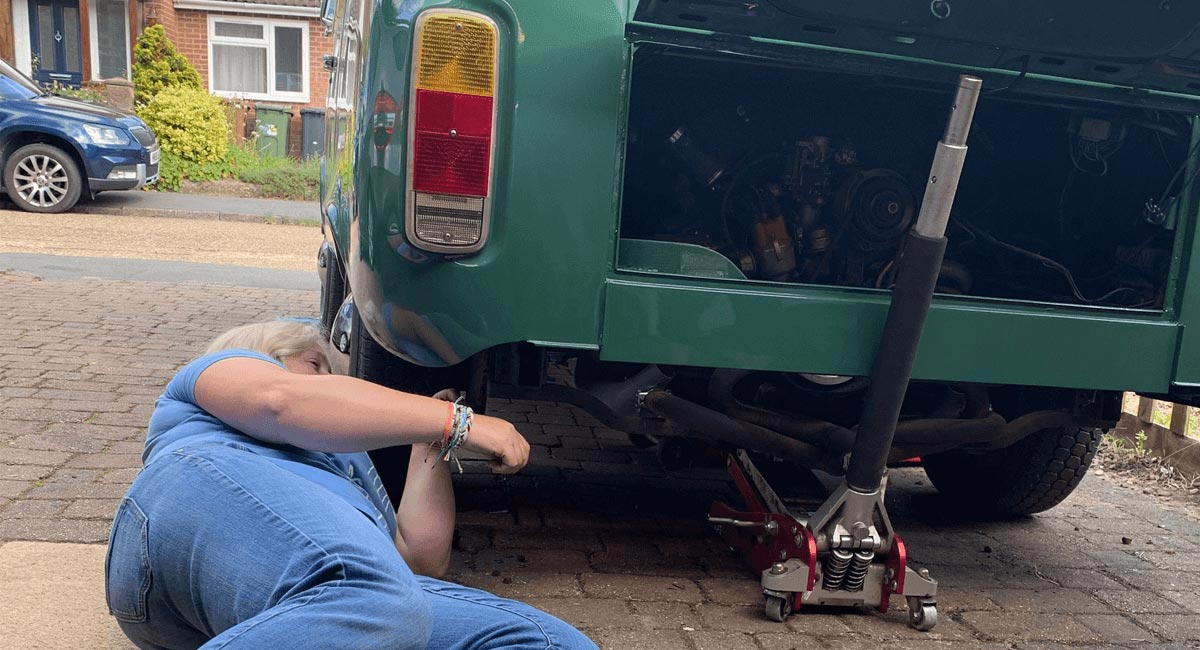 Image credit to Caz and Shaun Kirvan-Cranfield, from the JK Team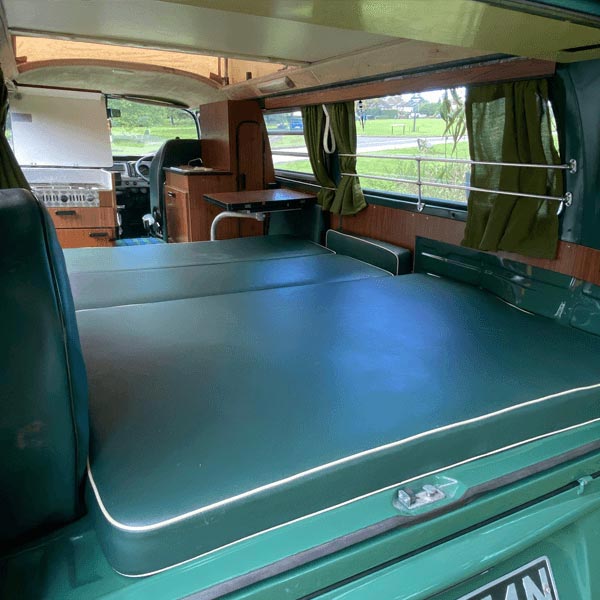 Image credits to Caz and Shaun Kirvan-Cranfield, from the JK Team
Lowlight Karmann Ghia:
From an auction in Arizona, the restored vehicle made its way to the UK a few years back. Marks blissful Ghia was restored over 20 years ago by Bob Koch in California, Marks interest was piqued once he discovered the car was built with a Denzel 1300cc vintage speed engine. Not just a show vehicle, but regularly driven and enjoyed!
Image credit to AirMighty and Dan Pullen
Image credit to AirMighty and Dan Pullen
1956 Oval Beetle:
The stock Oval, lovingly named Jack, is owned by Mark. Jack is a beautiful original vehicle hailing from Sweden. He has attended the famed Mille Miglia of 2017 finishing in 223rd position up against over one thousand other cars! He has since been to Hessisch Oldendorf, taken by various JK staff members and has been to many renowned shows such as Goodwood Festival of Speed and Revival. He's fitted with an Okrasa Twin Port period engine and will be with the JK staff for many more years.
Image credit to Steve Gosling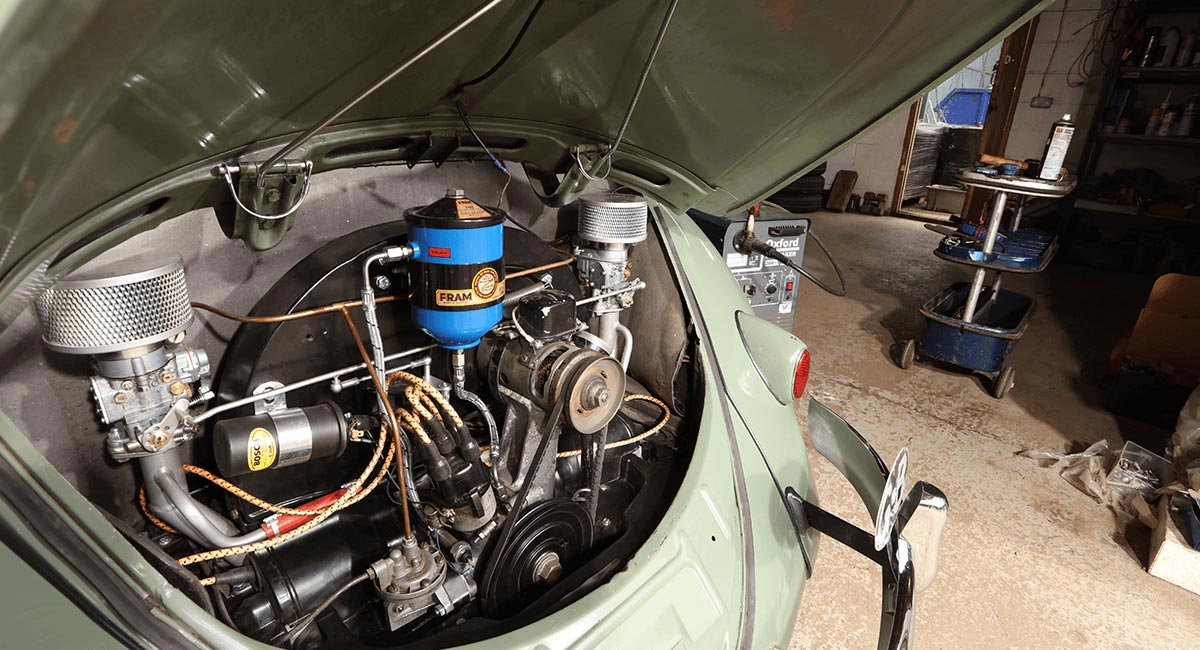 Image credit to James Wallace
The vehicles that we will be showing at out outside trade stand are:
Silver T6.1:
Shaun's silver T6.1 is currently used as a JK work vehicle and fitted with our own window glass and curtains.
Red 2019 VW T6:
James' T6 is a 4-motion Kombi with fitted roof bars and side bars. The transporter has also had GTI seat covers fitted and has been subject to a Kombi bed modification; currently also used as a JK work vehicle.
JK Support Wagon:
Marks 2015 150Bhp 4 motion has been a faithful friend from new. It has covered 79,000 eventful miles such as, delivering 2 VWs sold to the VW museum in Wolfsburg. It's taken Jack the JK Oval to Italy for the Mille Miglia and the JK Low Light Ghia to Italy for the Grand Nuvolari race. The T6 has even done Lands End to John O'Groats for charity. As it's a 4Motion the plan is to 'Swamper' it this summer.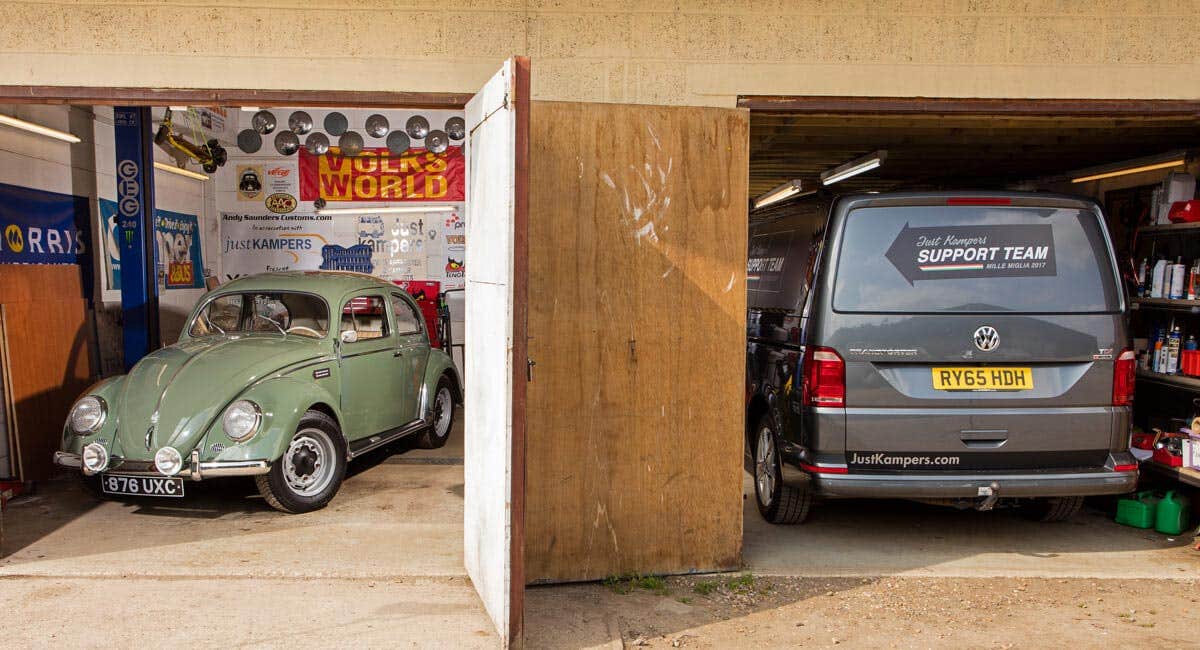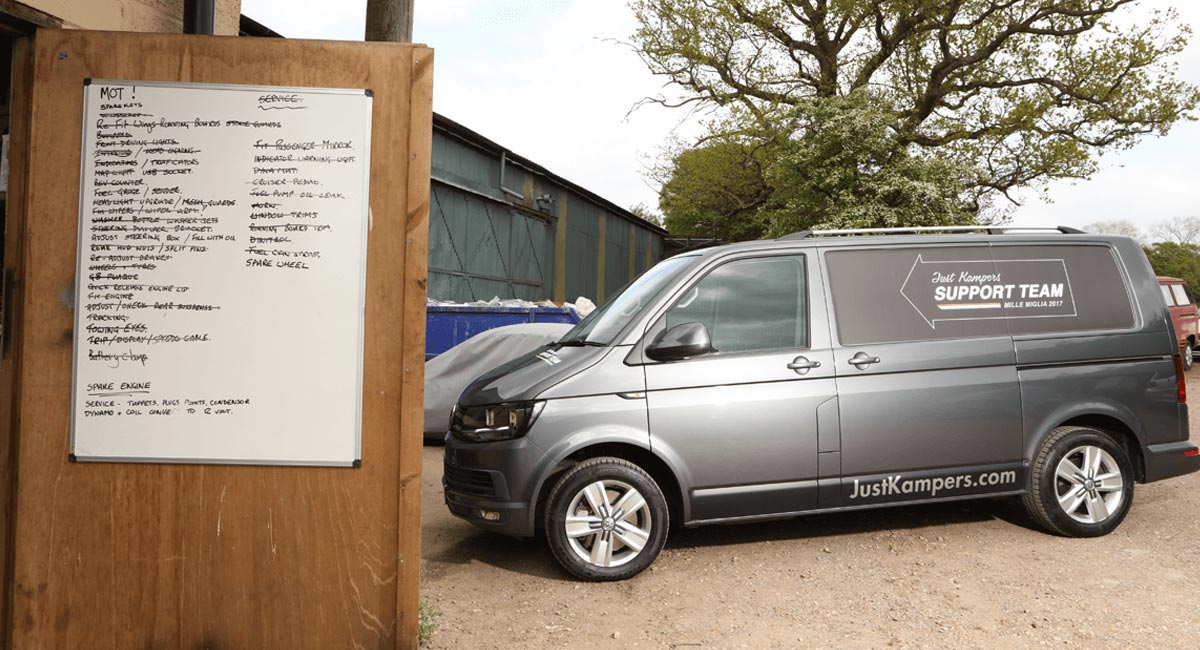 Image credits to James Wallace
2020 T6.1 Startline (Project 22):
Steve's T6 is a full-blown camper conversion! To upgrade the van, we have fitted Dynamat sound deadening, swivel seat bases, GTI seat covers and used our own glass for the windows. Bilstein coil overs have been fitted alongside Ronal alloys, a ¾ rock and roll bed, a solar panel has been fitted to the roof and a kitline camping interior has been installed. The vehicle has been built solely by the JK Team in the JK workshop and has been documented as a step-by-step recorded process which will help give directions and confidence to people to build their own camper!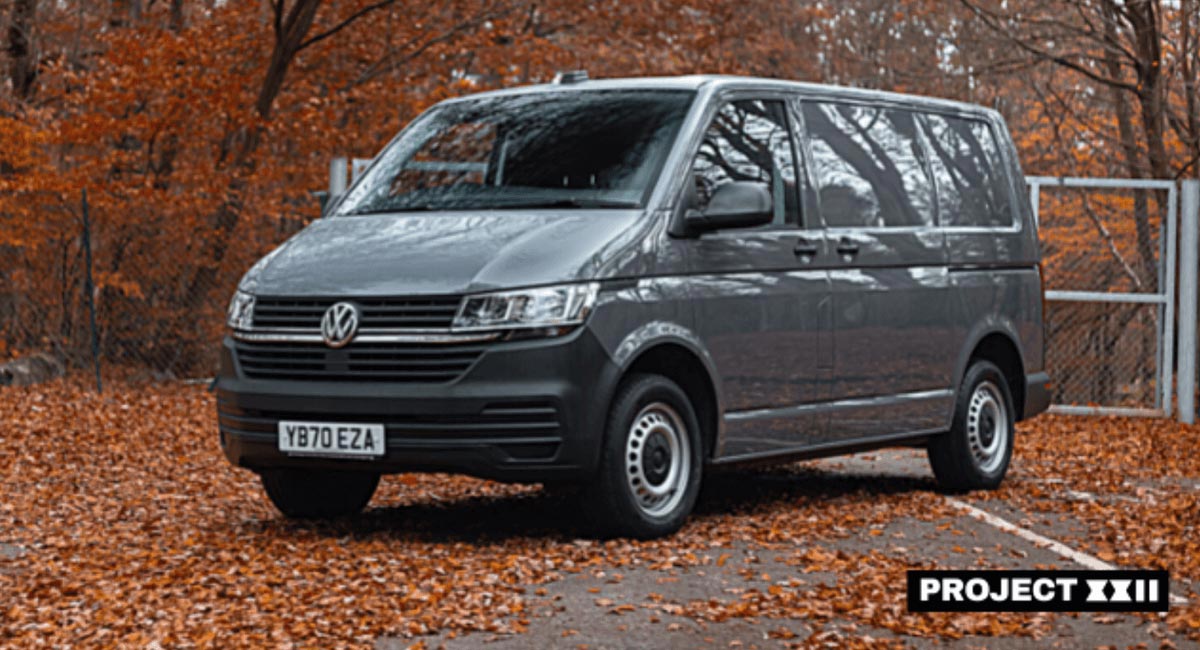 Image credit to Nick Proctor, from the JK Team
1972 South African Eight-Seater Microbus in Yellow:
When Mark and Kerry set up Just Kampers in 89, they had the same year, colour and engined T2. So when Mark spotted it for sale it was 'love at first sight'. The planned work includes making it grandchild safe with Isofix seat mounts. To give it a different look, it's now sporting 16" VW Syncro steel wheels. And as it's very yellow, a Jeans Beetle style black strip was chosen to smarten it up!
We will also be exhibiting a couple of vehicles as part of the main show!
In the spotlight will be Marks Dannenhauer & Stauss. D&S were coachbuilders turning VW Beetle floor pans and running gear into stylish coach-built cars in Stuttgart Germany, each built a bit different to match the clients wishes. The unique JK D&S is based on a 1950 VW Beetle that was turned into a stylish cabrio in 1951.
A D&S has been on the 'wish list' since Aug '89 when Mark and Kerry saw one at the Wolfsburg VW Museum. But they are like 'hens teeth' with just about 18 left worldwide. When the JK team saw it at the Bad Camberg show in 2019, the initial idea was a tidy up and use it!
As lockdown hit Mark and Pete started to tidy it up, but it turned out to be worse than first thought! Nearly 3000 hours later it's being finished for the Volksworld show. Having found a VW Beachbuggy on eBay made from a 1955 Porsche 356, the D&S is now sporting all Porsche brakes, engine, gearbox, gauges and more!
It really is a dream come true.
Image credit to Dan Pullen
Marks 1967 VW Beetle Cabriolet may also be attending the main show. Dressed in beautiful bright red, the 12 Volt 1500cc single port driven cab was exported from California and imported in 2014 by the chairman himself.
What will you be talking to VolksWorld?
Is your VW ready for the big weekend? Four weeks isn't long, so prepare yourself and your car with a post-winter check over and be sure to carry out any maintenance and repairs as soon as possible. Be sure to double check our website for any parts that you require for any last-minute repairs. Visit JK.com! Alternatively, if you have any questions, you can give our sales staff a call who will be able to address any technical queries.
If you will be joining us at the event this year, then we would love to see what you'll be bringing! If you have the time to, make sure to post a picture of the car you'll be driving and tag us @justkampers. Don't forget to use the event hashtag #VolksWorld.
See you there!