More from this author
The JK Christmas Blog - CLOSED
Merry Christmas from everyone here at JK HQ!
While we're closed over most of the Christmas period to spend some time with our families and friends, we figured that at some point you'd be in need of a little light entertainment while you digested your festive feast. Well, we're here for you! We've put together a delightfully distracting blog full of weird & wonderful facts for your daily VW fix - and there's even a fun quiz for you, so enjoy.
In Case You Missed It
It's been a busy year for us at Just Kampers. We've added literally thousands of new parts to our range, expanded our warehouse, built a new shop and even competed in the Mille Miglia! Here's a quick round-up of some of 2017's highlights at JK HQ.
SAS Beach Clean
Without exception the team at Surfers Against Sewage are enthusiastic, hard-working lads and lasses with an insatiable desire to get out there and help the environment.
Being a part of the SAS 250 Club is incredibly important to us; and the beach cleans allow us time to enjoy the beauty of our coastlines and do some good at the same time. We're really looking forward to getting back out there in 2018!
Betty the Baja and the Mongol Rally
We were thrilled to support Colin and Heather on their epic trip in Betty. They drove to Mongolia, competed in and completed the Mongol Rally (a massive feat in itself), and then drove back, all for Claire's House Children's Hospice. In total they drove well over 10,000 miles and raised £2,831.10 for the charity, which is amazing!
It's a story that they should be forever proud of and we were certainly proud to support them on their journey.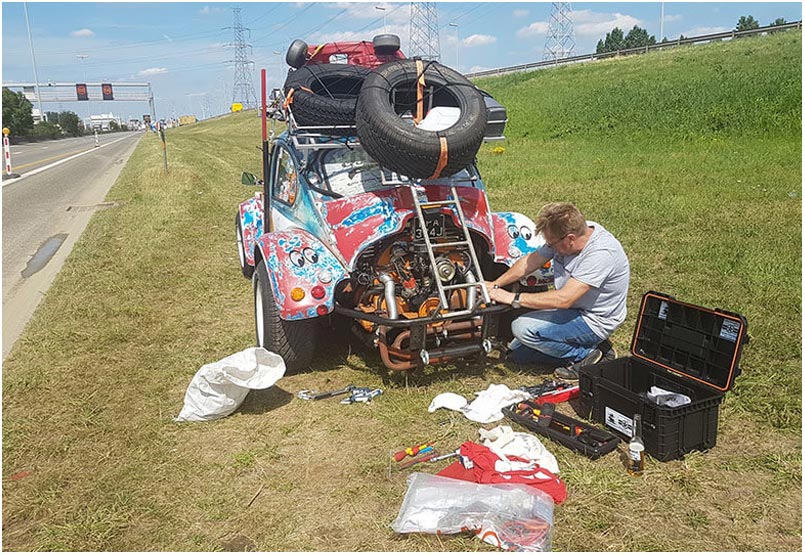 Our New Shop Opens
We have long wanted to be able to demonstrate awnings, the JK Conversion items and show off the lovely vehicles that we are lucky enough to be surrounded by.
We're proud of our brand new set up which was completed just this month - it's come quite a long way from the basic sales counter we had previously. We hope to welcome more of you in 2018 and we're looking forward to stocking the shop with lots of great products for you to enjoy.
Jack The Giant Slayer at the 90th Mille Miglia, Italy
A team of 5 from JK staff (well 6 including Jack – the obvious star of the show) had the chance to compete in the historic Mille Miglia 1000+ mile road race. In all we covered 1,162 miles through stunning Italian countryside – the unfortunate reality is that we didn't have much of a chance to properly take it in. We drove for 46 hours over 4 days and Jack didn't miss a beat.
The JK Open Day and Camping Weekender
This year was more successful than ever! The sun shone (a lot actually!), the field turned into an amazing display of much loved VW's, people sat, ate, laughed and chilled their way through another fantastic weekend.
With the addition of an Outdoor Cinema showing classics Smokey and the Bandit and The Goonies, some to die for food options and amazing independent traders it truly was one to remember. To top it off we raised over £10,000 for Cancer Research!
Festive Volkswagen Quiz Time!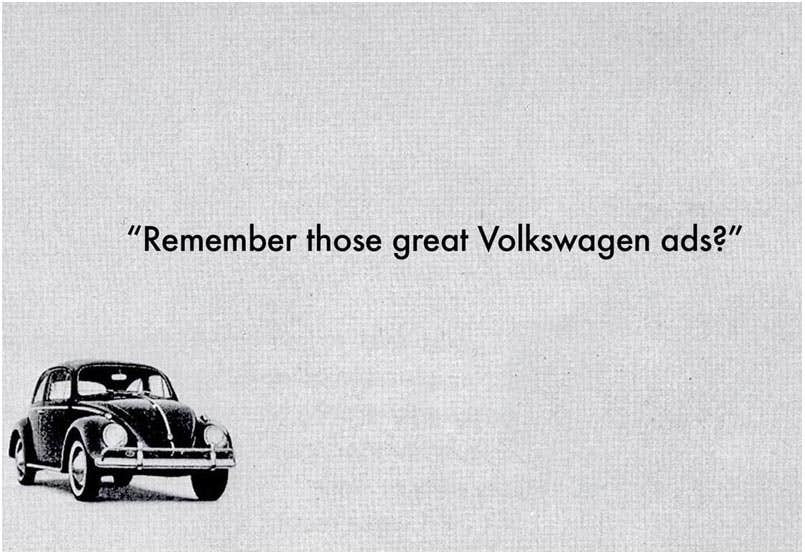 Deep in the JK vaults is a copy of Volkswagen Trivial Pursuits. We've never played a full game of it, because the questions are so, so obscure that even the crack team of VW nerds here at JK HQ would struggle to answer them all.
We've picked out some of our favourite questions, one from each category. See if you can answer all six correctly! (You can check your answers at the bottom of this blog.)
Question 1 - Franchise:
Which advertising agency has been responsible for creating the renowned style of Volkswagen advertising?
Question 2 - Technical:
What is the VAG tool number for a spark plug spanner?
Question 3 - Parts:
In production there have been two Titan metallic paint colours. One was red, what was the other?
Question 4 - Product Knowledge:
Where on a car would you find a bi-metallic spring?
Question 5 - Paint & Body:
When using the Wolff Wilborn method for testing paint hardness, what angle should the pencil be held at?
Question 6 - Customer Contact:
What is the maximum speed allowed by law for a car towing a caravan?
Weird Rides
It's no secret that we love seeing all sorts of weird and wonderful VWs here at JK HQ, and we've even made a fair few ourselves!
Here are a few of our favourites, presented for your entertainment. If you think you've seen a weirder ride, share it with us on the JK Facebook page!
The Vancake:
Way back in 2008 Just Kampers sponsored and participated in Andy Saunders' attempt to create the world's lowest van, a feat which was achieved at Bug Jam that year. Crowds gathered to watch the team cut down a 1980 VW T25 camper into a vehicle measuring just three feet high! It's certainly one of the stranger projects we've been involved with, and its world record still stands to this day.
The Volkswagen EA489 Basistransporter:
Some of our favourite strange vehicles were actually built by Volkswagen themselves, albeit in relatively small numbers.
Between 1975 and 1979, Volswagen built around 6,200 of these Basistransporters in Germany and Mexico, and sold them into developing markets in Africa and East Asia to help with modernisation in these regions. Each one was very basic, with a front-mounted, 1600cc Aircooled engine and a simple ladder frame. There's something about the design that's really cool, and would certainly turn heads at a show here in the UK!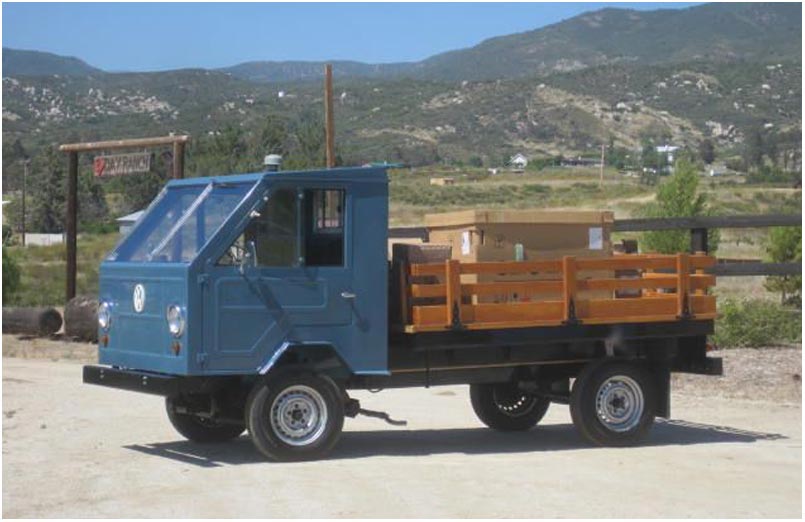 Big Red:
Big Red is the worlds largest VW Beetle. Admittedly, it's not really a Beetle, but a shell fabricated to fit over the chassis of an old American fire truck, but it's still super cool. We even had a ride in Big Red while we attended VW Fun Fest in Effingham, Illinois – the rear is fitted out with cushions, fridges and an amazing sound system, and all the edge trim is studded with strips of LED lights, which make it look even cooler at night.
Big Red spends a lot of time at the Burning Man Festival, where it looks surprisingly normal next to everything else that's going on at the infamous event!
Did you know..?
Everyone likes an obscure fact, especially at Christmas. Wow your friends and relatives with some of these Volkswagen facts:
Béla Barényi is widely credited as being the original designer of the basic Volkswagen Beetle, having submitted the chassis design in 1925. He was inducted into the Detroit Automotive Hall of Fame in 1994 for this achievement.
Light Blue has proved the most popular colour for VW Vans over the years, with around 20% of them leaving the factory in one of the colours under this category.
Volkswagen's Milton Keynes parts store holds the shells of the last two Beetles to be produced in Germany. They're preserved in wax within the store!
The VW Beetle and the VW T2 Split Screen share the exact same wheelbase size, at 2,400mm, although the T2 does have a larger final length.
The Beetle has been built in fifteen different countries over the years, from Germany to South Africa, New Zealand to Mexico.
JK Sponsors
While we're on the topic of 'Did you know?' questions, did you know that JK sponsors dozens of different and events, as well as Matt Philips, the amazing paraclimber.
A few of the JK Team are really into climbing, which is how we were first introduced to Matt. He climbs with a fluidity, grace and strength that's truly amazing to see, and even more incredible when you realise that he was born with only one arm.
Matt trains incredibly hard, and has achieved an incredible amount in the time that he's been climbing. This year he's been selected for the GB ParaClimbing Team for the 2nd year running, achieved 2 World Cup podiums; Gold and Silver and 4 National podiums, all Golds. We're truly proud to be sponsoring him, and are certain that he'll achieve even more in 2018.
You can learn more about Matt Philips here.
We also sponsor Cancer Research UK, who are the recipients of all of our charity work over the year, including the JK Open Day, as well as Surfers Against Sewage.
Thank You From JK
We also wanted to take the opportunity to say a massive 'Thank You' to every who has shopped with us over the last year. It's been a great year for Just Kampers, and it's your support that allows us to work each day in surrounded by friends and VWs, helping to keep 'the scene' going, so thank you from everyone here at JK HQ for your support.
That's all from us for now! We'll let you get back to the leftovers, chocolate selection boxes and recycling that wrapping paper.
We hope you've had a really enjoyable Christmas, and wish you and your families all the best for 2018!
Quiz answers:
Q1 - Doyle Dane Bernbach (DDB) Q2 - VAG3122 Q3 - Brown Q4 - Automatic choke unit or air valve Q5 - 45 degrees Q6 - 60mph