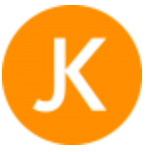 More from this author
Pumpkin Carving Genius Required! - CLOSED
Pumpkin carving genius required! Fancy bagging yourself a £25 JK voucher or one of four lots of trick or treat goodies? Download the template and get your carve on!
I got the office short straw and found myself designated Pumpkin Carving demonstrator! So, without wanting to teach anyone how to suck eggs (or carve pumpkins!) here are a few tips to help you on your way.
Tools: You can get special pumpkin carving sets in the supermarkets nowadays to help you along. However, we used: tape for sticking the template to the pumpkin, a marker (we used dry-wipe, but a permanent marker is fine), a large serrated knife for cutting through the top, a small paring knife for detailing work, a large serving spoon for scooping out those insides, a smaller dessert spoon for scrapping out the flesh. a drawing pin for marking out the template, a tray to work on and a large bowl for collecting the discarded pumpkin.
Tip: Print two copies of the template- one to work from and one to reference
Please ensure that all children are supervised and all necessary precautions are taken.
1) Cut the template out, allowing enough space around the edge to stick the template on the pumpkin without impeding the design. Make sure that the design sits in the centre with enough space to cut the top out later.
2) Use the drawing pin to mark out the design (effectively tracing it onto the pumpkin). It will weep as you do this so try to be as quick and as thorough as possible so the template doesn't become too saturated.
3) Use the marker to finish the design (using the pins holes as a guide).
4) Now carefully cut the lid out. Make sure you cut into the pumpkin at an angle to ensure the lid will sit properly in place.
5) Get scooping – you'll need a bowl for all those stringy insides and pumpkin seeds.
6) Use the dessert spoon to scoop out the some of the pumpkin flesh from the sides of the pumpkin. You'll need to do this for two reasons; firstly, it will slow down the process of the pumpkin going bad and secondly, it will allow light to come through your design. (You need to be careful not to remove too much however).
7) You can now start to carve the design. Start by considering what parts of the design you are going to cut out completely.
8) We cut the windows and headlights through and then finalised the rest of the design by using the small paring knife to remove the top layer of pumpkin skin on the sections we wanted to highlight.
9) Customisation is actively encouraged!
Don't forget to share your pictures with us on Facebook and Instagram using #jkpumpkin to be in with a chance of winning!
Have fun and Happy Halloween!