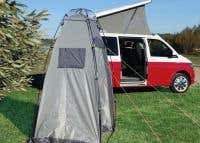 Camping Tents, Storage and Toilet Tents
Tents are an integral part of camping, and we've got a great range of them here at JK. From traditional freestanding tents, through to smaller tents for storing your camping gear, sports equipment and bikes, and tents designed to be used to hold toilets and showers, we've got it all.
Being able to use the toilet or have a shower in safety and privacy is really important for a lot of our customers, and we've got a great range of showers and shower tents, as well as toilet tents and chemical toilets in stock right now.