Vango awning bundle kits get you more bang for your buck!
One example is the Vango Agora Air Awning Bundle Kit. This is bundle kit will save you a whopping chunk of money!

If you purchase this bundle kit, you will receive the awning in shadow grey, an inner tent, awning footprint and the insulated carpet. Plus you get it at a cheaper price than if you were to purchase those parts individually, so why not give it a go?

We sell various other bundles for all sorts of camping vehicles! We've also got the Vango Agora Air VW Drive-Away awning bundle kit in blue, the perfect way to brighten up your camping lifestyle!
We also sell bundle kits for the following awnings:
If you've been thinking about purchasing any one of these awnings for the upcoming summer, why not see what the bundle kit versions have to offer!

• Vango Faros II Pole (Low),
• Vango Galli III Air (Low) RHD,
• Vango Galli III Air (Low) LHD,
• Vango Galli Pole (Low),
• Vango Magra Air Inflatable Awning in Blue.
Who are Vango and why do we stock them?
Vango were established in west Scotland in 1966 and the company headquarters still remains based in Port Glasgow. They manufacture durable camping equipment for all eventualities whether that be a family of four camping in comfort, or a few mountaineers trekking in extreme conditions. Vango's products allow you to get outside and enjoy the great outdoors.
They've done all sorts of contemporary development, including sending a tent into space in 2012!
Vango are a well-established brand and they go above and beyond to communicate well with their customers. They've given us the opportunity to learn loads about their products, so that we're well prepared with knowledge. Vango help us give you the best quality of advice that we can, so that you can enquire about any of their products.
Vango's technical titles!
So here's where we break down the information. Vango use a lot of technical terms to describe their products, and the average Joe may not know what they mean! Some are more self-explanatory, like AirBeams for example, but not all are so simple to deduce. Time to explain what all those features do, let's get into it…
Vango's AirBeams
AirBeams are exclusively used in Vango's Inflatable Air Awnings. They are the air-filled tubes, which run along the framework, which would otherwise be occupied by poles. They are flexible, tough, and are extra wide for great stability.
Once your awning has been fully pitched, you'll receive the same sense of security which you would from a traditional pole awning, but with a faster assembly time!

Vango's AirSpeed Valves
Vango have created their own inflation valves, designed for the fastest and most efficient inflation.
These valves are designed to perfectly accommodate Vango's pumps. Valves are placed in accessible locations for simpler inflation and deflation. Vango's unique valve design provides a lock, which prevents accidental deflation once the pump is removed.
Vango's AirZone
Most of Vango's awnings and tents will have integrated their AirZone technology. Ventilation points are located throughout the awning to enhance air flow, this helps to keep things cool in your tent while also reducing likelihood of condensation.
These ventilation points are adjustable and allow you to set how much air flow you'd like, so you can maintain a stable and comfortable temperature within your awning all day and all night!

Vango's PowerFlex Poles
These fibreglass poles make up the structure of the more traditional Vango awnings. The PowerFlex poles are made with the highest-quality materials and are designed for convenient use.
They're made with steel ferrule tips, which enhance the strength of the poles and protect the fibreglass from damage. The metal tips also prevent snagging as you push the poles through the fabric sleeves in your awning.
The process is made simpler and quicker by the shock cords which run through the centre of each pole. This helps to keep them from getting mixed up and facilitates faster and easier assembly. Vango have taken the time to develop their products in ways which will make your camping process all round more convenient!
What is Vango's ColourLok technology?
Vango have developed their own state of the art dye, which is designed to help resist the potential damage caused by UV. If you have bought yourself a brand new Agora Air VW Drive-Away awning in that bold bright blue, you won't want to see it gradually fade after years of use in the summer sun!
Vango have done what they can to develop a dye which should prevent this from happening.

What makes a good Vango awning fabric?
The quality of an awning fabric will be determined by a few key characteristics.
These include:
• Hydrostatic Head (HH),
• Grams per square metre (GSM),
• What manufacturing standards they meet (ISO5912 etc)
• Protection of Ultraviolet light (UPF rating)
• Is the awning made with ColourLok technology?
Image credit to Shell Campwithstyle, via Unsplash
What is Hydrostatic Head?
Hydrostatic Head refers to the measure of how much water a material can resist, before it gives in. Things like fabric treatment and fabric type will influence a materials HH rating, the measurement is usually given in millimetres.
To understand the rating, picture a column of water pressing down onto a material. If that material can withstand a column of water, up to 3000 mm (300 cm high) pressing down on it, then it will receive a HH rating of 3000 mm. Now you can compare fabrics and decide what rating would be best suited to your camping requirements.
Image credit to Frame Harirak, via Unsplash
What are grams per square metre?
GSM is a measurement of how heavy a fabric is, and will also give an indication of how thick it is. The clue is in the name, the measurement reflects how many grams are in one square metre of any specific fabric. Consistency throughout measurements is important for effective comparison of fabric quality. However, it is important to mention that the heavier the rating, doesn't always equal a higher quality. As an example, Vango's Sentinel Pro is incredibly lightweight while also being durable. This makes it super easy for packing away and is in fact a very high quality fabric.
Manufacturing Standards
The ISO5912 is a document which declares the standards which must be met, to ensure the quality and safety of camping equipment. The ISO (International Organization for Standardization) is a worldwide federation of national standards bodies. The ISO considers every part of the product, from the manufacturing process to the quality of the result.
This includes thought about factors such as:
• Resistance and strength of the material,
• Environmental impact of the manufacturing and disposal of materials,
• Flame resistance,
• Waterproofing,
• Sleeping capacity,
• Overall dimensions.
Many other factors are considered, but high quality products are subject to extensive tests to determine if a product is quality enough for customer use.
What are UPF ratings?
A UPF rating, or Ultraviolet Protection Factor rating, is given to materials which are intended to provide shelter from the Sun's harmful UV rays. A UPF rating can be given to things like protective clothing, tents, and awnings.

If a material blocks 93.3 to 95.9 % of UV then it is given a UPF rating of 15-24, this is considered good protection. If a material blocks 96 to 97.4 % of UV, then it is given a UPF rating of 25-39, this is considered very good. Anything which blocks 97 % of UV onwards is given a UPF rating of 40 or upwards and this is considered excellent!
image credit to Jamie Street, via Unsplash
Now we can crack on with telling you about Vango's different fabrics!

Vango's Sentinel Active Fabric
This is Vango's entry level fabric. The material has been highly considered to give you the best quality, at a lightweight and compact size. This material best suits awnings made for occasional use across a few weekends in the summertime, and maybe an additional week or two away during the holidays! These include those from the Vango Experience Range, such as the Bondi, Faros, Noosa and Siesta awnings.

Entry level fabric may sound negative, but rest assured that Vango have put bounds of time and effort into developing the best material for their experience range. These awnings are very competitively priced which makes them a great option for those just starting out in their camping adventures.

Key features of the Sentinel Active fabric include:
• Strong but incredibly lightweight, weighing in at 62 GSM,
• Considered fully waterproof with a HH rating of 3000 mm,
• Fire retardant meeting the ISO5912 standard for safety,
• Provides great shelter from the sun with a UPF rating of 30+.
Vango's Sentinel Pro Fabric
This unique material was specially designed by Vango, to be used on their top of the range awnings. It was created with the needs of committed campers and adventurers in mind! This fabric is mostly designed for use within Vango's AirAway Vehicle awnings and a few others. These include the Kela V, Airhub Hexaway II, and the Galli III.
The blend of the fibres chosen and their composition work together to create a durable format, including proofing against rips and tears and various other features. This well-designed fabric has been manufactured with a low grams per square metre, similar to the weight of cotton, while simultaneously ensuring high strength and resistance. The Sentinel Pro is said by Vango to be 245% stronger than their entry level fabric, yet despite this addition to the durability, is still lightweight and convenient for use.
Key features of the Sentinel Pro fabric include:
• Fully waterproofed with a Hydrostatic Head of 6000 mm, for resistance to any weather,
• Tough and light, weighing 106 GSM,
• Fire retardant and meets the ISO5912 standard for safety,
• Provides excellent shelter from the sun with a UPF rating as high as 50+,
• Created with Vango's ColourLok technology, which means the colours won't fade over the years.
Vango's Sentinel Signature fabric
This fabric is mostly reserved for the Vango Jura and Rhone Drive-Away awnings. They are generally designed for those campervan and motorhome enthusiasts who want to get out and about as much as they can throughout the year! These awnings are ideal for use at home and also abroad, the fabrics breathable material keeps the temperature within the awning as comfortable as possible. The Sentinel Signature fabric incorporates the best of both polyester and cotton to create an impressive polycotton fabric which is a whopping 265% stronger than the Sentinel Active fabric.
If you're more into caravans, then the Vango Somerby awning is also made from this outstanding fabric. Sentinel Signature will provide you with luxurious and robust fabric that will stand up against the test of time.
Key features of the Sentinel Signature fabric include:
• Fully waterproofed
• Durable and robust, weighing 212 GSM,
• Fire retardant and meets the safety standards set by the ISO5912,
• Provides brilliant shelter from the sun with a UPF rating of 50+,
• Made with Vango's ColourLok technology, to keep your awning looking pristine.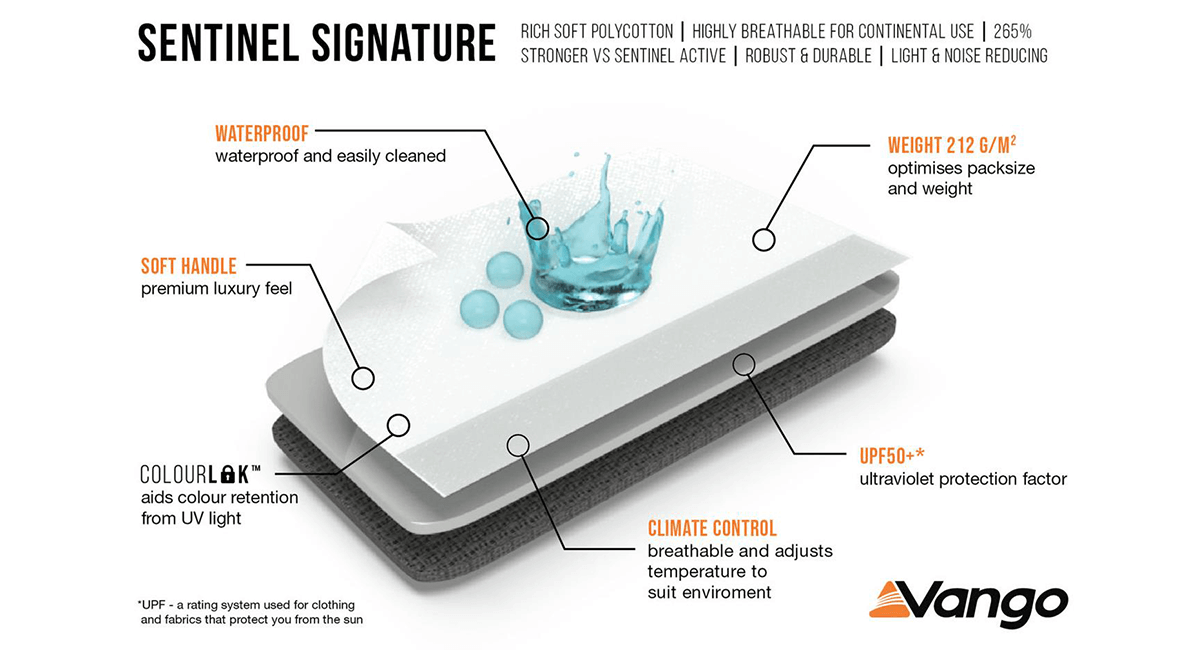 Vango's Sentinel Exclusive fabric
This fabric is one of the more recent fabrics released by Vango and is also one of the strongest. This fabric meets all of the standards that you'd expect at this quality, all seams are fully taped and the fabric is more than twice as strong as the entry level Sentinel Active fabric.
This fabric is used for the Vango Braemar III, Raptide III, and the Sonoma III. All of which have incredibly high performance ratings!
Key features of the Sentinel Exclusive fabric are:
• Fully waterproofed to a Hydrostatic Head of 5000 mm,
• Lightweight and robust, weighing in with a GSM of 102,
• Features Vango's ColourLok technology,
• UPF rating of 50+, for excellent protection from the sun,
• Fire retardant and meets the ISO5912 safety standards.
Vango's Sentinel Luxe fabric
Vango have been developing this fabric for many years, and they have improved upon the design as new features have been released. Due to the construction of the woven fibre, this fabric is completely waterproof and windproof. The fabric has been constructed with Vango's double weave ripstop, and it has been rated 300% stronger than the entry level Sentinel Active fabric.
Vango's awnings such as the Kalari III and the Montelena 400 are made using this high-quality material . These awnings are perfect for those caravanners who love touring.
Key features of the Sentinel Luxe fabric:
• Fully waterproof,
• Very strong, with a GSM of 210,
• Made with Vango's ColourLok technology,
• Features a UPF rating of 50+,
• Meets the ISO5912 safety standards.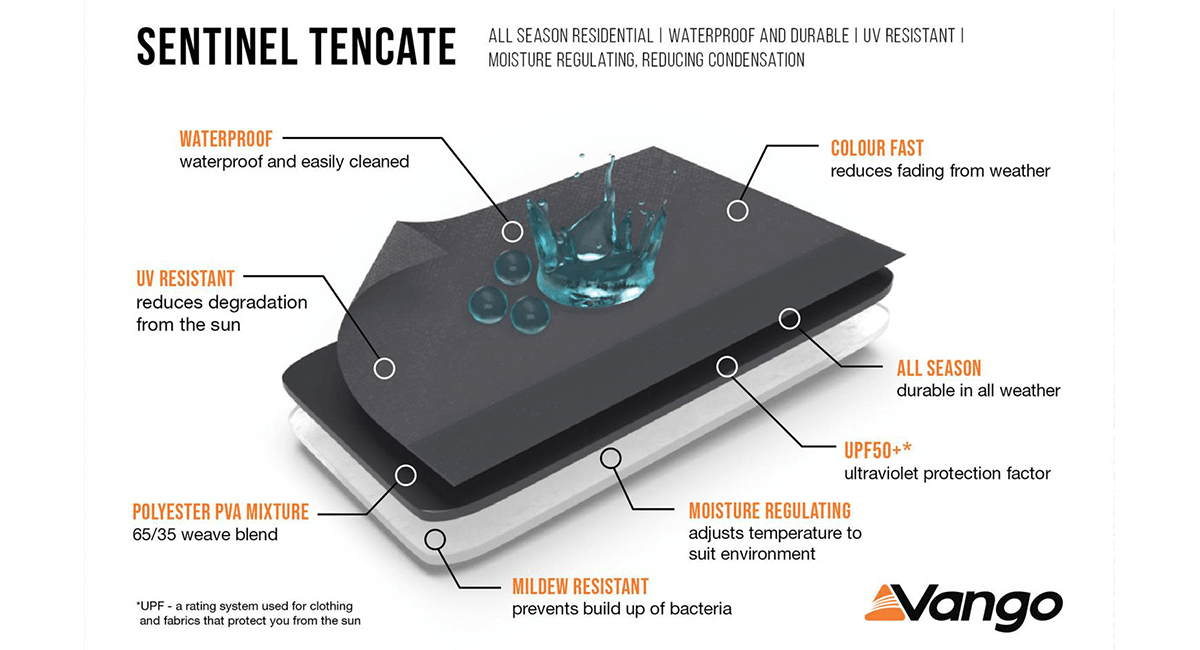 Vango's Sentinel TenCate fabric
This fabric is unique to the others released by Vango, there are various different new developments which have been included in this material. The Sentinel TenCate is made from a blend of polyester and PVA fibres, this gives the material the ability to regulate moisture so that condesnation is reduced. This fabric is totally weather proof and this means these awnings can be used for extended and residential pitching. The microporous acrylic coating helps to keep water out and prevent build-up of mildew or bacteria.
Instead of ColourLok, this material has been made with colour fast properties, which significantly reduces fading from the weather and UV. This material has also been made with a protective barrier which prevents the possibility of UV degradation. This material is used in the Vango Vienna 400 and the Florence 420 awnings.
Key features of the Sentinel TenCate fabric include:
• Fully waterproofed,
• Colour fast technology,
• UPF rating of 50+,
• Built for all-season pitching,
• Fire retardant and meets the ISO5912 standard,
• Mould and mildew resistance,
• UV resistant to protect against UV degradation.
Vango's Tension Band Systems
Vango have developed this high-quality system, to ensure the safety of some of their tents and awnings in adverse weather conditions. The original TBS uses strong cord and fabric arranged in a triangular format, to brace poles to other poles. This works well to enhance stability as triangles are known to benefit strength of construction.

The TBS Pro was later released, and this is a more lightweight version of the initial TBS system. This uses cord as well and was followed by the TBS II. This works by combination of both cord and web to provide a much stronger hold! This combination was also used to allow for more head room within these camping structures.

When using these systems, it's important not to pull the cords too tight in fear of the poor weather. Bracing the poles too tightly may produce the opposite effect and can result in snapping poles.
Vango's Groundbreaker Glow Pegs
These are one of a kind and made for the best camping experience possible. Vango's glow pegs are manufactured to stay visible in dark environments which should prevent the risk of hazardous trips! Vango provide these pegs in boxes of 20, alongside a super strong peg extractor; much better than digging around for the peg with your fingertips!
The pegs themselves are made from durable metal to ensure their strength in hard ground conditions.
Vango's Sky Track System
The Vango SkyTrack System is a designed to make your life easier and your awning more customisable. It gives potential for tidier, brighter and better layouts within their awnings and tents.
The Vango Sky Track is a flexible accessory strip which hides away in the seams of your awning. Similar to how an awning kador works, the strip provides a surface which other Vango products can be mounted or clipped to.
SkyTrack Systems are barely noticeable, and they provide a unique and simple way of displaying your awning accessories. The system is compatible with the various sizes of Vango Sky Storage Pocket Organisers and also the Vango Sky Liners. Not forgetting there's various lights and things which can be mounted to the track, including the Vango Sunbeam lamps or the Vango Flexilight range.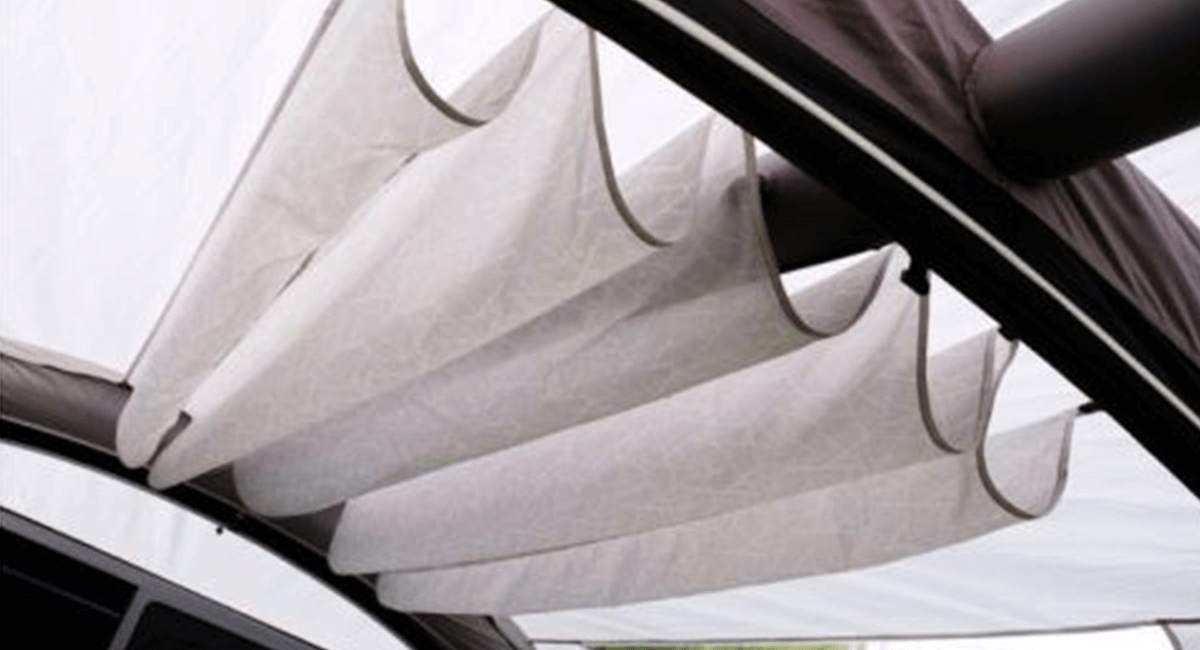 Still want more?
Are you yet fully clued up, after all the awning information you've read today, or are you still wanting more? Why don't you take a look at JK's guide to Campervan Awnings.
We hope this brief explainer has helped clear some of the haze around the features of Vango's awning camping range. Hopefully you feel better informed about making a purchase in the future, should you choose to do so. Vango are a reputable brand that work hard to develop awnings and accessories that will benefit their customers, and we stand by those products.