A sleeping bag is the perfect product for camping, sleepovers, festivals, hiking and all sorts of adventures!
They're quick and easy to use, with a wide variety of different qualities and sizes to suit your situation. Wrap yourself up like a sausage roll or unzip and use just like a duvet; most are equipped with a zip that goes around 2 of 3 sides so that you can fully unfold it.
Some are more decadent and come with an inbuilt pillow for ease of use or some even feature special fibre filling for award winning comfort.
Here's how to narrow down your options
We've put together a quick guide to help you choose the right sleeping bag for your camping get-away.
We'll explain exactly what TOG and seasons mean and how they will benefit you, amongst other factors worth considering for the perfect sleeping bag!
Image credit to Lucas Favre, via Unsplash
How warm is my sleeping bag?
The warmth of a sleeping bag is rated by TOG and seasons. Their comfort and usage limits are also sometimes listed and categorised. All of this helps to tell you in what conditions the bag will offer optimum comfort, and the hottest and coldest limits the bag can be used.
Tog
A sleeping bag's tog rating refers to the measure of thermal insulation provided within the bags walls. The bottom line is that the higher the tog rating, the warmer the sleeping bag is. Here in the UK, duvets and sleeping bags are ranked in increments of 1.5. The ratings start at 3.0 tog for light summer bed covers and go all the way up to 16.5 tog for those extra-insulating duvets used in the height of winter. Sleeping bags fall roughly in the centre of all these increments.
Summer insulation: 3.0 to 4.5 tog,
Sprint or Autumn insulation: 7.5 to 10.5 tog,
Winter insulation: 12.0 to 13.5 tog.
Seasons
The seasons of which sleeping bags are rated by, correspond to how many seasons they can be used for. So a 4 season sleeping bag can in theory be used all year round whereas a 3 season sleeping bag is designed to be used from the start of spring until the end of autumn.
A 1-season rated sleeping bag would be a very light sleeping bag intended only for summer use. A 2-season sleeping bag would be rated for better comfort from late spring through until early autumn. So not exclusively summer but teetering on the edges where the weather is just a little cooler.
On occasion you will see a sleeping bag rated at 5 seasons. Now you may be thinking, what do you mean? There's only four seasons in one year! 5 seasons means that the sleeping bag has enough insulating properties to ensure that you are well looked after even in the most extreme cold conditions. Built for use in high altitudes and potentially arctic conditions, but definitely not general camping.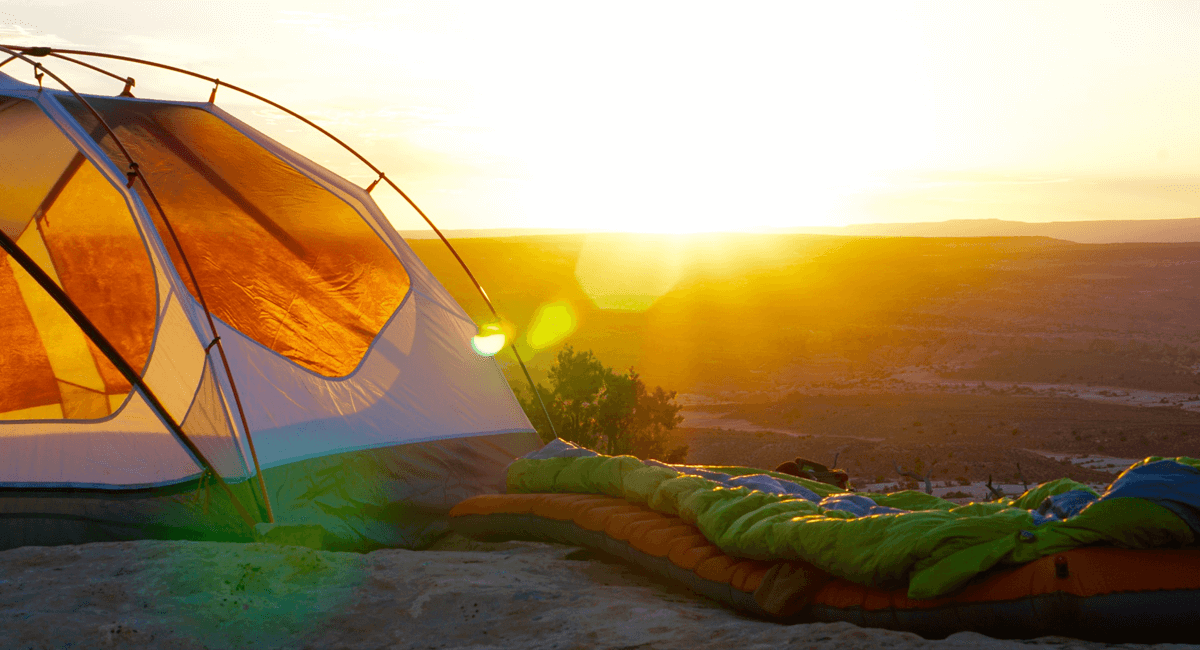 Image credit to Jack Sloop, via Unsplash
Comfort Ratings and Usage Limits
Different sleeping bags will perform best in certain temperature ranges, and should be used in extreme heat or cold. These are indicated by the comfort rating and usage limits of the sleeping bag.
The seasons and weather are subject to variation, as we're all too aware here in the UK. Tog scores and seasons ratings are a really helpful shorthand, but there's a great difference between the lowest temperatures of our winters compared with the lowest temperatures of a winter in Greenland.
Maximum and minimum comfort levels
These refer to the upper and lower temperature limits of the sleeping bag, in which you will still be comfortable while using it. That goes for the weather either being too hot or too cold to use the bag comfortably.
Extreme comfort rating
This is the absolute lowest temperature that the sleeping bag will still be effective, when an average build woman is using it in cold climates. This means that it would be dangerous to use the bag at a lower temperature, as it will not provide enough insulation for the surroundings; beyond that temperature, the bag will be ineffective.
Image credit to Cottonbro, via Pexels
Sleeping bag shapes and sizes
Mummy
This type of sleeping bag is tight fitting and replicates the general human form, so it's tighter at the feet and neck and wider at the hips. This style of bag also features a hood and often has a drawstring around the hood to fasten it securely. The appropriately named bag closely replicates the shape of an ancient Egyptian Mummy, the tight feet and smaller neck areas contribute toward a snug fit with little to no cold spots or areas for draught to sneak in.
These are perfect for colder weather or those who love to wrap up warm as they sleep.
For obvious reasons, these sleeping bags are not for couples who prefer to sleep in the same bag, or people who may suffer from claustrophobia as they may feel a bit restricted! They also generally can't be unzipped to create a duvet.
Rectangular
This is the most common type of sleeping bag, available in a range of togs and seasons, perfect for the average camping adventure or general use. Rectangular bags are straight along the edges and aren't tapered to mirror the human form.
This means they offer more space and therefore more room to shift around as you sleep. These bags only sleep one person at one time but give you more room to kick your legs out!
Rectangular bags are often fitted with a zip that travels along two of the three edges on the sleeping bag, in this case the bag can be unzipped to create a duvet, if you'd rather only be covered from the top. If you prefer coverage on top and underneath, but do like to kick a leg out as you sleep, then you can simply unzip one side and poke your leg out.
One drawback is that they're not packed as close to the skin as Mummy sleeping bags, which means there's room for cold air to creep in and are sometime less effective at protecting you from the cold (but not in all cases).
But this is a great attribute if you're someone who often wakes up in the night because you're overheating.

Image credit to Robert Bye, via Unsplash
Extra Large
XL sleeping bags are longer and wider than the average sleeping bags, as you've likely guessed from the name. These are perfect for individuals who are blessed with a taller stature or want a little more room from side to side.
Turn over in your sleep without having to wake up and do that strategic shimmy, where you try not to move the bag underneath you!
The only problem with these is that they have more material and stuffing than others, as there's more bag, so they are heavier to pack and take up more space.
This may not be a problem at all for you if you're going camping in your camper or staying at the same campsite for the whole trip; it depends on the purpose you require a sleeping bag.
XL bags may be a little more expensive than the average rectangular sleeping bag, too, so that's something to consider.
Double
These are the biggest sleeping bags that you can buy, which may seem odd (surely XL is bigger?).
Perfect for couples going camping together that would rather sleep in the same bag. There's no reason why camping should get in the way of your cuddling!
These are perfect for sleeping at festivals, temporary beds set up at a friend's house or camping in your van or tent. These do have the widest area open around the neck and so there's a large area that cold air can creep into the sleeping bag.
If you're sleeping in the bag with an additional person, you will have a significant level of body heat from the other person to keep you warm. So this will be a factor you should consider before deciding on a tog/season. You don't want to end up buying separate sleeping bags on the trip because you're both too warm at night.
These sleeping bags may have a zip that allows you to turn the bag into a duvet, which will allow you to cool down. However, when considering how large the bag already is, that may take up too much space in your sleeping area. Best to just unzip the side and poke your leg out if you're getting a little too cosy.

Image credit to Martin Jernberg, via Unsplash
Additional features which contribute to your comfort
As mentioned earlier, the fabric used can contribute to how comfortable your sleep is. There are other factors which may affect your decision making and these are worth thinking about before you just buy!
Stuffing and insulation type
There's lots of different insulation types for your sleeping bag. Some are made with synthetic fibre, others have technologically advanced synthetic fibres such as Outwell's Isofill, and then there's down filling which is often made from goose or duck feathers. Different fillings will contribute to a different comfort levels and different characteristics. You should investigate what fillings are best for you, before thinking that down would be better because it is the most expensive option.
Down will offer quality insulation in both cold and warm situations. Since it's breathable it won't be too hot in summer and will hold pockets of warm air perfectly in the winter. However, if there's risk that your bag may get damp, down is not for you, almost all its insulating properties will be diminished as soon as down gets wet.
When exposed to water, down compresses and draws away your body heat much faster, letting warmth escape from your body and the bag.
There's also discussions on how the down is sourced, so consider how you feel before purchasing a down filled bag. You can purchase 'ethically sourced' down but it's good to research exactly what this means before you buy.
Synthetic fibre fairs much better when damp and so if there's risk of the bag meeting rain and water, it may be best to go synthetic. If you'd prefer optimum insulation, then consider an advanced synthetic fibre like Isofill, however this might come with a higher price label.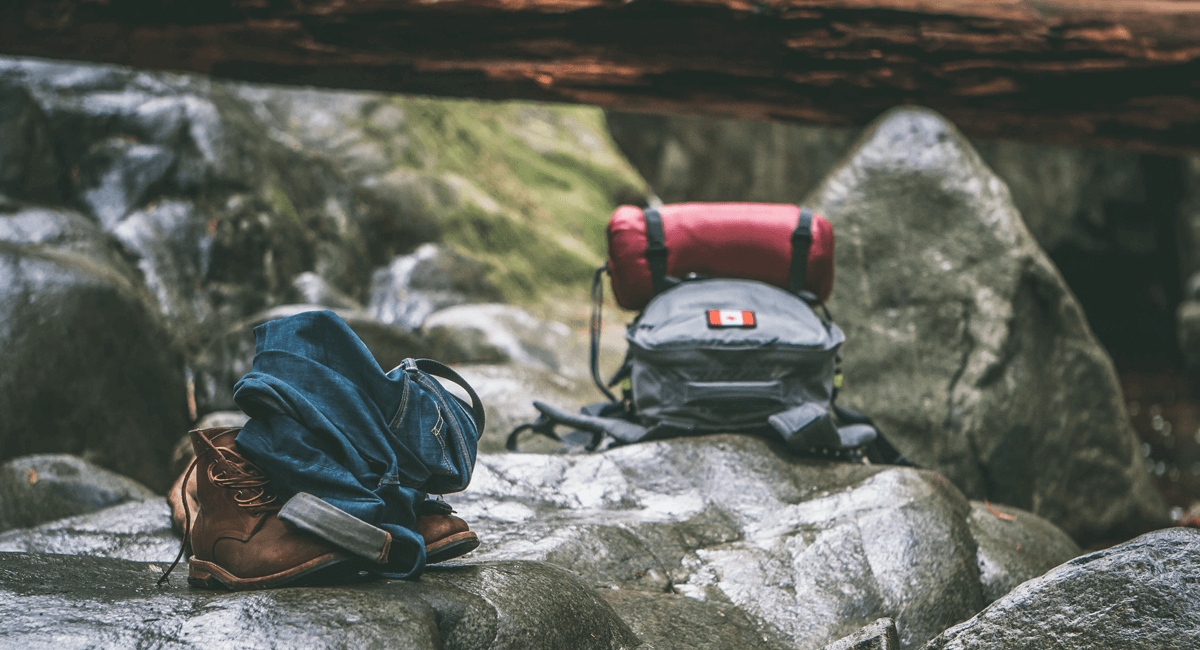 Image credit to Andrew Ly, via Unsplash
Construction of the bag
The filling within sleeping bags is often held in place via sewn channels. This either provides pockets for the stuffing to sit in, or the stuffing is sewn through and secured into place. This helps to hold the stuffing still and ensure that after continued use, the insulation stays distributed evenly throughout the bag and therefore you won't experience any cold spots.
It's worth considering that a higher price point may have factored this in manufacturing more so than a budget bag, but this isn't guaranteed. If you're unsure, just ask us how the bag is constructed, and we'll be able to tell you.
Storage pockets
Some sleeping bags will have hidden storage pockets to store valuables like important jewellery, wedding rings, and money. If you're hiking or regularly re-pitching, you will be less likely to have a place to put things as the luxury of collapsible storage containers aren't considered necessary. You don't want to be carrying more than you need. Sleeping bags with hidden pockets offer a place for important belongings and you will know where they are when you need them.
In addition, it offers somewhere to store items in an unsuspecting place, should that be a concern for you.
Inbuilt pillows
Some sleeping bags come with a sewn in pillow for immediate support. This means that you don't need to worry about packing a separate pillow with you and helps to save on storage space. Some also come with a zip so that you join it to the bag, or detach it when you want.
Image credit to Holly Mandarich, via Unsplash
The carry bag
Lastly, there's the dreaded bag! Sleeping bags are famously difficult to re-pack, especially budget bags that you used to take with you to sleepovers as a littlun.
These have recently been improved in the camping equipment sector, the carry bags are made a little bigger and often feature a zip. Some will still come with that awkward small drawstring sack and if that's something you don't want, you'll need to investigate that before buying online!
Finally, if there's risk of your equipment getting damp in transport, it's worth looking for a sleeping bag that comes with a waterproof carry bag. No one wants to sleep in a damp environment, so if you're hiking and your bag is clipped to the outside of your rucksack, a waterproof carry bag will save the day!
Image credit to Gabor Kis, via Unsplash
You know yourself best
Now, it's worth considering what you know you like. We can tell you what you'd most prefer but at the end of the day, it's best that you look at sleeping bags in person before you purchase them.
There are multiple factors that may seem irrelevant but might make all the difference to your comfort and so they shouldn't be overlooked. For example, inner lining material. This may be soft touch or may be the same texture as the outside of the bag.
If you were to compare the same two bags with the same filling and tog/season ratings, but they had different materials lining the inside, they may deliver very different performances. The materials that are soft touch are often much better at wicking away sweat in the night, and therefore will feel less clammy as you sleep.
Also, if you only camp in the summertime, that doesn't mean that you must buy a 1-season bag. If you prefer to be wrapped up warm, even in the summer, then buy a slightly more insulating bag. Maybe go from a 1-season to a 2-season.
You should also consider how you sleep at home, if you know that you prefer to kick your legs out of the duvet as you sleep, then you know you'll most likely need a bag that unzips fully. This gives you the option to poke your leg out the side, or to totally unfold it into a duvet.
In conclusion…
Hopefully this blog has been helpful and has offered guidance through the jargon often found in online product descriptions. If you have any further concerns about a product or you're still not sure about a sleeping bag that we sell, then don't be afraid to fire us a question in an email or phone us!
The JK Team are always happy to help!