Awnings. It can be a daunting word for some, especially if you don't know a lot about them.
Everyone seems to be using them, everyone says they're brilliant, but maybe you're not sure whether you should make the commitment? We're here to explain how awnings work, why you should use one, and explain some of the technical terms surrounding them.
What's that tent, attached to the van over there?
Awnings are a brilliant and versatile way of extending your living space. On holiday or travelling, they provide extra shelter and space without shelling out on a larger vehicle. Awnings are very similar to your average tent, but they're made with additional features specific to setting up with your campervan.
There's a plethora of awnings available on the market from different suppliers, and it's normally better to spend that little extra to ensure you receive a quality product. Plus, if you buy from a well-known company, you'll be covered by their warranty should it be subject to unlikely damages.
Awnings can be secured to vehicles in various ways dependant on the type of vehicle or awning that you're using. They are generally connected via a tunnel area. On drive-away awnings, this tunnel can be rolled up and tucked away to stop it flapping in the wind. You simply secure down that side of the awning and drive away from your pitch!
I've heard that some awnings can be inflated?
Not all awnings feature a pole structure like traditional tents, some are fully inflatable. These awnings are as structurally sound as traditional pole awning, but with a faster pitching time so you can relax while you watch it inflate. Living the good life!
Air awnings will be supplied with a pump to inflate the channels, which run through it to give it structure. An example of an air awning is the Vango Galli III, which you can read more about below.
Many of these awnings are on the more expensive side but will be supplied with a travel repair kit in the unlikely event that a puncture occurs.
Vango's new Galli III is an excellent example of a top tier inflatable awning. It recently arrived at JK HQ and really impressed us with the quality of the materials and assembly!
Why are some awnings left-hand drive and some right-hand drive?
The orientation of the awning that you need will be dependent on the layout of your camping vehicle.
Right hand-drive awnings are designed for right-hand drive vehicles, and allow you unimpeded access from the inside of your camper to the inside of your awning, without the inner tent getting in the way, or the door being off to one side.
It is possible to fit a left-hand drive awning to a right-hand drive vehicle, but its far more convenient to make sure you get one which matches the layout of your camper.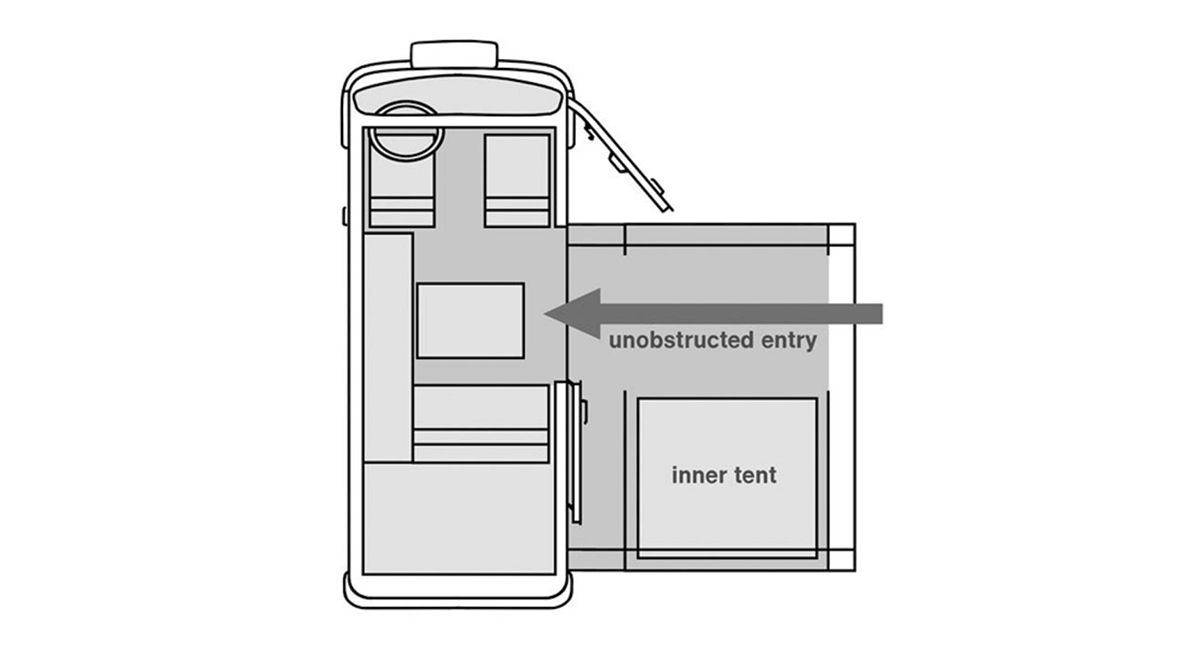 Generally, right-hand drive vehicles will have their sliding door on the nearside (left) of the vehicle, while the opposite will be the case for left-hand drive awnings.
Drive-away VS static awnings
Drive-away awnings are reinforced and designed to be left on their own for a while. If you need to use your vehicle elsewhere, you can just get up and go! The perfect solution if you're on a campsite but you'd like to spend a day at the beach.
The connecting tunnel that attaches to your vehicle can be rolled up and toggled away while it's not in use. Then all you need to do is make sure that side of the awning is well fastened to the ground, then off you pop to the beach!
However, some awnings are not designed to have a drive-away feature. The majority of these are primarily designed for vehicles such as motorhomes and caravans that would not be used to travel with after you had pitched at a camp site. These awnings don't feature a tunnel area and look more like a gazebo as opposed to a tent.
Explaining waterproofing and Hydrostatic Head
Ensuring that your awning is waterproof and weatherproof is very important. Your awning's ability to protect you from rain, will affect how comfortable and enjoyable your holiday is!
There's an easy way to gauge and rate how waterproof a material is, called Hydrostatic Head (HH). This is a measure of how much water a material resists before it allows water though. The type of fabric used and what it's been treated with, will affect a materials HH value. Hydrostatic Head is usually referred to in a measure of millimetres.
As an example, if a material is waterproofed to a HH value of 4000 mm, that material can withstand a column of water 4000 mm high pressing down on it before the material gives in. 4000 mm is 400 cm or 4 meters, which is far more water than you're likely to encounter.
A good HH rating for an awning should be at least 3000 mm, do deal with the unpredictable British summertime!
Image credit to Frame Harirak, via Unsplash
Polyurethane coatings can also protect against poor weather
Polyurethane coatings, otherwise known as PU coatings, are used to make awning fabric waterproof. PU can be applied to polyester and nylon based materials to create a water resistant fabric.
These coatings are affordable, breathable and can be built up in layers to develop a better performance. The number of coatings will affect how well a material can withstand water, and therefore a materials Hydrostatic Head rating.
A Polyurethane coating is generally a layer that sticks to a fabric as opposed to a part of the general make-up of the fabric itself.
So what does 'ripstop' mean?
Ripstop material has been reinforced by nylon or polyester threads woven through the fabric during the manufacturing process.
This lattice of strong threads makes any holes or tears unlikely to rip further, which is ideal for use in outdoor products.
Weighing in on Denier and GSM
Denier is another important factor to consider when choosing an awning. This is the measure of weight that refers to a materials thickness. The lower a materials denier, the lighter it will be. When in reference to awnings, this could mean it's easily packed up for transportation. So, a lower denier will be a favourable choice for those who don't have much storage space.
Another important factor to consider is a material's GSM, which stands for Grams per Square Meter, sometimes written as g/m2.
This is a measure of a material's weight, determined by weighing a material when cut to exactly one metre by one metre and is then compared against other materials. GSM is a benchmark that materials must reach as a requirement in production and manufacturing for various purposes.
What's most important?
As a rule, you may find that the higher the GSM, the stronger and more effective an awnings material will be. However some more expensive choices go to lengths to develop a high-quality fabric with a lower GSM rating, to help ensure a lighter carry-weight and therefore an easier user experience.
So, it's important not to assume that because an awning has a lower GSM than a budget tent, that it will be of a lesser quality.
If you're camping in fair weather with low wind, for just a few days, then a low denier will be a solid choice. However, if you anticipate stronger winds or possibly stormy conditions, then you will find a higher denier more suitable.
High denier will prevent draughts and will be sturdier due to its additional weight. It's also recommended that you purchase an awning with higher denier if you know you'll be camping for up to 1-2 weeks at a time.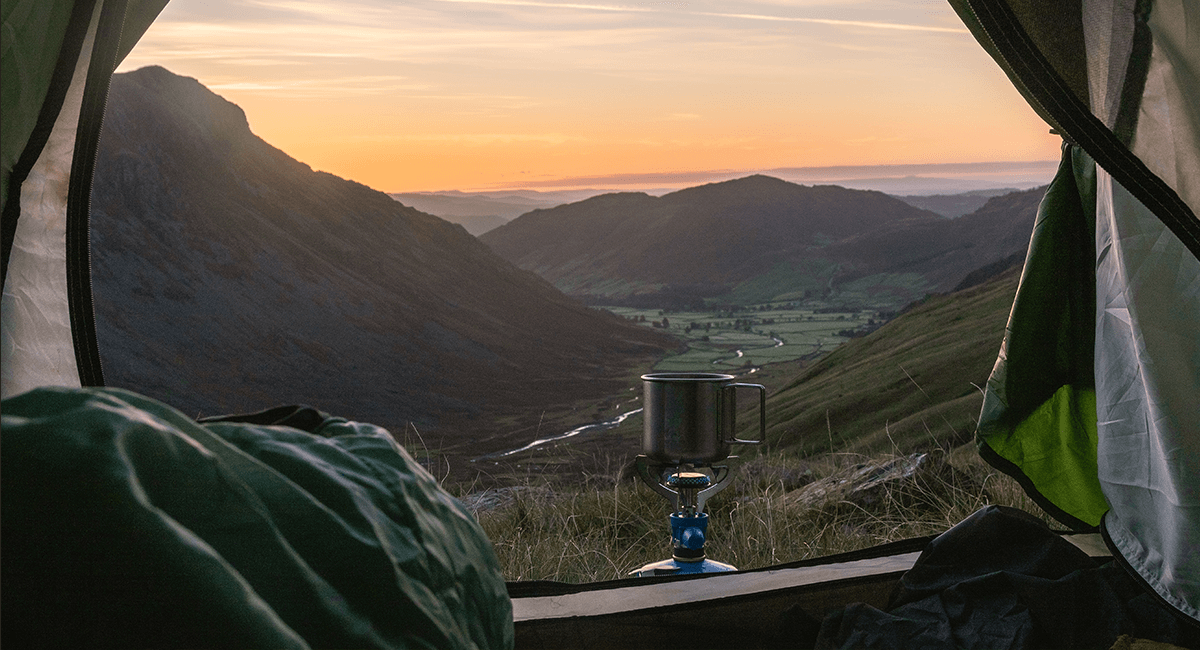 Image credit to Reegan Fraser, via Unsplash
Braving the elements
If you're concerned about the effects of wind and other weather, there are steps you can take to secure your awning.
Most will come with methods of weather protection such as draught skirts, mesh screens, ground sheets, tensioning systems and ventilation systems to help maximise your comfort.
Tension systems are used to reinforce the structure of your awning against strong winds and harsh weather.
Damage could be caused from excess movement, so tension systems help to brace and secure your awning.
PU coatings and waterproofing will also protect you so remember to bear in mind a materials Hydrostatic Head value if choosing an awning to protect you from the elements.
How well will my awning protect me from the sun?
A material's ability to provide adequate shelter from the sun's rays is measured via a UPF rating. This stands for Ultraviolet Protection Factor, and is used to rate materials who's purpose is to provide shelter from the sun. This includes tents, awnings, gazebos and as well as things like clothes.
UPF is measured in a lab using an artificial light source, and the results are then applied to a spectrum curve of measurements to determine the effectiveness of the protection.
The majority of high-quality awnings should show a 30+ UPF rating or higher, this should block around 96% of ultraviolet light, which would provide sufficient protection from the sun during the summer.
Image credit to Shell Campingwithstyle, via Unsplash
What's a kador strip?
A kador strip helps you connect your awning to your vehicle. It's a flexible fabric or rubber strip which features a raised edge on either side, sometimes referred to as 'twin piping'. Most awnings will have a kador strip included, some may even have one already attached.
An example of this is Vango's Faros II Drive-Away awning, which features a pre attached 6 mm thick kador to help towards a faster pitching time.
To attach a kador strip, slide it into the awning channel attached to your van. The other side then slides into a figure of 8 channel. The figure of 8 will connect your kador to the awning tunnel.
So from the vehicle to the awning, the process would follow in this order: Awning channel - kador strip - figure of 8 – awning. Simple!
Do not be alarmed if you don't have a pre fitted awning channel on your van, there are plenty of other ways to connect your awning tunnel.
How else could I attach my awning to my vehicle?
There are several ways that this can be done. Many awnings will come with a few different attachment options, as not everyone will be prepared with the same setup.
Some awnings are supplied with webbing straps. These are reinforced straps which can be attached to the awning roof or connecting tunnel.
To fit the awning to the vehicle, simply pull the straps over the van roof and across to the opposite side. The straps are then extended towards the ground, tensioned and secured using pegs. It's a good idea to peg these away from the vehicle if you have twin sliding doors.
Some newer vehicles feature a deep gutter, and these are good for holding a figure 8 channel. Simply join the awning to the figure of 8 and then clip this onto the gutter. Sorted!
Pole and clamp kit systems are best used if you're limited by a shallower gutter. Slip the rod into the sleeve on the edge of the awning, then place this in the guttering and secure that with the suction clamps. This will prevent the pole from being pulled out of the gutter if you experience strong winds.
Some awnings even provide attachment tabs so that you can then connect your awning to the roof bars.
Awnings are versatile, so there are many ways that attaching can be done to suit your setup!
What is a figure of 8 channel?
The figure 8 channel is named after its shape: if you picture the cross-section, it looks like an 8!
The two far ends feature a slit and this is where you'd slip your kador strip or awning into.
One end is connected to the awning kador strip and the other clips into your vehicle's awning rail, and that's it! You've now got a covered area between your vehicle and your awning.
Don't neglect this tunnel area, this can be a great place to store things like cool boxes, toilets, or portable storage cabinets. Maybe even place a small welcome mat on the floor in front of your sliding door!
Image credit to Vadim Sadovski, via Unsplash
All clued up now?
Awnings are versatile products; no matter your holiday lifestyle, there's a perfect one for you!
We've listed some of our favourites below, so you can take a look at what we've got in stock for the 2022 camping season.
Maybe now is the time to introduce an awning into your camping lifestyle? If you have any questions about any products, feel free to contact the JK Team and we'll be happy to advise you!