This week we'd like to introduce you to a short piece on one of our high-valued suppliers, Vango. Some of you may be very familiar with them, but we'd like to spend a moment to focus on where Vango came from, what they're about, and a little info about what they produce.
Who are they?
Estabilshed in 1966, Vango are one of our biggest suppliers in camping equipment and accessories; currently based in Port Glasgow, Scotland. They specialise in producing high quality tents and awnings which allow you and your families to camp in the best conditions on-the-go. Vango aim to inspire those to step out and enjoy the great outdoors, by providing them with highly considered equipment, built to improve your getaway experience.
They push the boundaries of what they do, all the while exercising a sincere effort to drive sustainability and regularly improve upon their company ethos.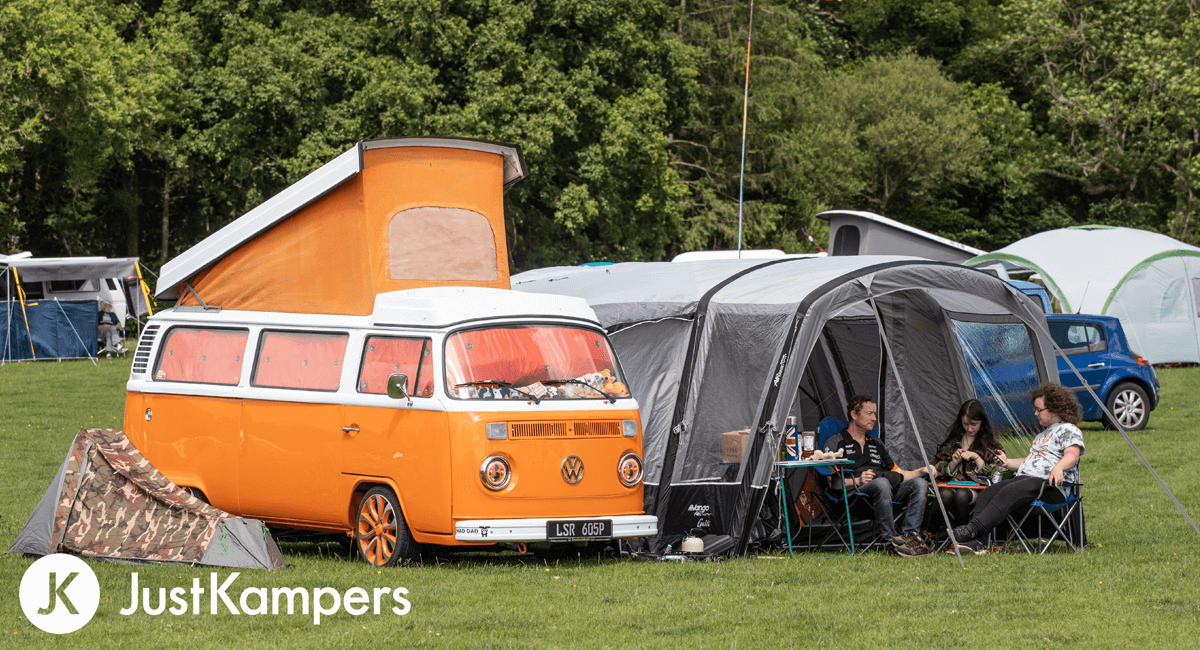 Sustainability
Their spares and repairs service refurbishes old equipment to give it a second life, anything beyond fixing is recycled for use in later repairs. They also upcycle as much remaining fabric as possible to dramatically reduce Vango's impact on landfill.
The new Earth Collection has rocketed their sustainability ethos to new heights. This is home to a multitude of tents, rucksacks, chairs, and sleeping bags, which are all produced using recycled single use plastics. The Earth Collection is set to recycle an equivalent to 8,250,000 plastic bottles by the end of 2022.
Vango also regularly donate fabric and sleeping bag filling to Sheltersuit UK, for immediate upcycling into shelter for the homeless. Sustainability is clearly a genuine concern for Vango and they work hard to consider their impact as a brand.
Expect the unexpected
Not only are Vango environmentally conscious, but they're also pioneers in affordable space tourism! They may not have launched a conscious team into space, but they certainly sent up a dummy team, who assisted the flight of the Vango AirBeam tent as it travelled into the stratosphere.
Launched from the Scottish Highlands, an oversized balloon carried the tent upward, nearly 20 miles above the earths surface. By this point you can see the curvature of the earth and the temperature is as low as -40 degrees celsius.
A world first, the tent made its way into space and back with nothing but a small patch of ice, marking its surface. Although the experiment was unorthodox, it was an opportunity to prove the quality of Vango's tech.
Why do we stock them?
Vango are a well-established brand whose reputation covers producing quality camping equipment. We work alongside them to provide you with a selection of their products which we think you'll love best. Their variety of awnings provide you with the best campsite setup, some of which are made specifically to fit perfectly beside your VW vehicles.
Vango are passionate about the products they make, and they're based right here in the UK.
What do Vango make?
Vango's camping equipment ranges across all areas. A vast level of what we sell of theirs, focuses on awnings for conversion vehicles. But the rest covers a range of awning accessories including:
Inflatable furniture,
Inflatable and self-inflating mattresses,
Stylised cooking appliances,
Sleeping bags,
And all the accessories which go with them.
Vango's design language is focussed on user experience. In most cases, accessories made for Vango awnings will also be compatible in Vango tents, whether that include lighting or storage attachments.
Here's a selection of Vango Awnings that we sell:
Vango's user-friendly design language extends to their unique SkyTrack system. The SkyTrack is a plastic strip with a rounded edge that runs along the wall to roof seam in your tent or awning. Not all awnings include this system, but examples include the Vango Agora Inflatable Drive-Away Awning or the Vango Magra Inflatable Drive-Away Awning. Both of which are high-quality spacious settings which are a perfect size for fitting to your T4, T5, or T6 van conversion.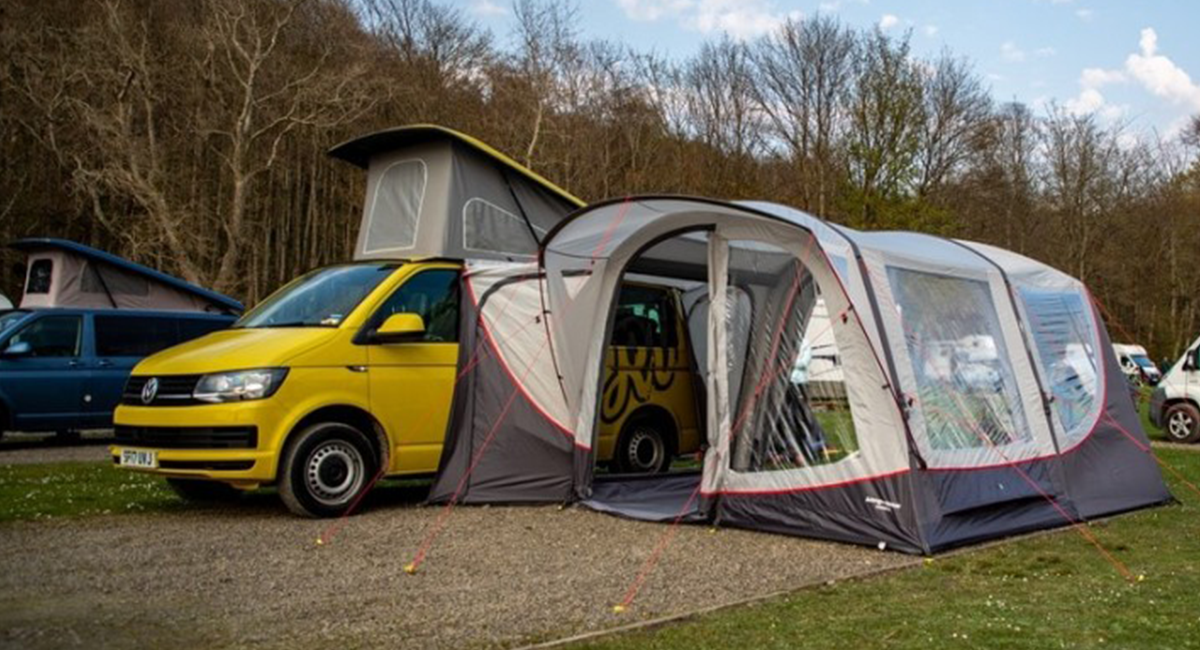 The Vango SkyTrack is installed out of sight. The tracking facilitates a fixing place for compatible accessories, where they can be clipped on using the patented Sky Hooks. The Vango Sky Storage Pocket Organisers and the Sky Storage Accessory Hangers are designed to clip to this tracking. They then hang neatly aside the wall and provide a convenient place for storage.
Vango Camp Chef Range
Vango also have a selection of quality cooking appliances, within their Camp range. Here's a few different Camp Chef burners and accessories to choose from:

If you're looking to purchase a Camp Chef setup, you may want to get yourself a handy carry bag. Transportation becomes much easier, not to mention there's extra space for your BBQ tools and bits aside the burner. We also provide the aforementioned products as part of a bundle deal on our website.
Get yourself a Camp Chef double burner with a carry bag, leg adjusters and something else extraordinary, all included in one of our bundle kits. If you buy these items together, you can get them all for a discounted price. Find out more about the Vango Camp Chef Explorer double burner bundle kit.
Bet you're wondering why we skipped over one of those products, and that's because it needs an introduction.
Vango Camp Chef Pizza Oven
Yes that's right, a pizza oven for your camping setup! This clever receptacle provides you and your fellow campers, with the extraordinary opportunity to cook your own fresh pizzas on the go. This unique product has been meticulously designed to work in harmony with the Camp Chef burner stands. The oven sits comfortably on top of the hob, as the flames from underneath work their magic.
Heat from the burner circulates around the oven and convection currents encourage a consistent flow of heat. This passes over the pizza as it's warmed from the bottom, to give you an evenly cooked pizza every time.
Perfect for getting that crisp cooked crust on a simple pre-made pizza, or feel free to get adventurous and make your own from scratch. It's a great activity the keep campers busy on a lazy afternoon at the campsite, plus everyone can get involved to do their bit!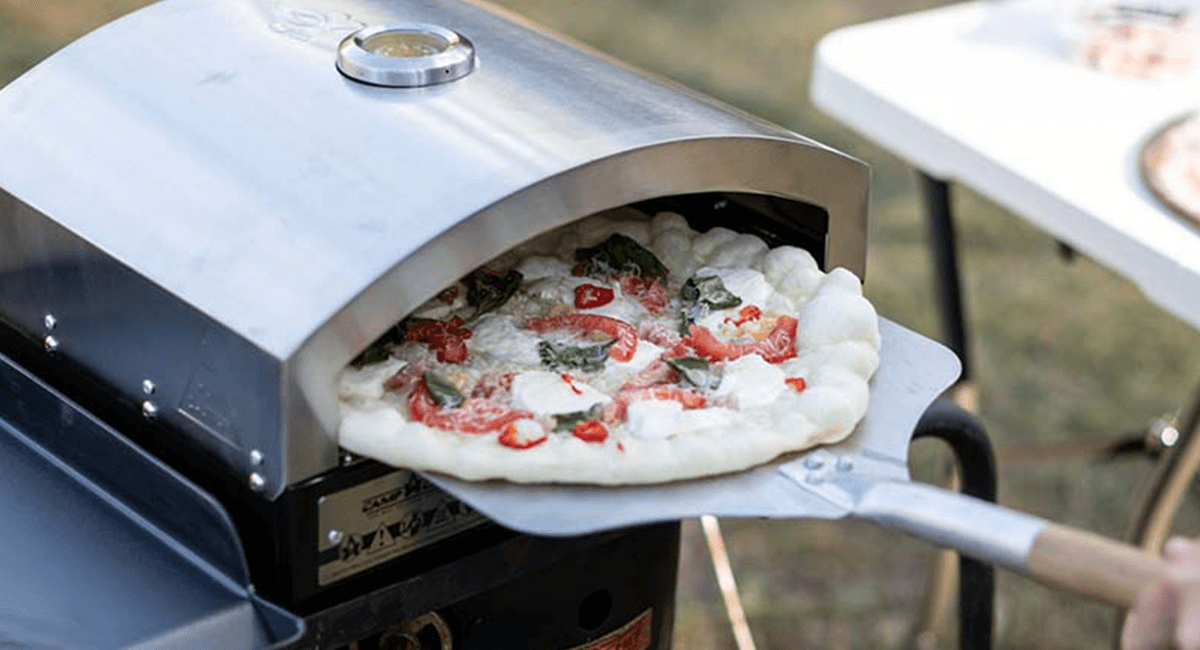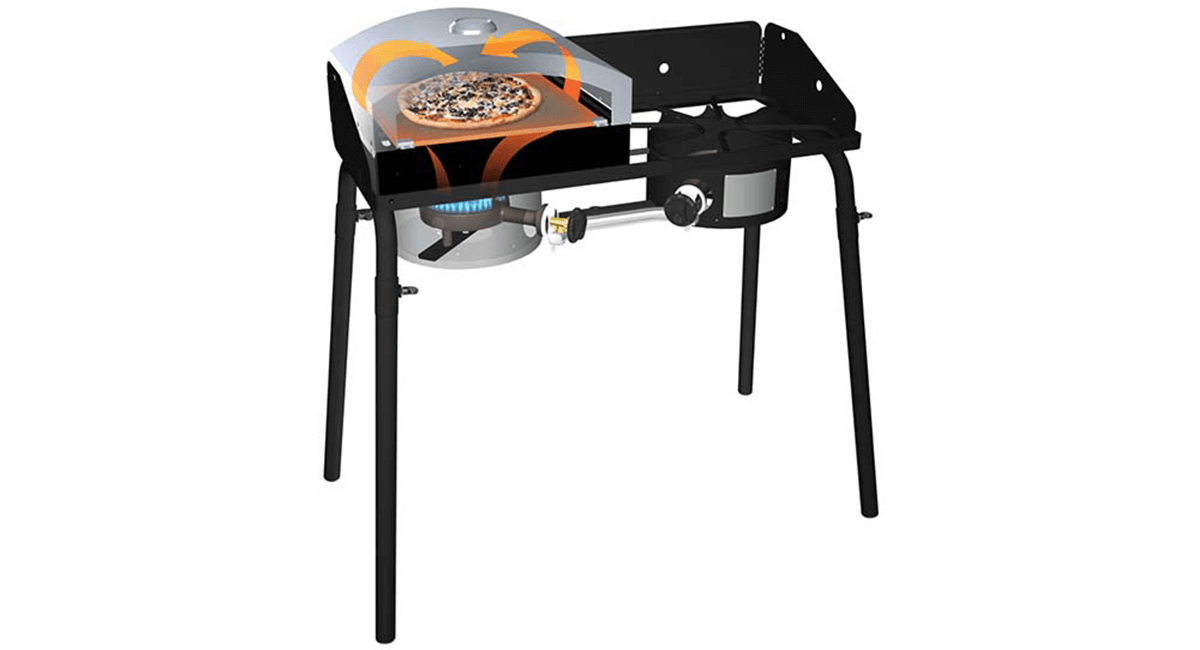 Pioneers in camping equipment
Vango produce an overwhelming selection of products, which range from bare essentials to luxury items. They're leading experts in producing quality camping products. No matter how simple to product, you can rest assured they've put the hours and the research in to produce the most effective product possible.
We work beside Vango to provide you with the best and most helpful products for our audience. We've got the highest confidence in their brand, their ethos, and their products.