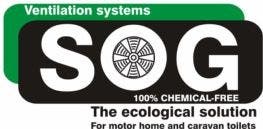 SOG®Systeme GmbH & Co.KG, which was founded in 1994, specialises in waste management and enabling campervan, motorhome and caravan toilets to be used without chemicals and increasing the comfort of using such toilets by eliminating odours.
We can't find products matching the selection.
Compare Products
You have no items to compare.
My Wish List
Last Added Items
You have no items in your wish list.
Can't find what your looking for?