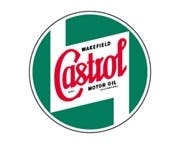 Castrol Classic Oils are the global supplier of the Castrol Classic lubricants range. 
In 1993 Castrol UK, in partnership with Promapac operating as Castrol Classic Oils, steered the re-introduction of Castrol's early lubricant grades designed for vintage, veteran, classic cars and motorcycles. Castrol's Classic Oil grades use latest technology, low detergent base oils in the appropriate viscosities on which early vehicles were designed to run. Making the right choice of oil has now become simply a matter of looking in the owners' vehicle handbook for the manufacturer's original Castrol recommendation. The Castrol Classic Oil range is widely available throughout the UK, Europe, plus many other countries worldwide. 
From one enthusiast to another - Don't take chances, always ask for CASTROL by name! 
Castrol Classic oils offers high-quality workshop merchandise, all with the iconic 1946 Castrol Classic branding.  From the workshop to home, Castrol's nostalgic range combines both retro style and functionality. There's something for every classic car owner or enthusiast. Whether as a gift for a keen motorist, or a gift to yourself.