Charity Work
You've already helped Just Kampers raise £12,767.88 for Cancer Research UK!
We started fundraising early this year; we supported World Cancer Day on 4th February by donating £5.00 for every order placed on that day. We also decided to continue supporting Cancer Research throughout 2016 and started selling our JK Weekend Camping tickets in aid of Cancer Research in February too. We will carry on supporting this charity throughout 2016 at our JK events and Busfest in September.
For 2015, Just Kampers will be supporting Cancer Research UK, a charity set up to fund scientists, doctors and nurses to try and beat cancer sooner. Cancer Research sum up their goals with the tag line "Let's beat cancer sooner". We are sure that you will all agree that this is a fantastic and very worthy cause, and we will be striving to make as much money as we can to support them in their research and in the care they offer for those who are suffering or have suffered with cancer. Help us to do so by getting involved in the fundraising activities we have planned for next year!
At the Just Kampers Open Day on Saturday 6th June you helped us to raise £10,467.88 with 100% taken for all the camping plots sold going to Cancer Research.
We also encouraged donations at BusFest this year at our Charity Tea & Coffee where we raised another £1059.40, plus another £240 from donations at our Christmas Open Day one cold December Saturday.
You can find out more about what Cancer Research do on their website - http://www.cancerresearchuk.org/
Help the Hospices
For 2014, Just Kampers will be supporting Help the Hospices, a charity set up to support hospices and the staff, who support their patients.
The charity sums up their goals by saying "We want the very best care for everyone facing the end of life. We are here to support our members and other organisations as they strive to grow and improve end of life care throughout the UK and across the world.".

We're sure you'll agree that this is a fantastic cause, and we'll be striving to raise as much money as possible for Help the Hospices over the coming year, so please help us to do so by taking part in the fund raising activities we have planned!
You can find out more about Help the Hospices on their website.
You helped us to raise £6,500 for hospice charities at the 2014 JK Open Day, and we want to say a massive Thank You to everyone who donated, including everyone who bought a camping ticket for the open day.
This is the most we've ever raised for a chosen charity at JK, and we're really grateful for everyone's generous donations. You've helped to make a massive difference to the incredible levels of care provided by hospices around the country!
We'll also be encouraging donations at Busfest, so we're looking forward to adding to this amazing total.
Yateley Industries
Here at JK we feel it's our responsibility to help local charities and small organisations whereever possible, and so we've extended our support of Yateley Industries, a fantastic local organisiation which aims to help people with a range of disabilities achieve their full potential. Yateley Industries has been providing support and useful, fufilling employment for people with disabilities for 75 years, and currently helps around 70 people to lead independant lives, safe in the knowledge that there's a fantastic group of people alongside them ready to provide any support they may need.
We've sent over a range of small products, which come in in large quantities, and the team at Yateley Industries are working away bagging and labelling these products, which are then collected and returned to JK HQ, where they're put in to stock and sent out to you!
By giving their employees identified goals and a steady, worthwhile wage, as well as support with financial management, independent living skills and social integration, they're helping them to reach their full potential and their hope is that all of the employees at Yateley Industries will go on to reach full term employment.
Great Ormond Street Hospital
For 2013 we gave you the power to help decide which charity would receive our support, and we received hundreds of suggestions from all of you.
In the end, the winner was Great Ormond Street Hospital, an absolutely fantastic charity and a cause close to many of our hearts.
We'll be doing our utmost to support Great Ormond Street Hospital this year, especially at our JK Open Day this summer, and at Busfest later this year.
As well as the traditional ways that we raise money for charity, like the donation buckets we have at shows where we give away free food, tea and cofee, a few members of the JK Team are planning on a few slightly braver and more daring charity events, but we'll save the details of those for later when their plans develop!
At Busfest 2013 we used our JK Refreshment area to raise money for GOSH, and managed to raise £912.16 by asking for donations from everyone who came in for a free tea or coffee. The whole JK team would like to thank everyone who donated!
For more information about the charity, please Click Here to visit their website!


Help For Heroes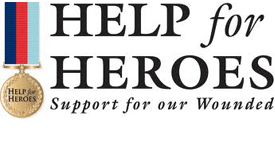 Extract from the Help for Heroes website .....
'Help for Heroes raises money to support members of the Armed Forces who have been wounded in the service of their country. We ask our supporters to do their bit to show these extraordinary young men and women that they are cared for by us. Over a million people have responded to date and millions of pounds have been raised to buy much needed services that will aid their recovery, but we need more! So far, we have allocated almost all of the money we have raised in order to fund direct projects and support other service charities. We are passionate about what we are doing and as far as we are concerned the sooner we can see results, the better!
'
During 2012 we have continued to raise funds for Help for Heroes at our annual Open Day in June and at Busfest in September. We have raised £1,400 this year and would like to take this opportunity to thank our customers for their support.
We will continue to support this worthy charity for the foreseeable future.
The Uganda Project
We are proud to sponsor a project in Uganda, that helps widows and their children live a self-sufficient existence - we fund a pig breeding farm. We provide a family with a female pig and the money to cover vet and food bills for the first year. Once it breeds, the family gives us one piglet back and keep, eat or sell the rest. Rather than give them cash and food, this project means that, normally within 18 months, they are completely self-sufficient.
Tools for Self Reliance
"Tools for Self Reliance" is a charity who help to provide villagers in Africa with the equipment they need to be able to earn a sustainable living and put something back into their local community.

Just Kampers supports this worthwhile charity with a regular financial donation, so that some of the poorest people in Africa can help themselves.
Shop for Volkswagen parts or camping equipment.